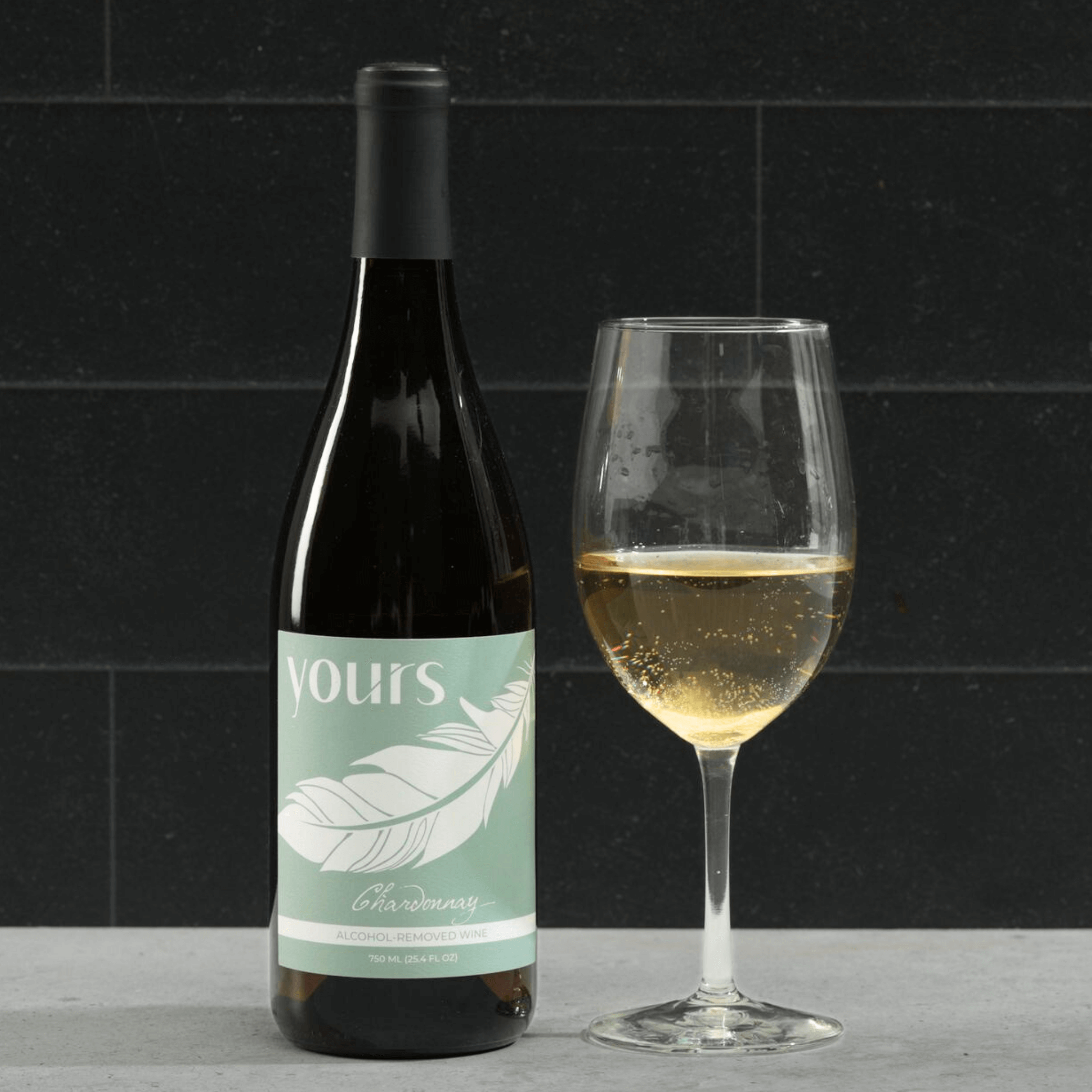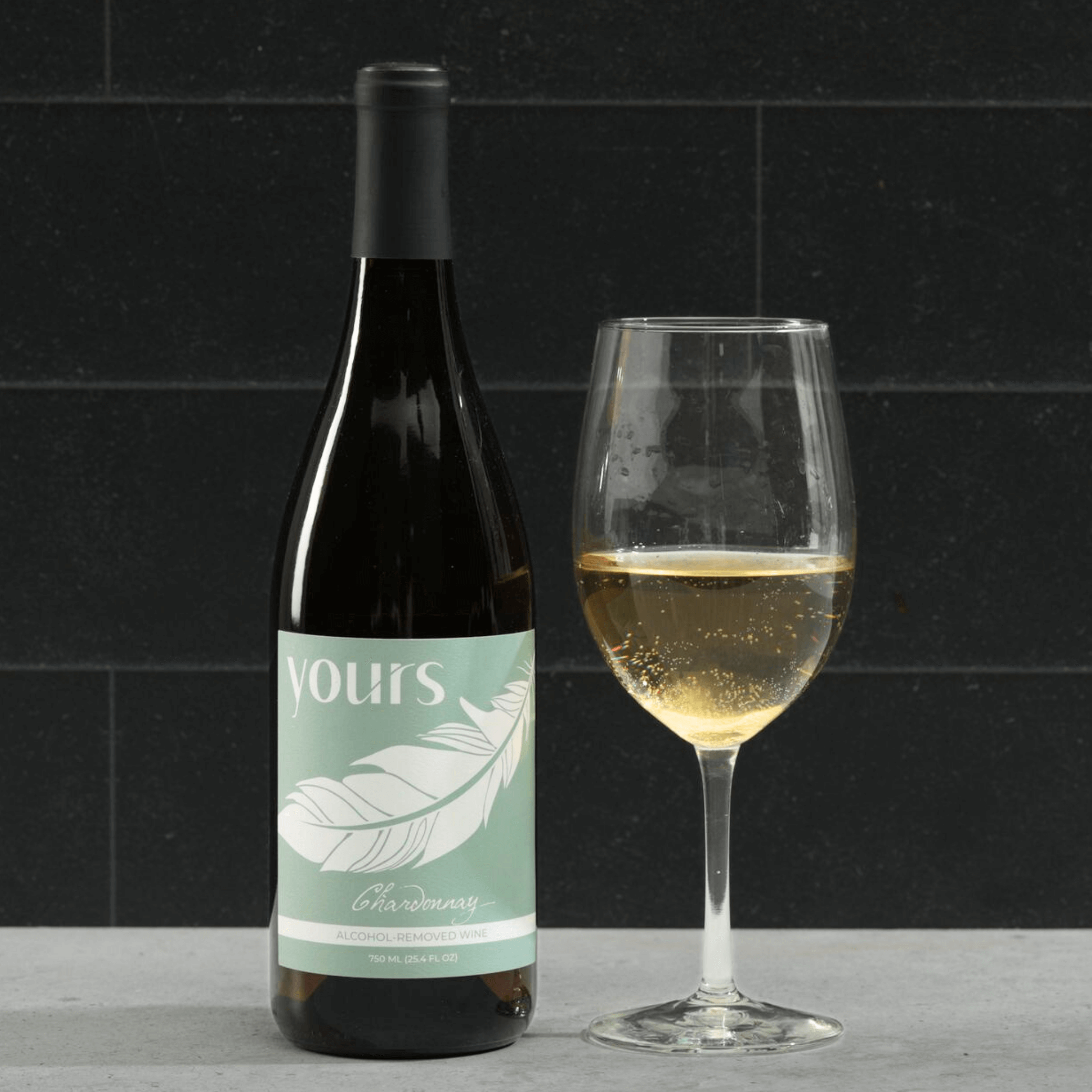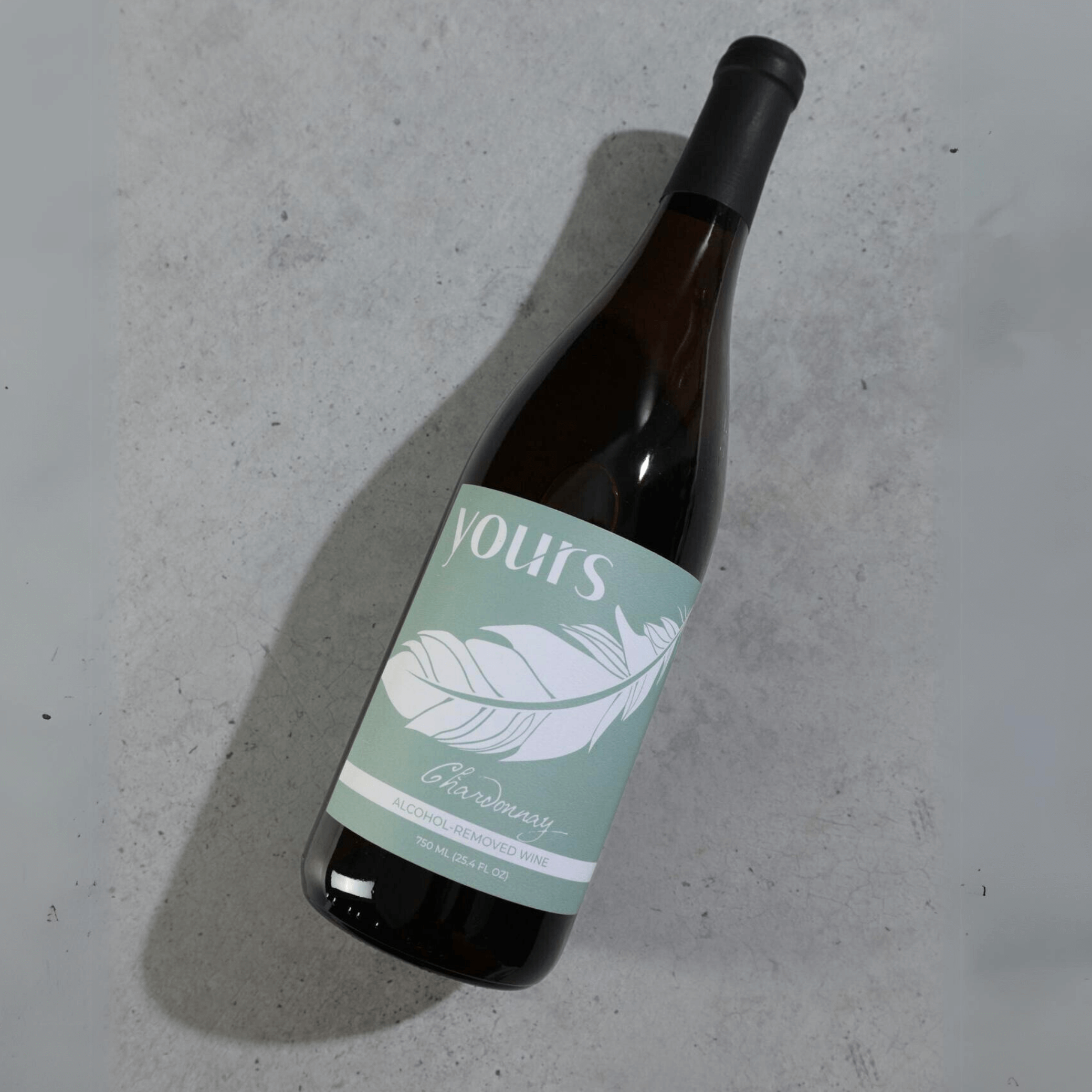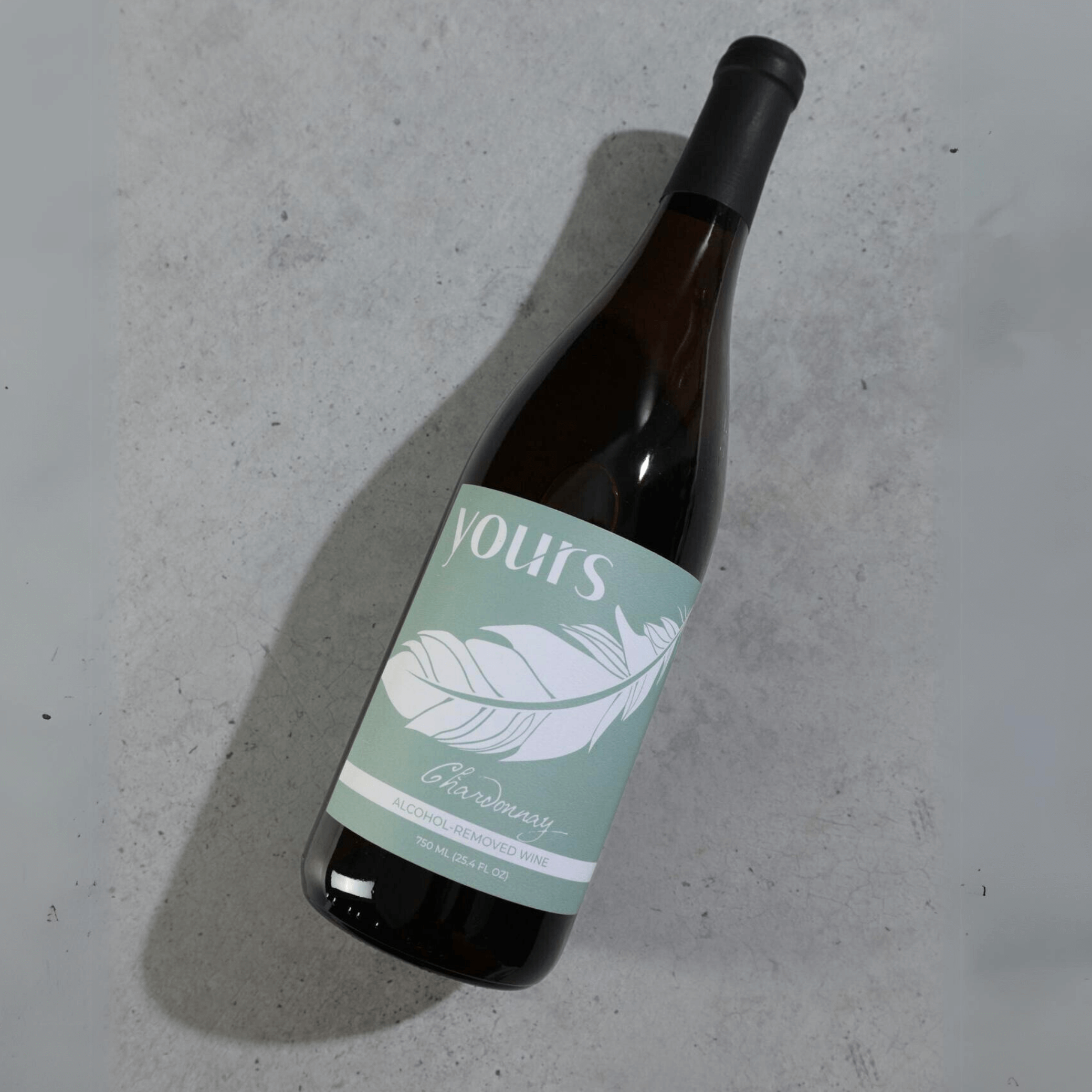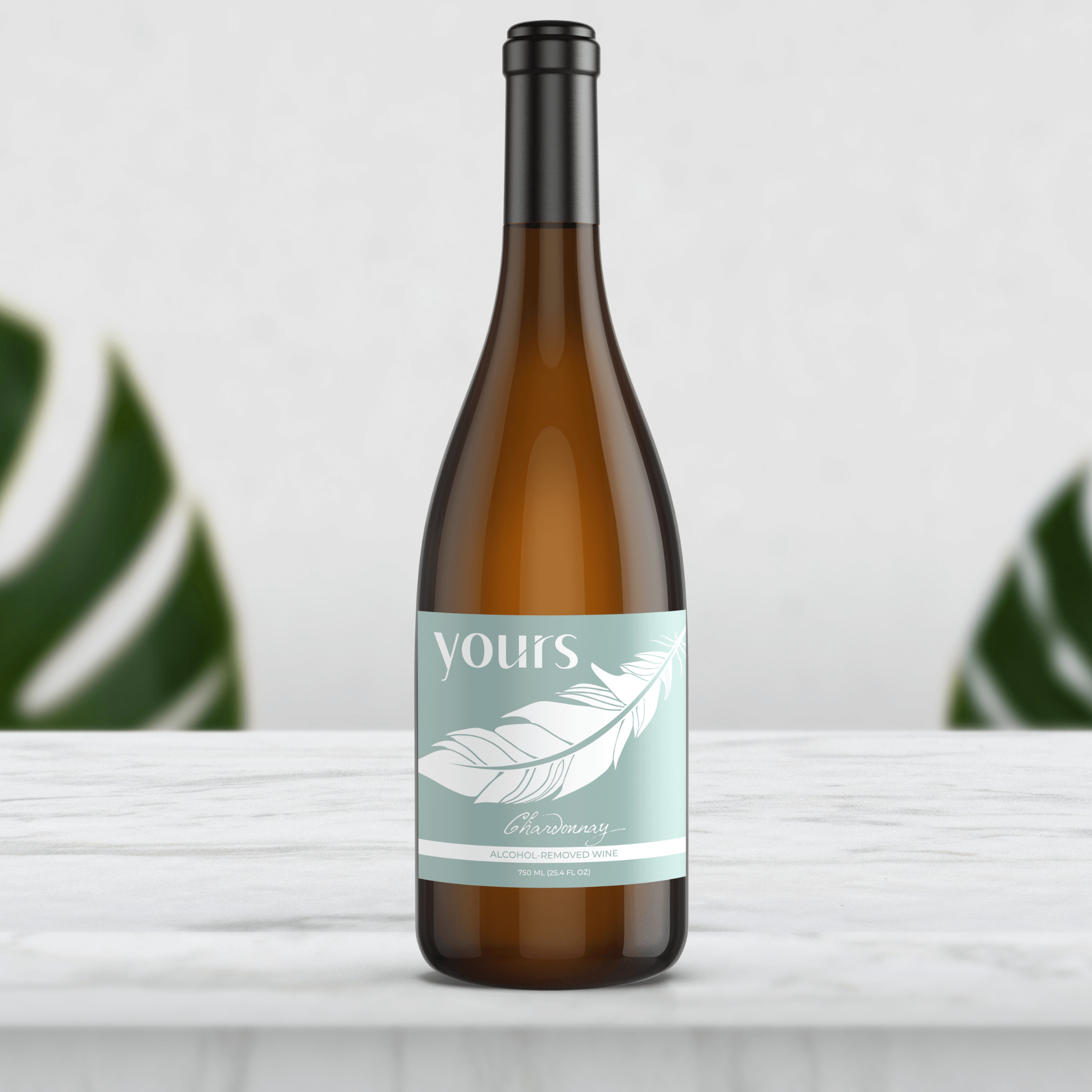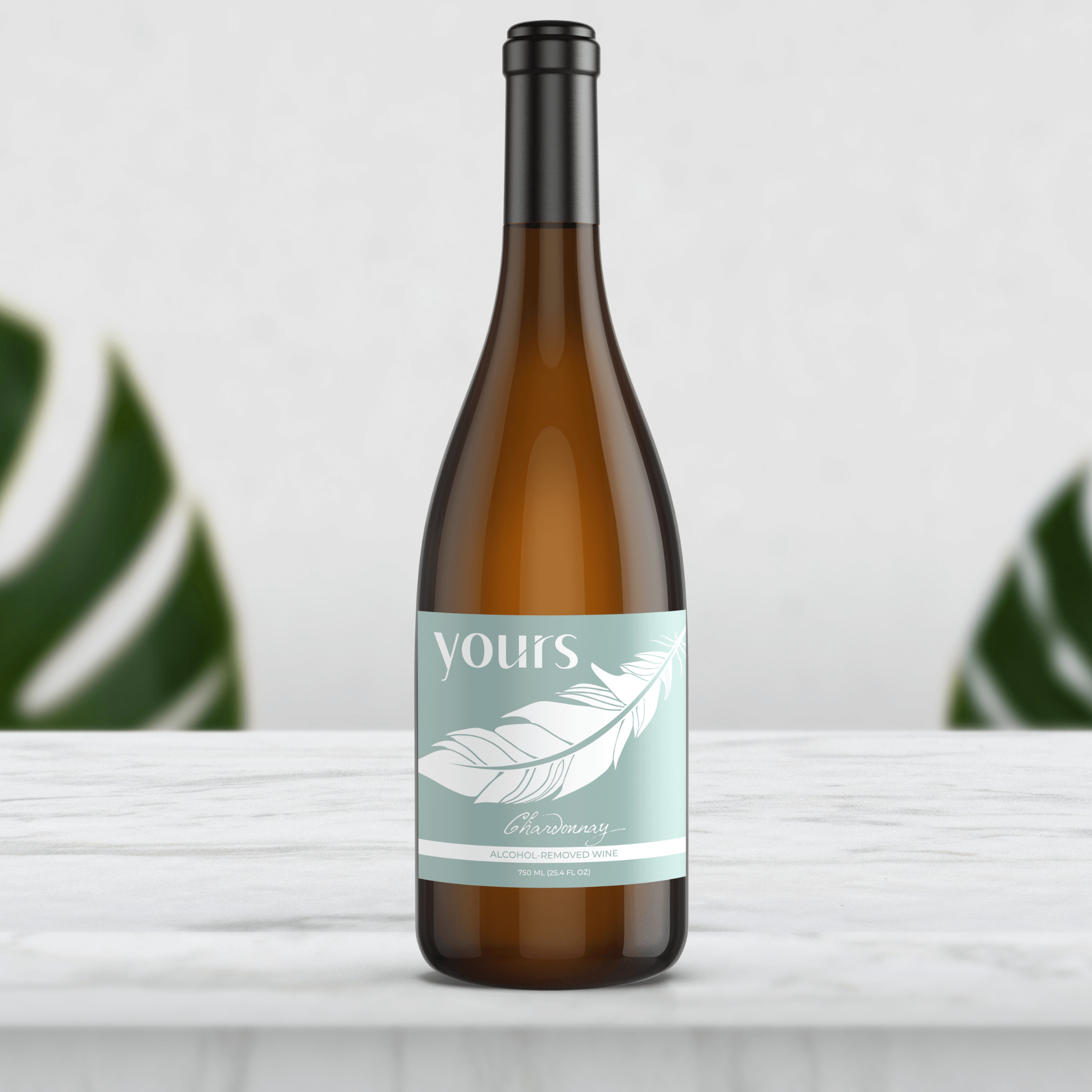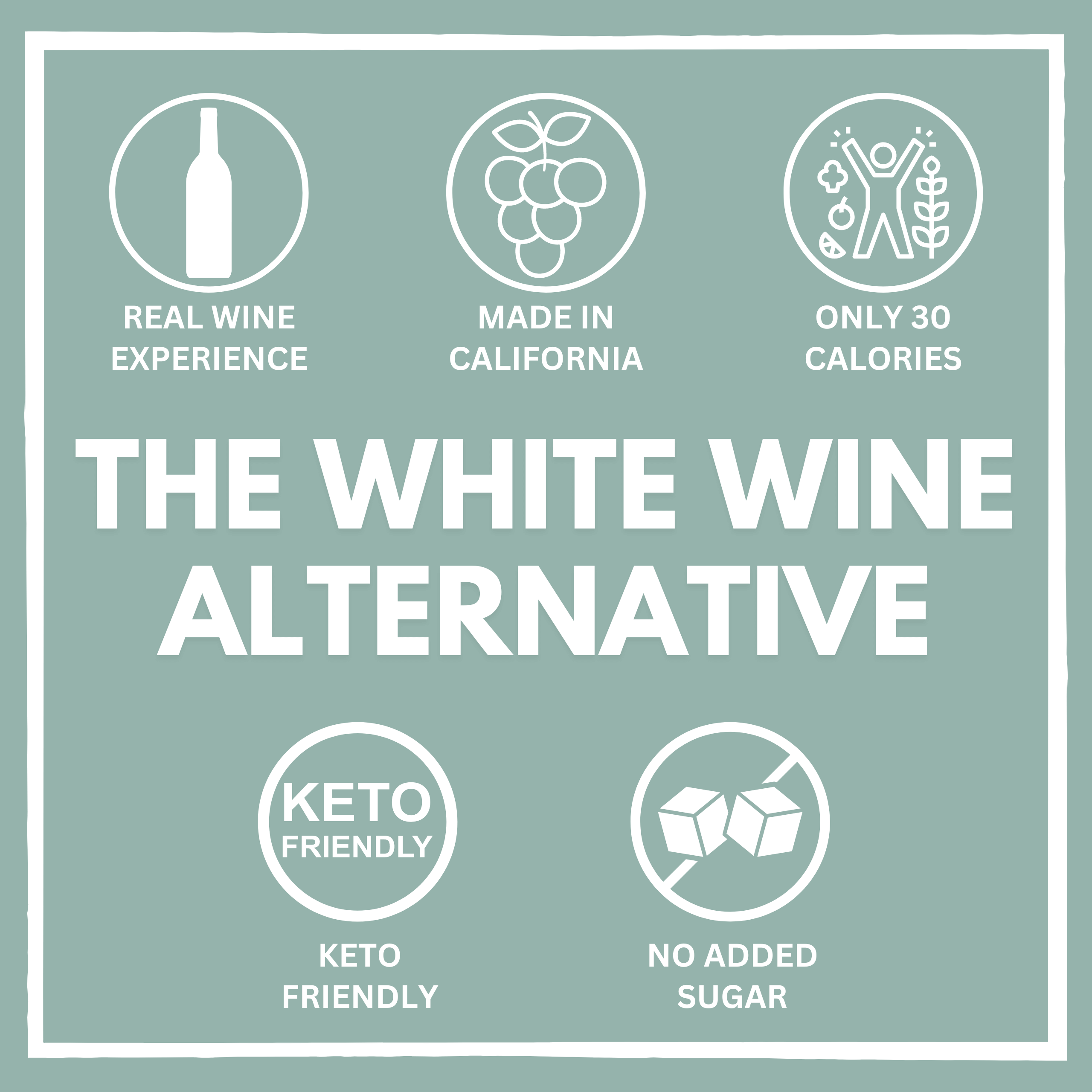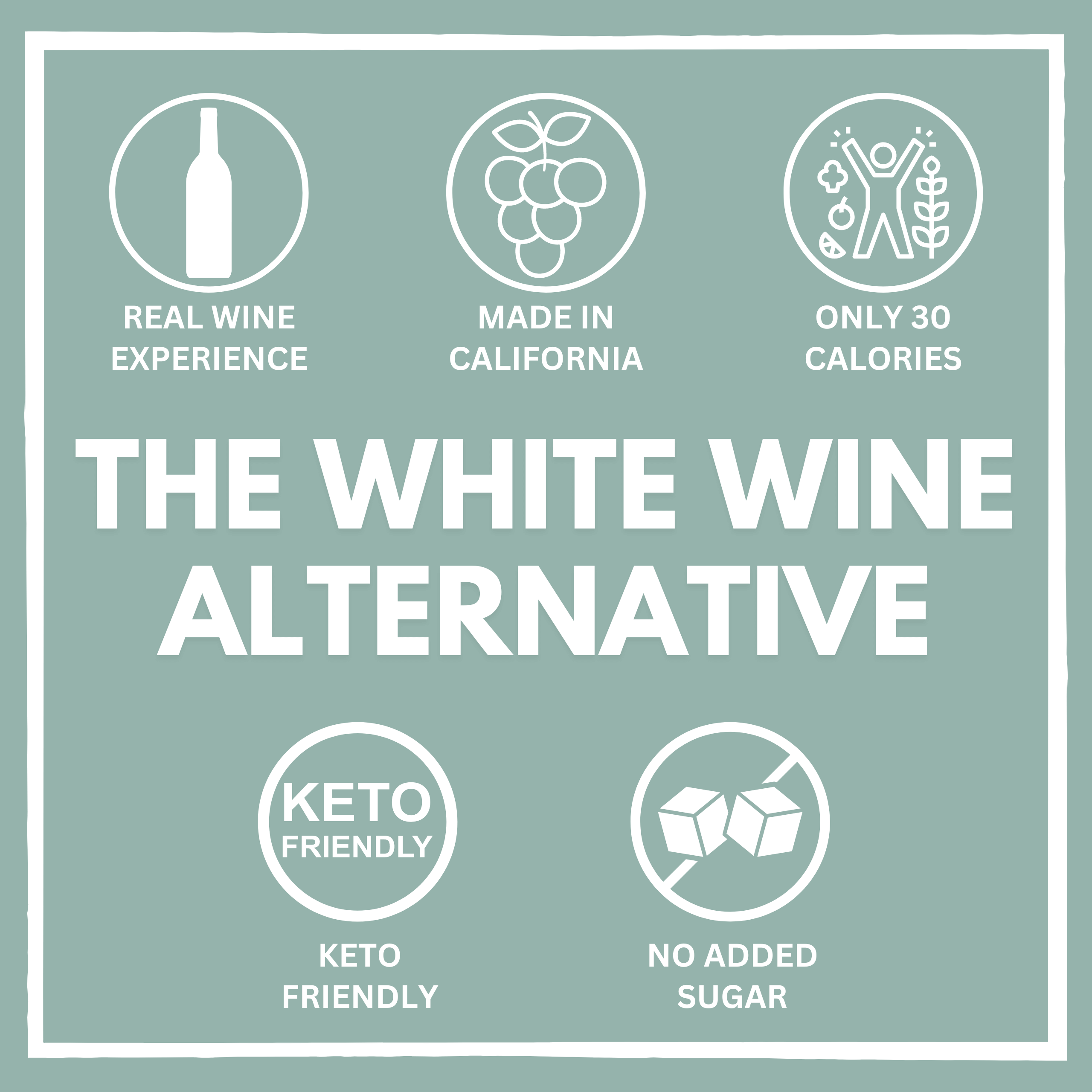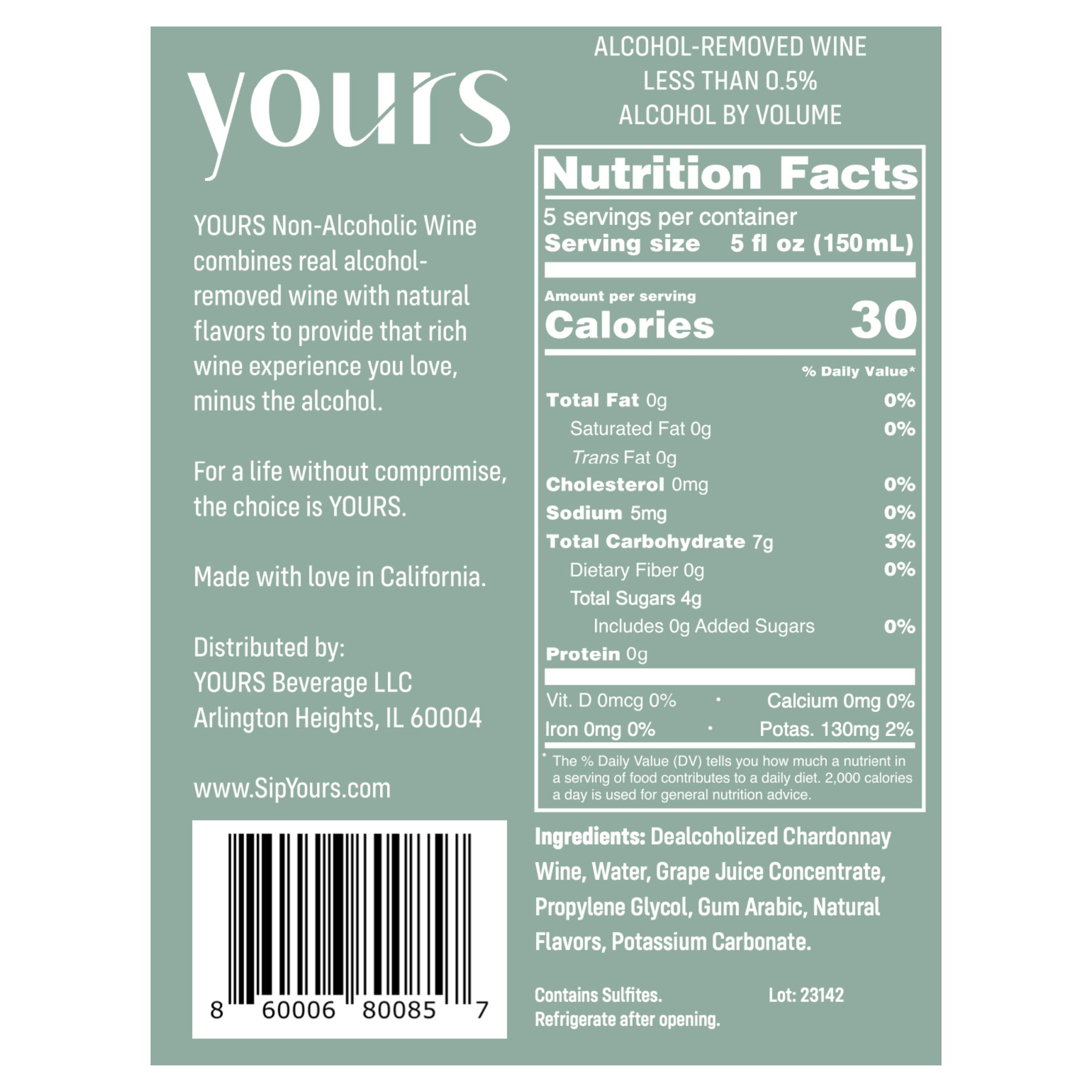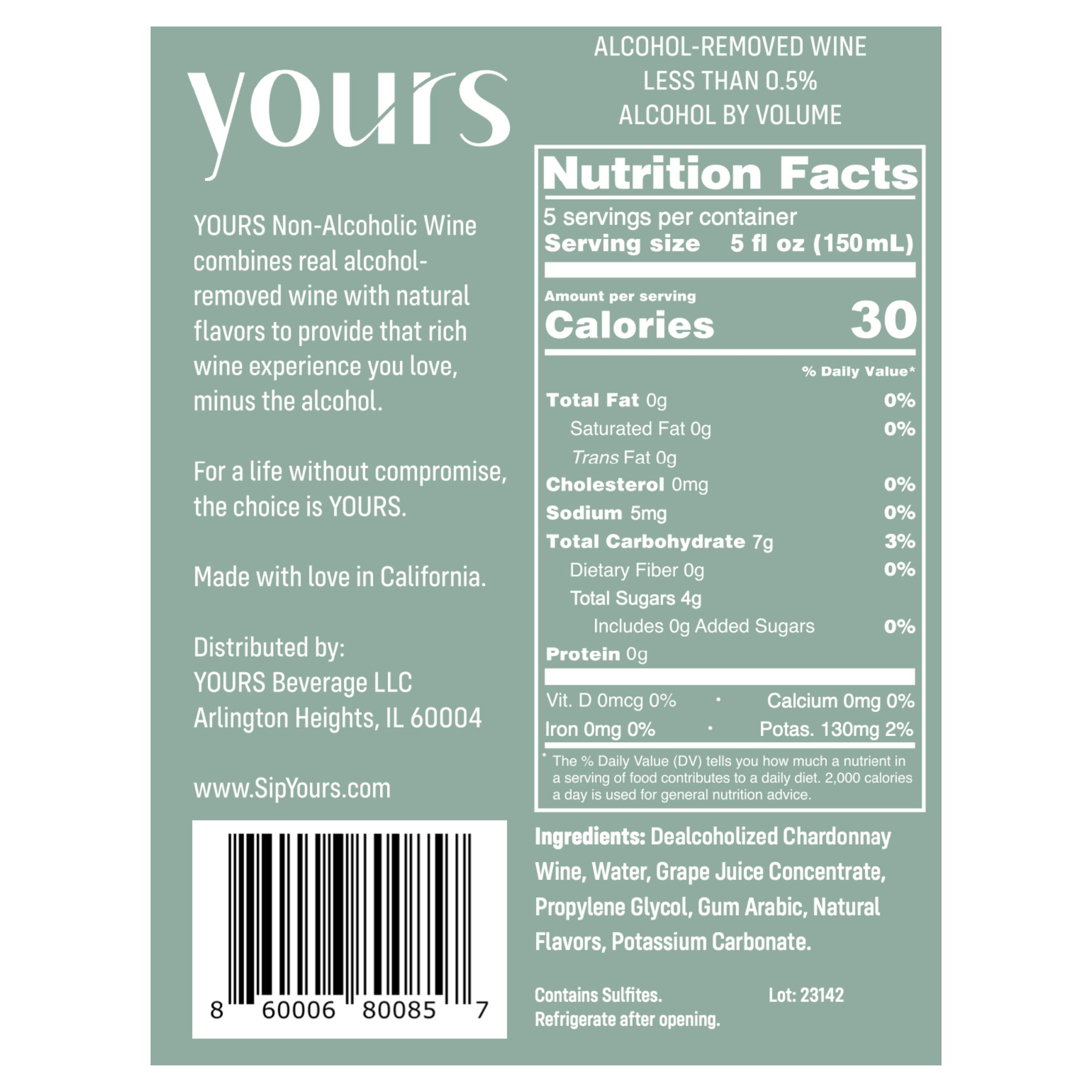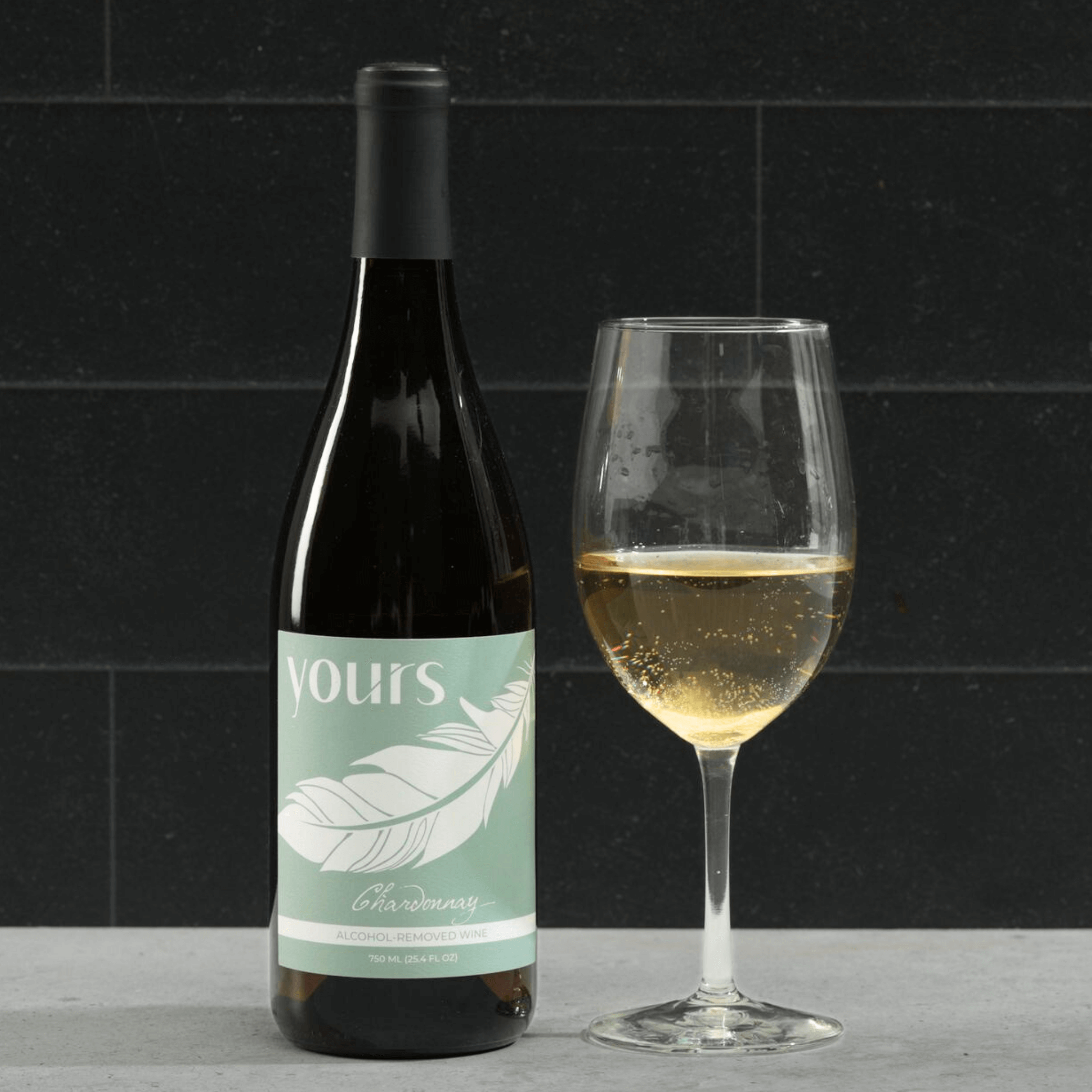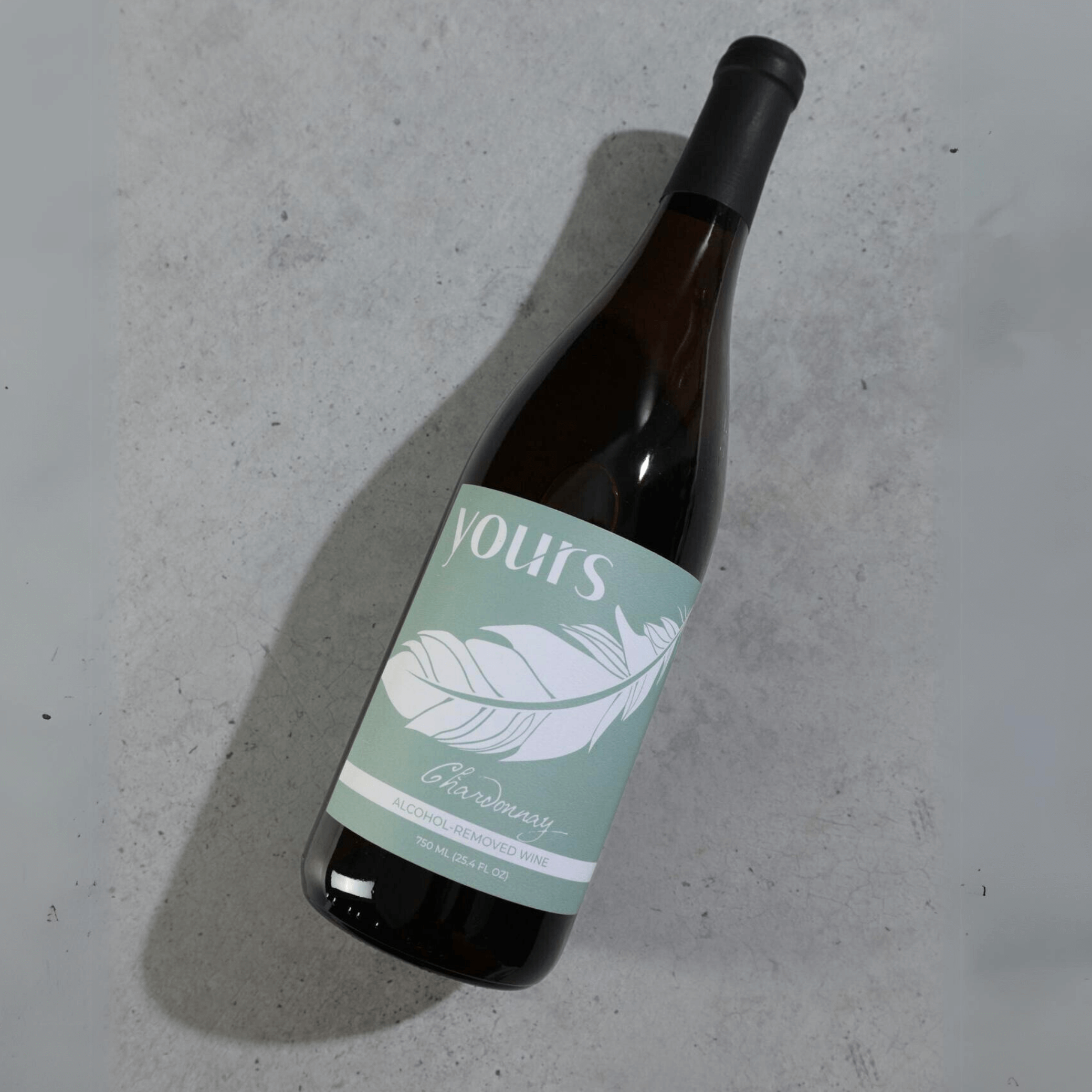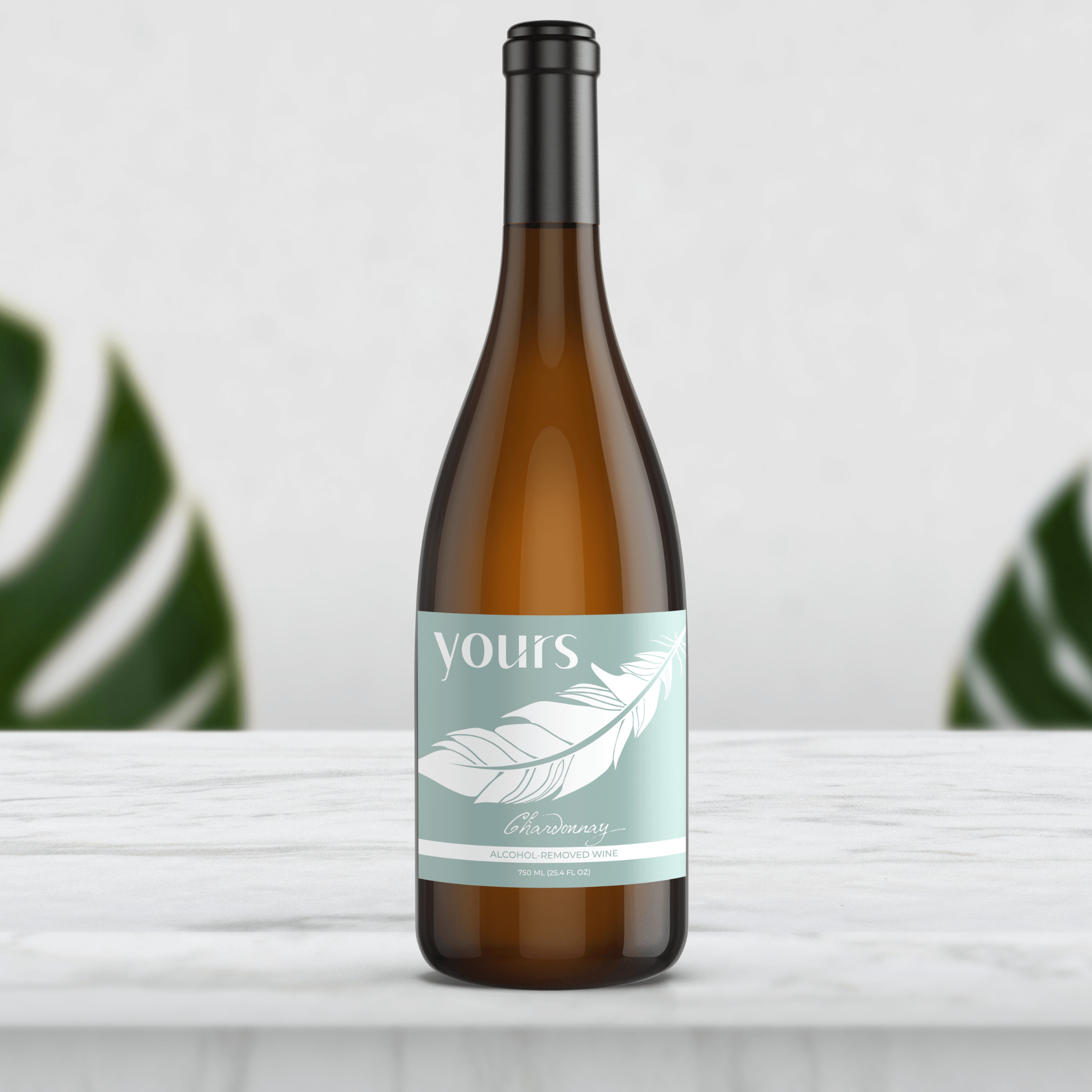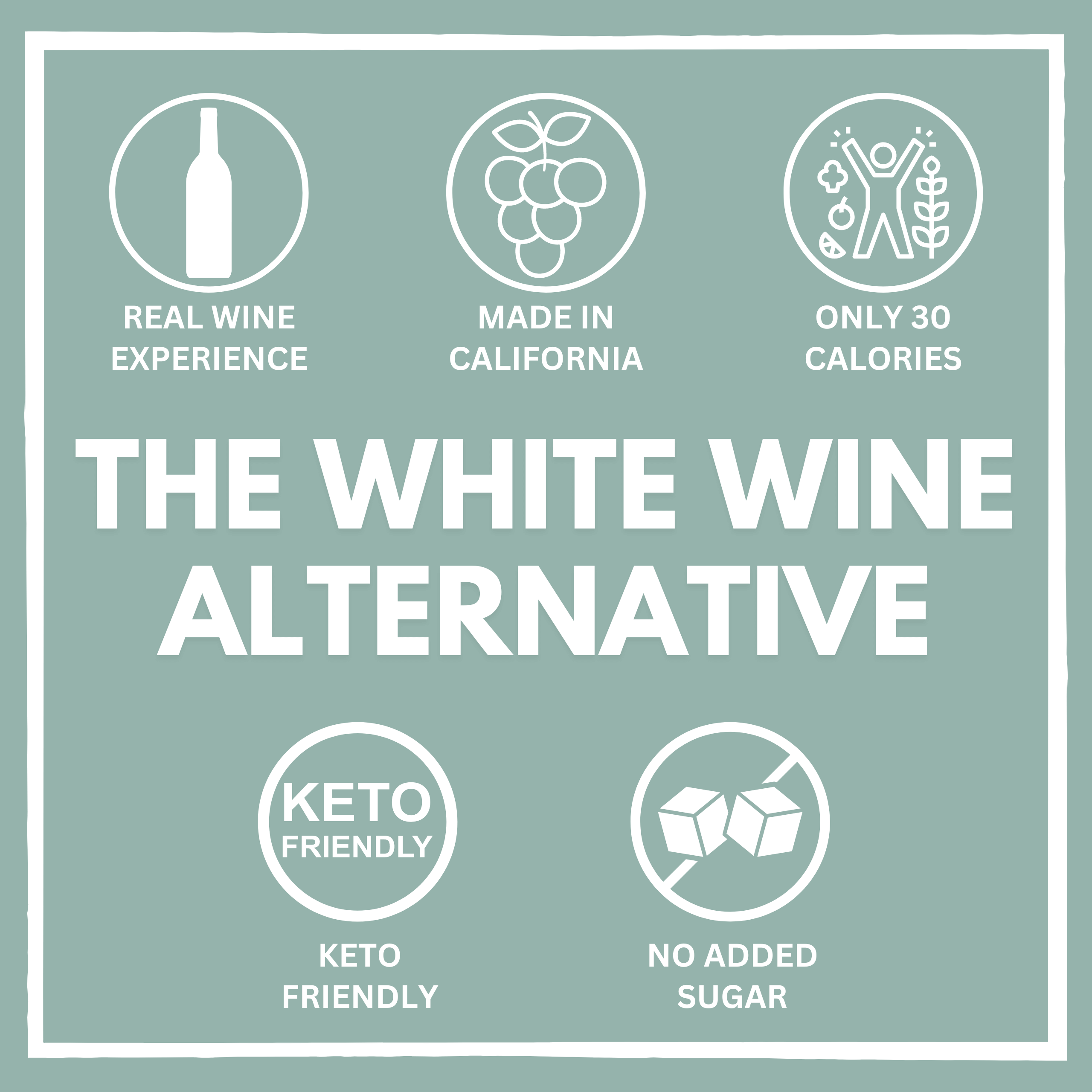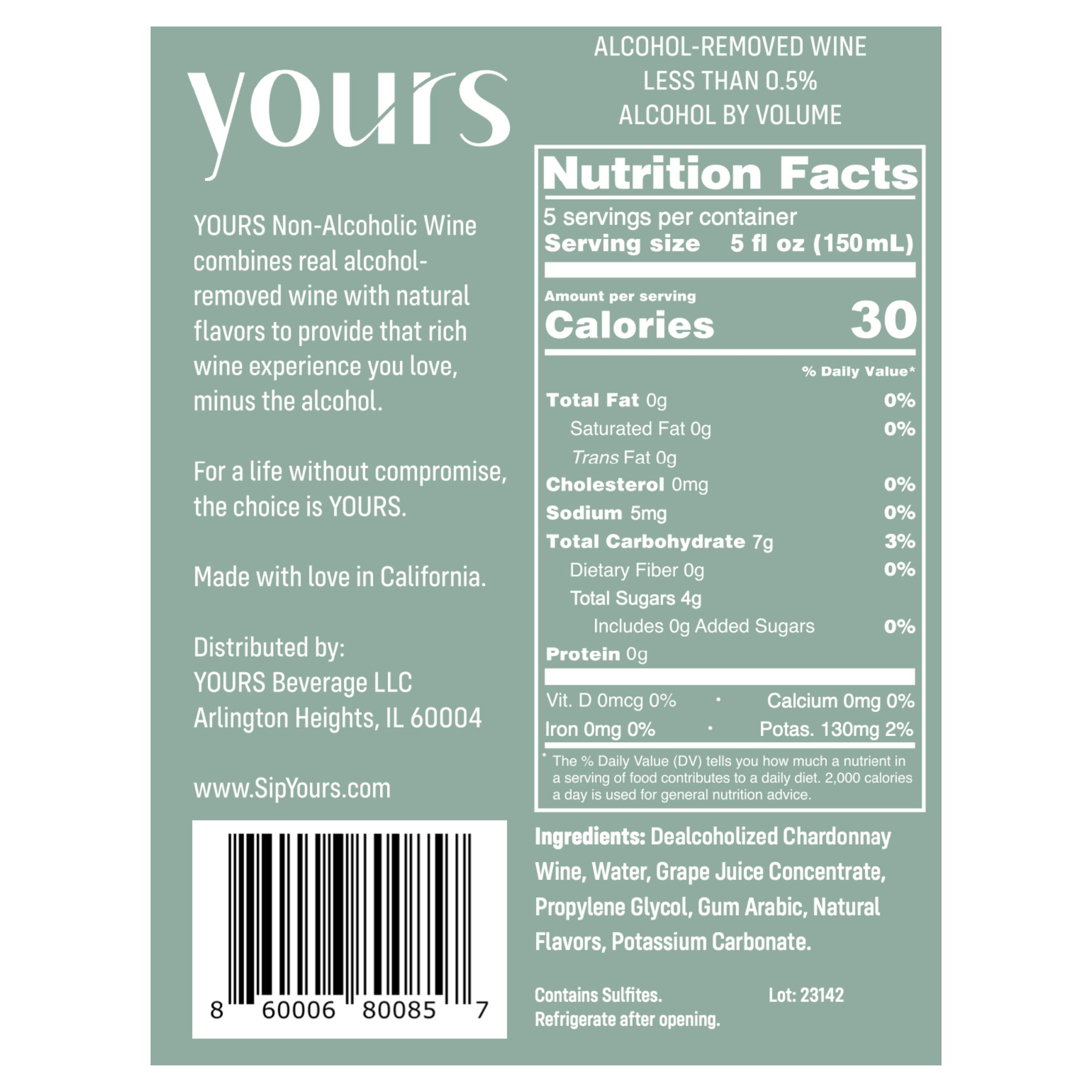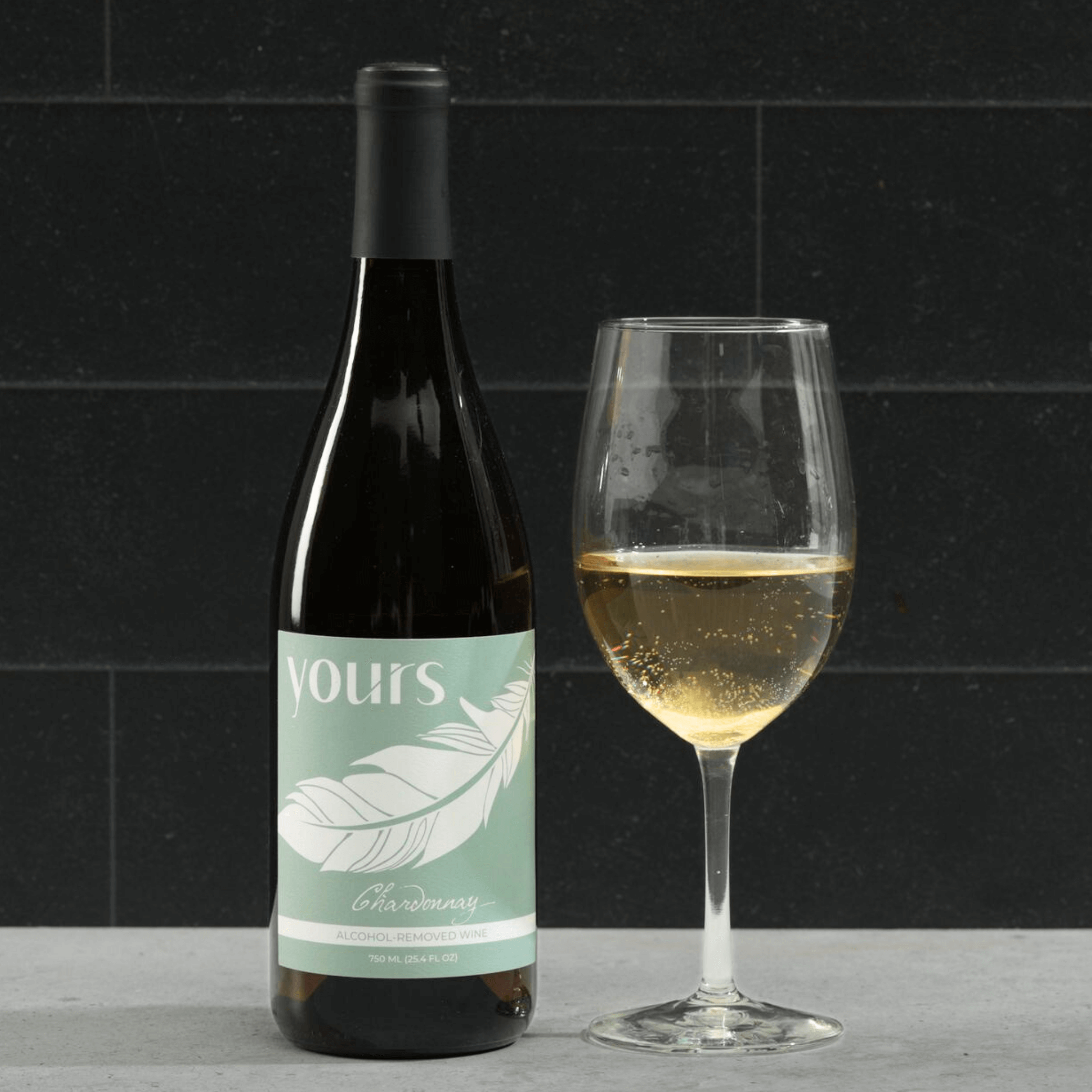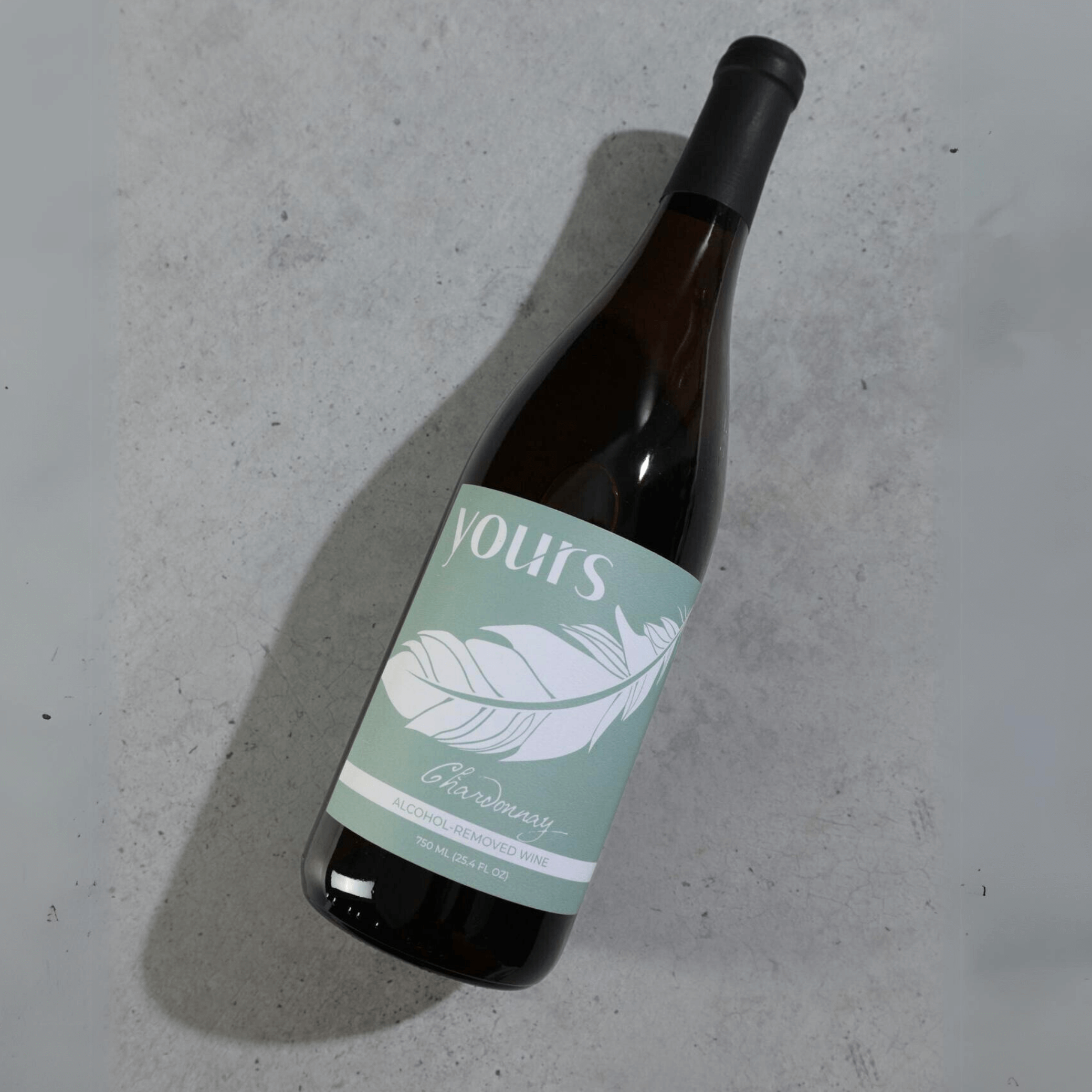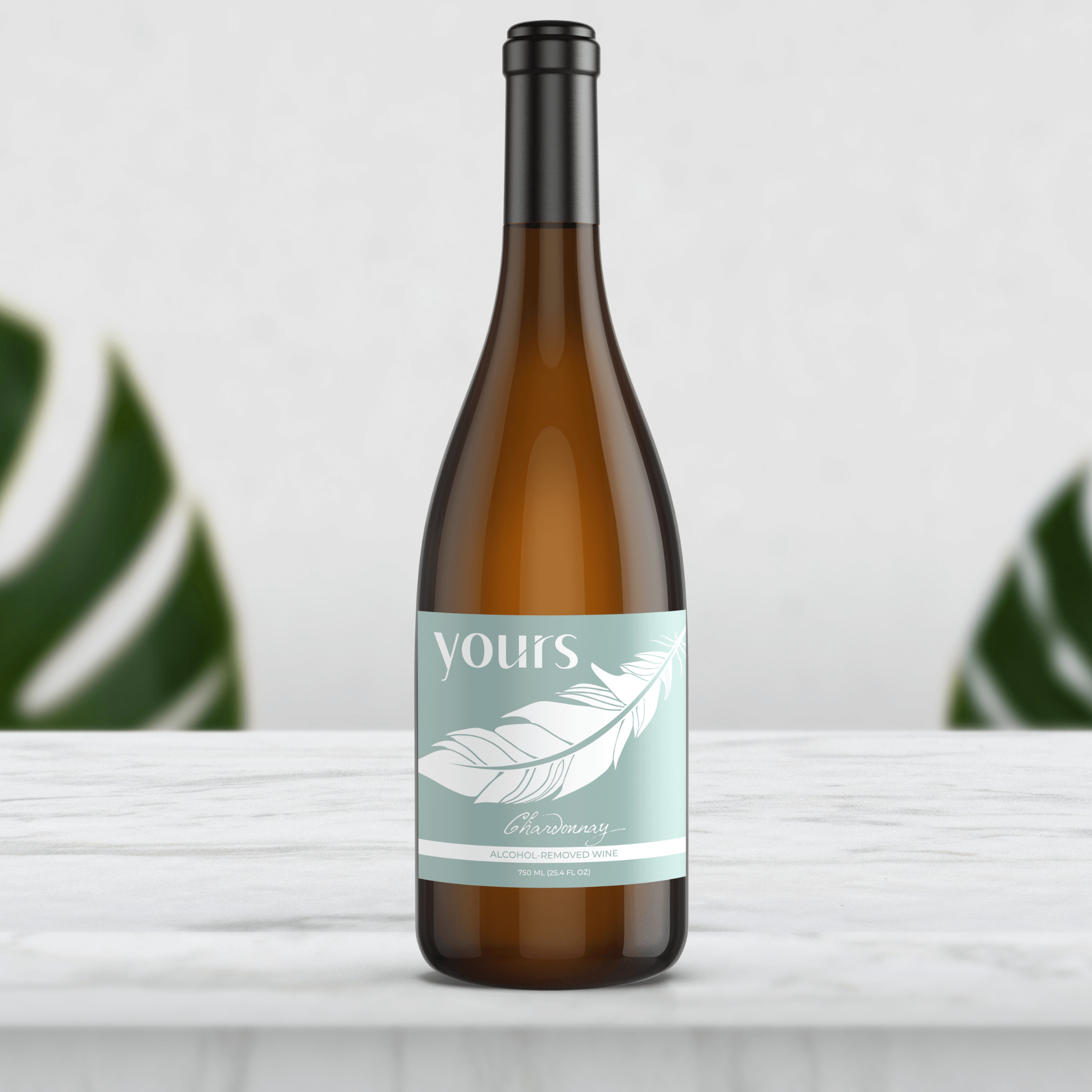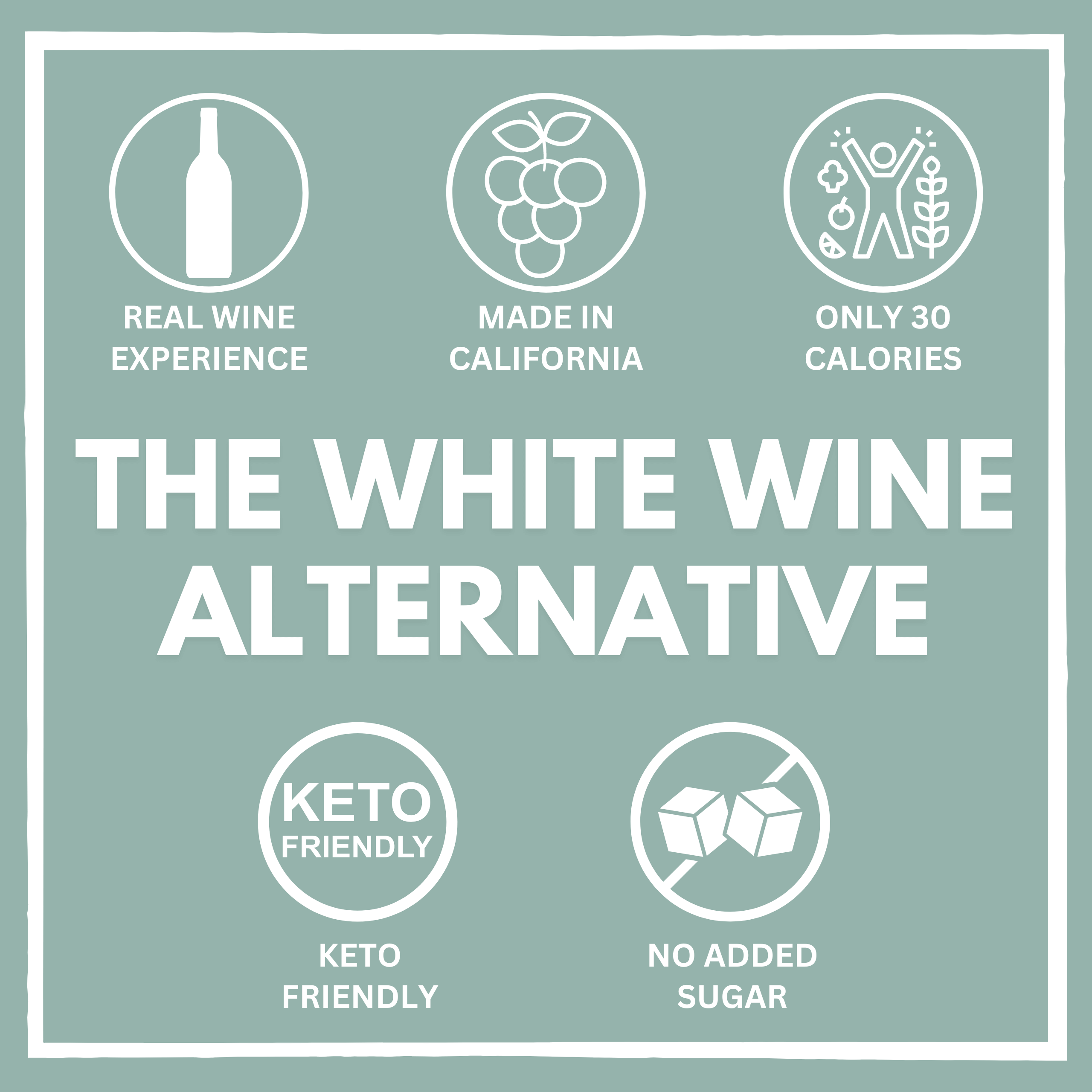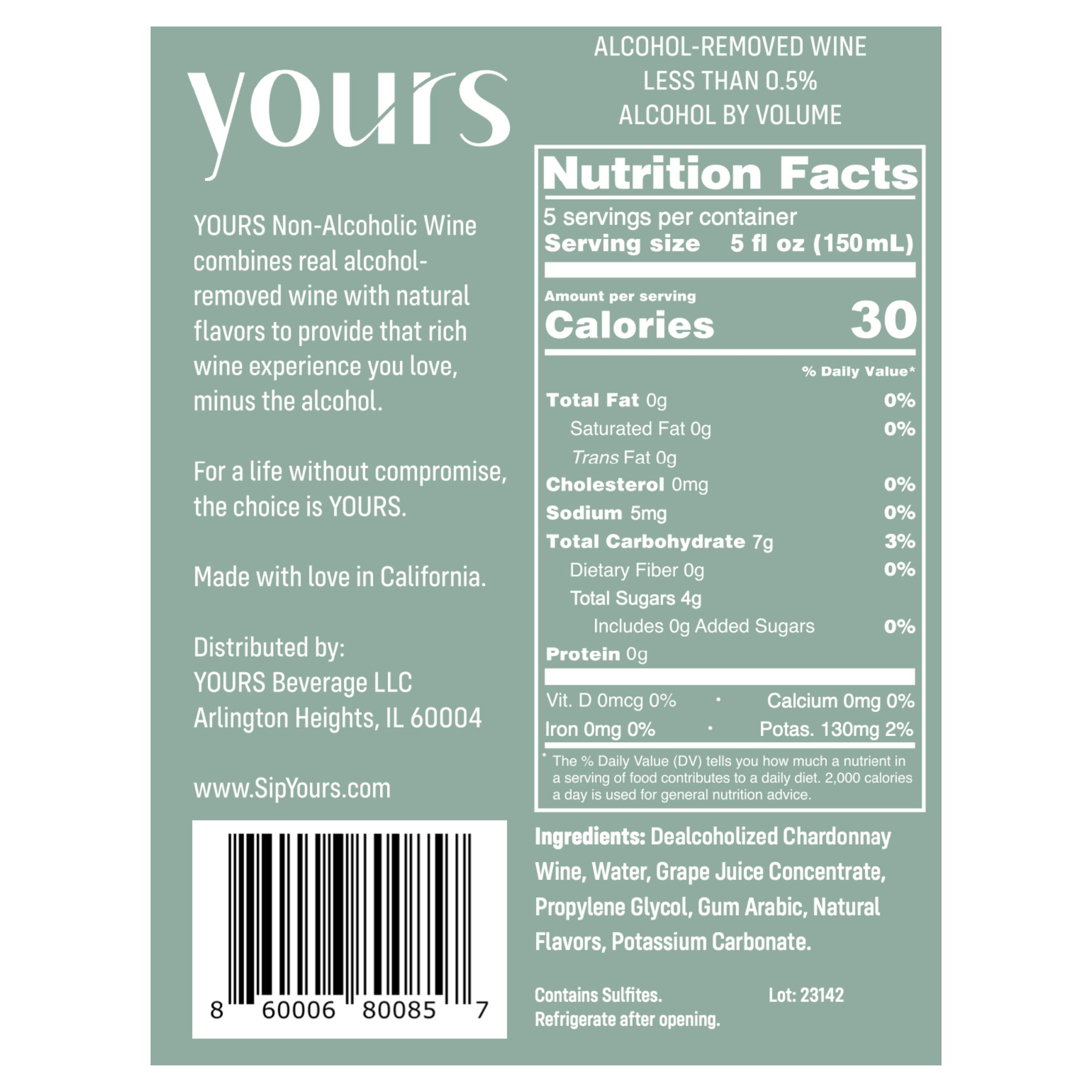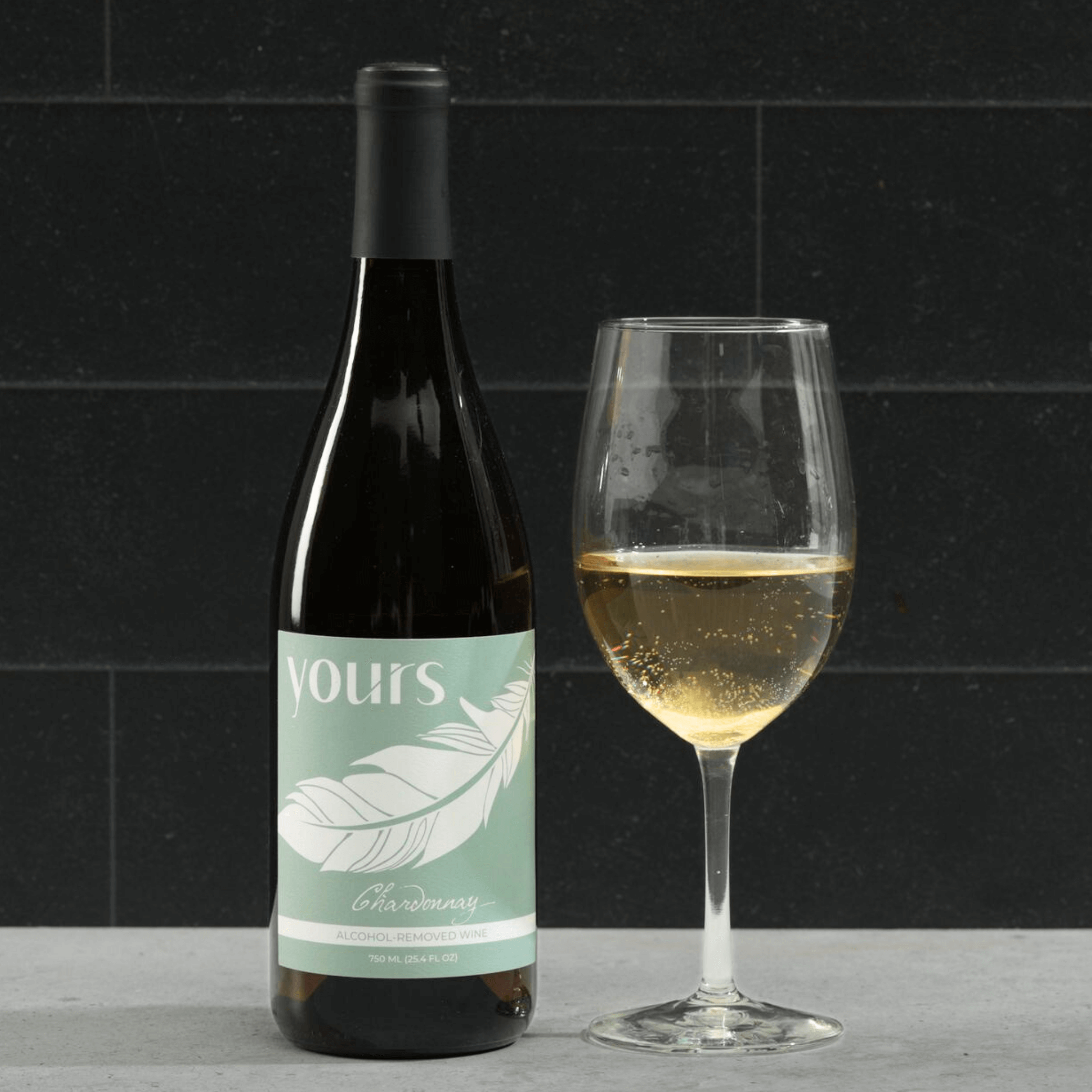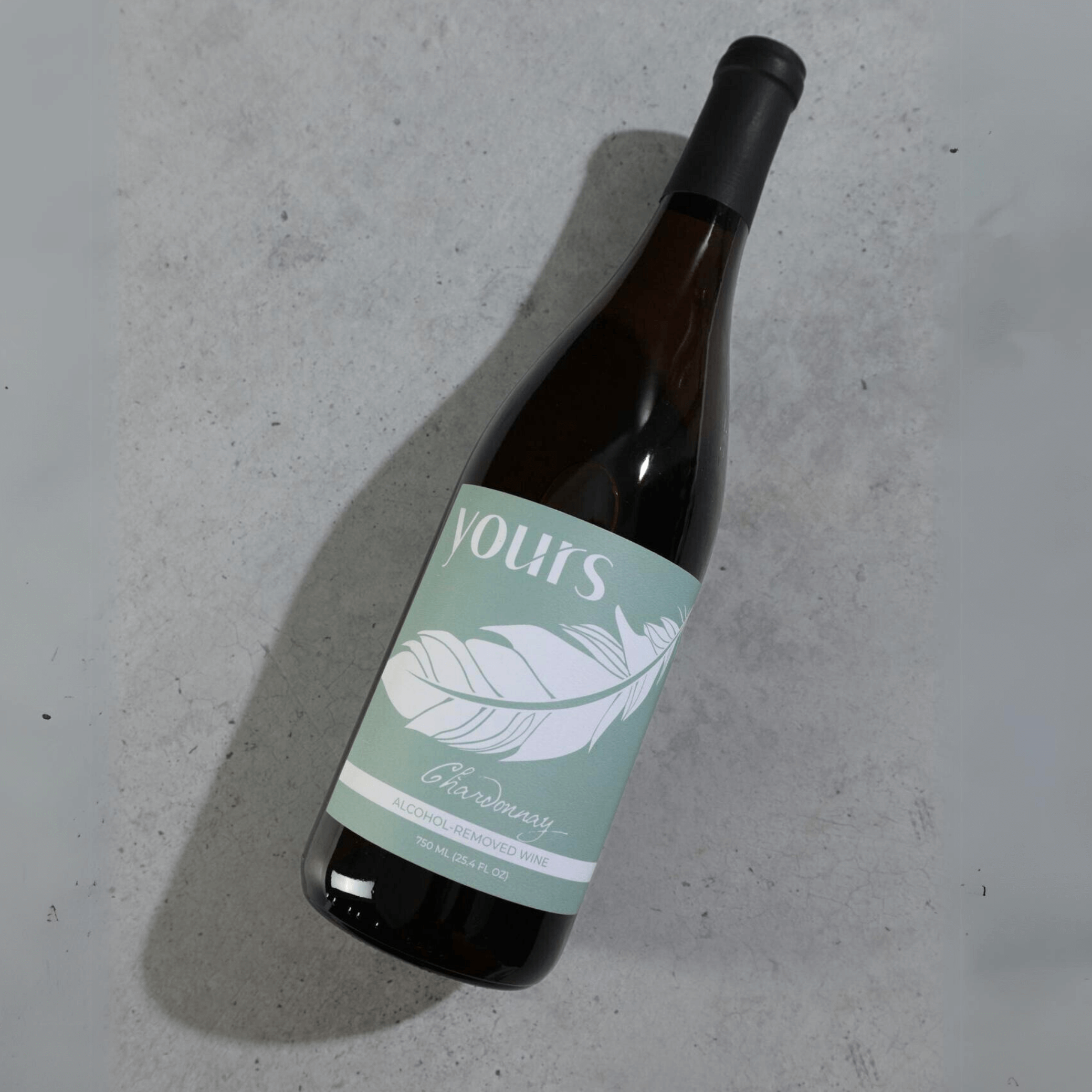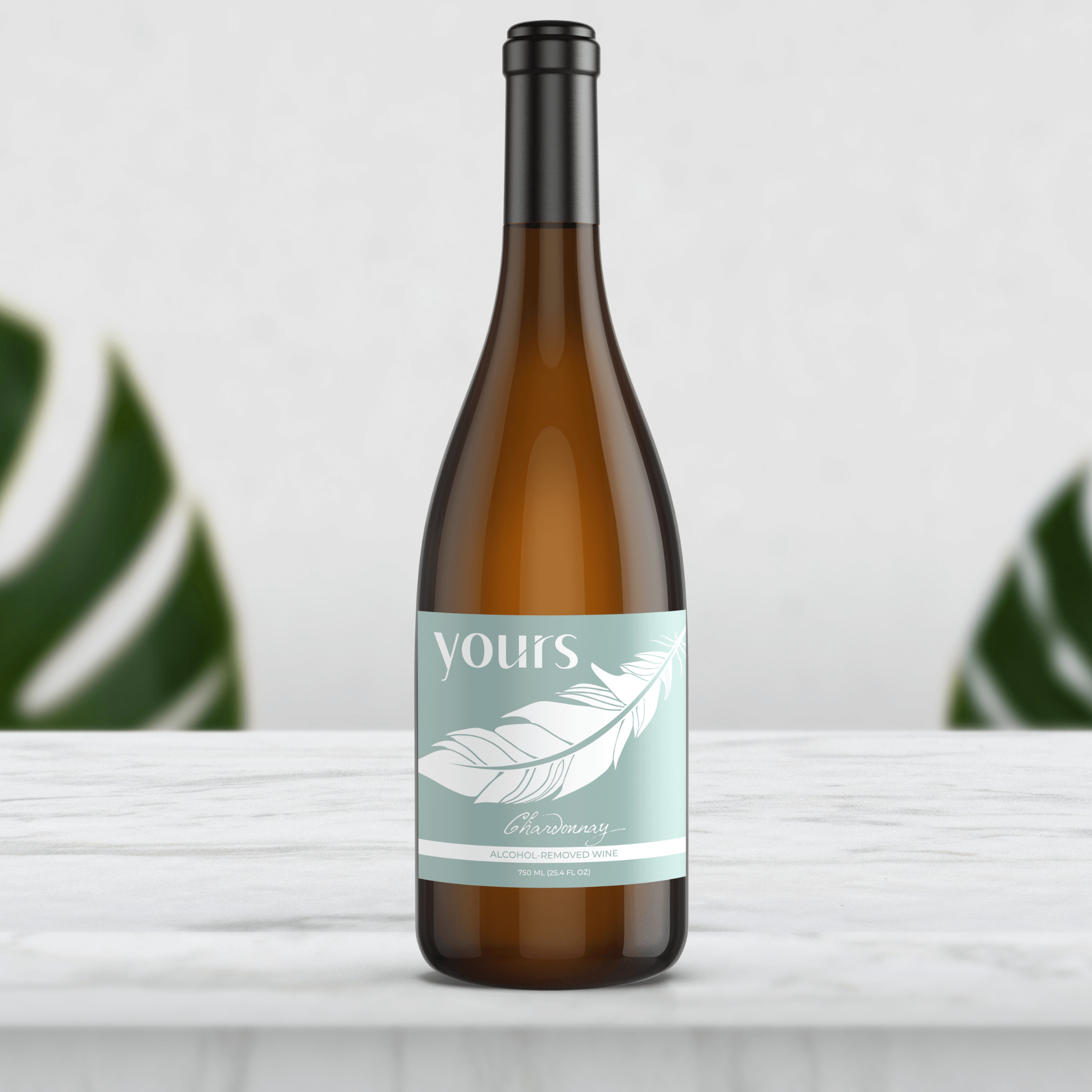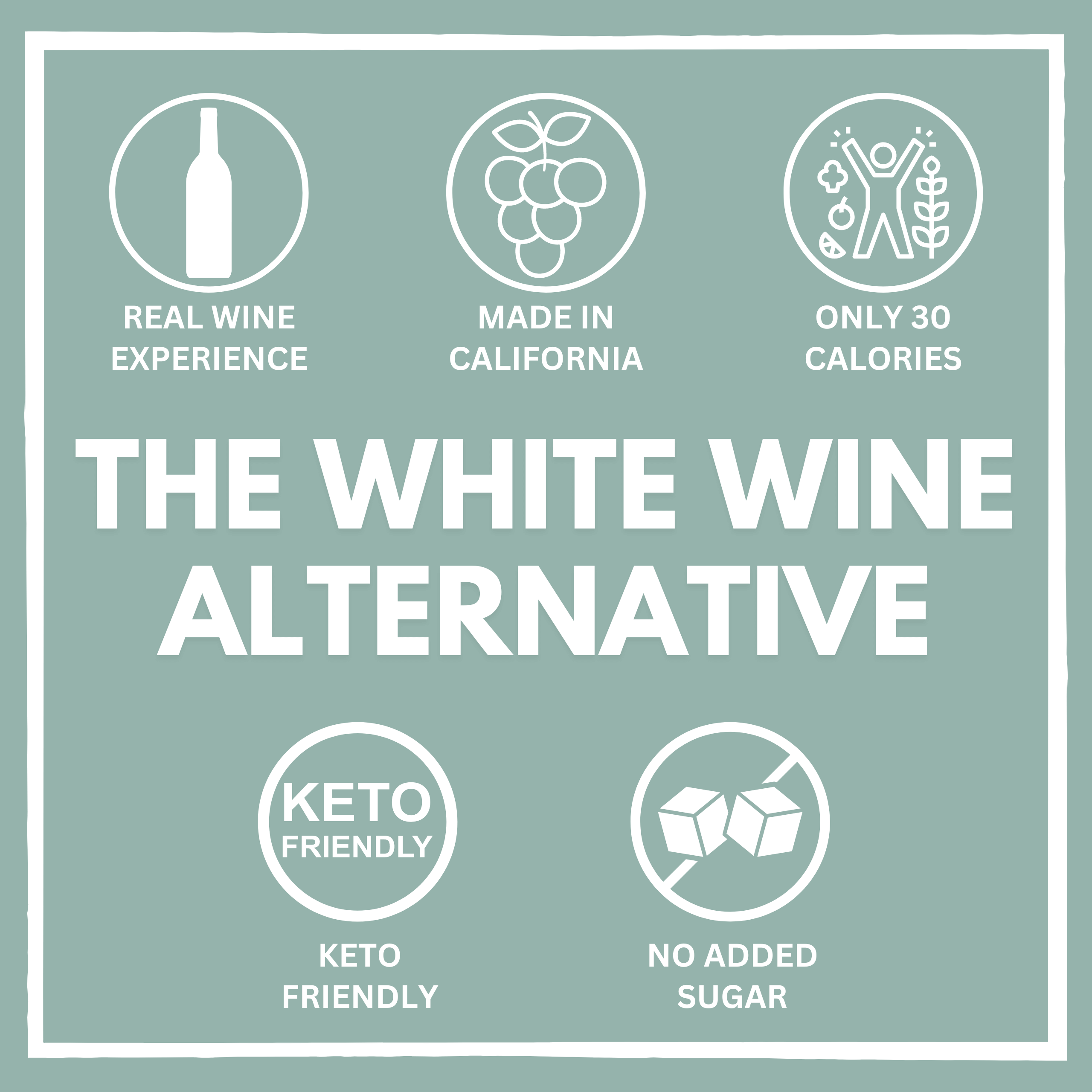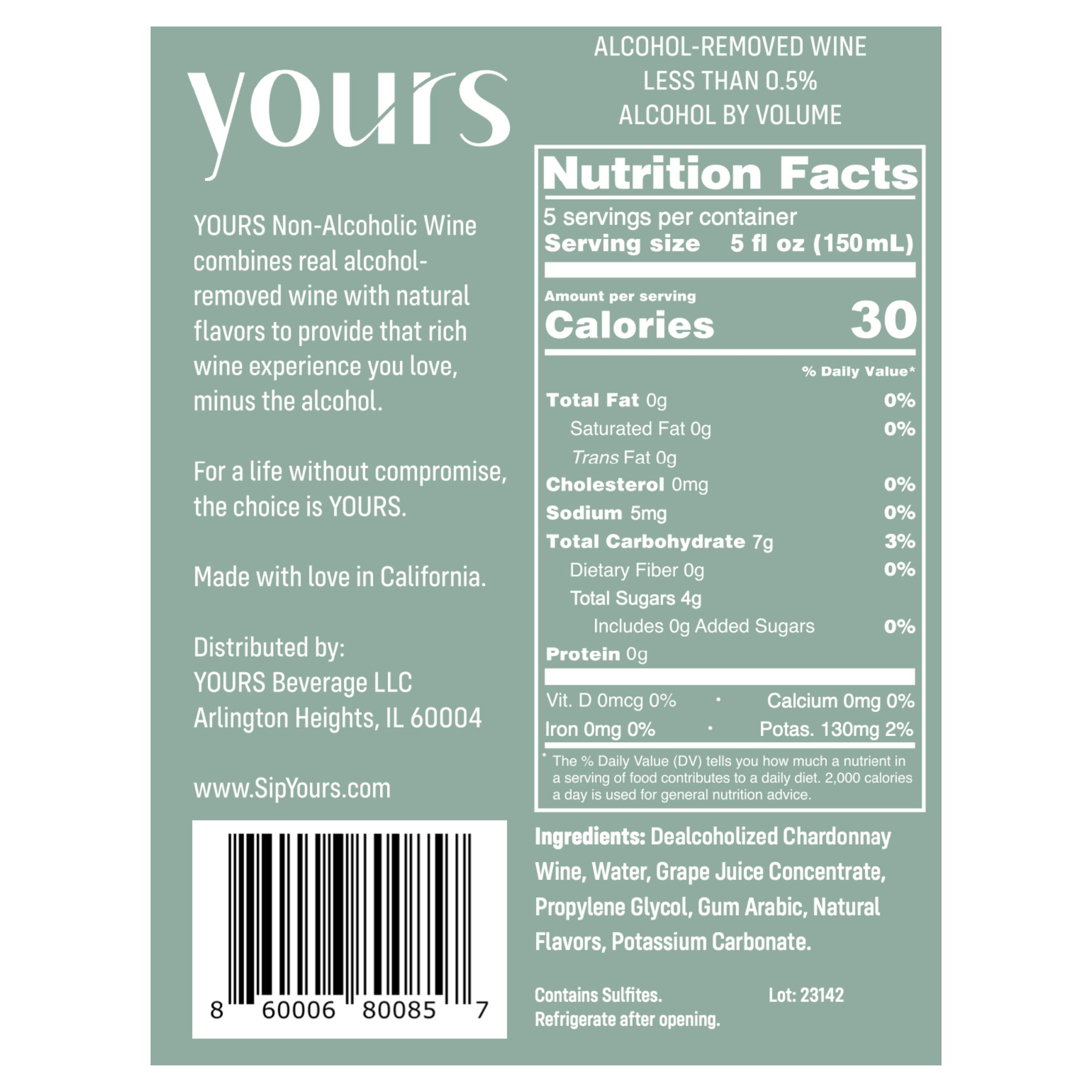 YOURS Non-Alcoholic Wine Small Batch California Chardonnay
YOURS is everything you love about oaky California Chardonnay, without the compromise of alcohol.
California Chardonnay has quite the reputation. The color. The aroma. The flavor. It's all iconic (and delicious). Which is why it's no surprise that this varietal is one of the best-selling wines in the world.
When we set out to make a non-alcoholic chardonnay that could live up to such a reputation, we had no idea how big a challenge we took on.  But thankfully we weren't alone. We partnered with some of California's most awarded and celebrated Chardonnay experts, who helped us recreate the flavors and experience that make this wine so special. 
It took longer than expected (we knew we had to get it just right), but the result is non-alcoholic chardonnay that truly lives up to its reputation. For those that know chardonnay well, you'll be amazed at how closely this resembles the original.

Why No Alcohol?
We're not anti-alcohol. But with only one shot at this life, we believe in doing everything we can to live our best one. And there's a lot to be gained when you reduce or remove alcohol, including:

Improved Sleep
Better Energy
Healthier Skin
Enhanced Mood
Reduced Anxiety
Of course, no two people have the same experience when they take alcohol out of the equation. But isn't it worth a try?
The Taste
For this non-alcoholic wine, we worked with some of the finest winemakers and sommeliers in California to ensure we nailed the flavor and experience.  
YOURS Non-Alcoholic Chardonnay pours golden hue that glimmers in the glass, immediately captivating the senses. Upon the first sip, the wine reveals a harmonious balance of flavors and textures. Crisp, green apple and citrus notes dance on the palate, while subtle hints of vanilla and oak provide a creamy, luxurious mouthfeel. 
The wine's exceptional craftsmanship is evident in its well-integrated acidity, offering a refreshing and lively character. Its long, elegant finish leaves a lingering impression, making it an ideal choice for those seeking a superb Chardonnay that embodies California's winemaking expertise.
Each sip of this alcohol free chardonnay boasts a complex yet approachable blend of flavors, including: 
Buttery, Crisp Apple

Fresh Pear

Citrus
Vanilla
Oak
Tropical Fruits
Most importantly, YOURS Non-Alcoholic Chardonnay is free from the lingering sweetness that dominates most NA wines on the market. 
The Experience
While we're certain you'll love the taste, YOURS Non-Alcoholic Chardonnay is about more than just the flavor. It's about the experience. That proverbial weight lifted off your shoulders as you take that first sip of wine after a long day. And with YOURS, it's the same experience of relaxation and release that wine always brings, just without the guilt.
While we can never replace the missing alcohol (nor would we want to), we promise that YOURS is unlike any non-alcoholic wine you've ever experienced.
Whether you're toasting the bride and groom, or just toasting yourself as you curl up on the couch for another episode, YOURS Non-Alcoholic Chardonnay is perfect for any occasion. If you're looking for wine without compromise, the choice is YOURS.
The Details
| | |
| --- | --- |
| Size | 750mL |
| Serving Size | 5oz |
| Calories per Serving | 30 |
| Carbohydrates per Serving | 7g |
| Total Sugars per Serving | 4g (no added sugar) |
| Vegan | Yes |
| Ingredients | Dealcoholized Chardonnay Wine, Filtered Water, Grape Juice Concentrate, Propylene Glycol, Gum Arabic, Natural Flavors, Potassium Carbonate, Sulfites (preservative) |
This Wine's Got fans
PEOPLE LOVE YOURS
Sunday S.
This is the first non-alcoholic red wine I have enjoyed. I will continue to purchase.
Patricia G.
I have sampled numerous nonalcoholic wines. YOURS is one of the best.
Erika C.
Best non-alcoholic wine I have tried. It's the closest I've found to "real" wine.
Michelle M.
Very nice! Enjoyed YOURS wine - tasted very close the wine I usually drink.