Review: Wilfred's Aperitif Non-Alcoholic Aperol Spritz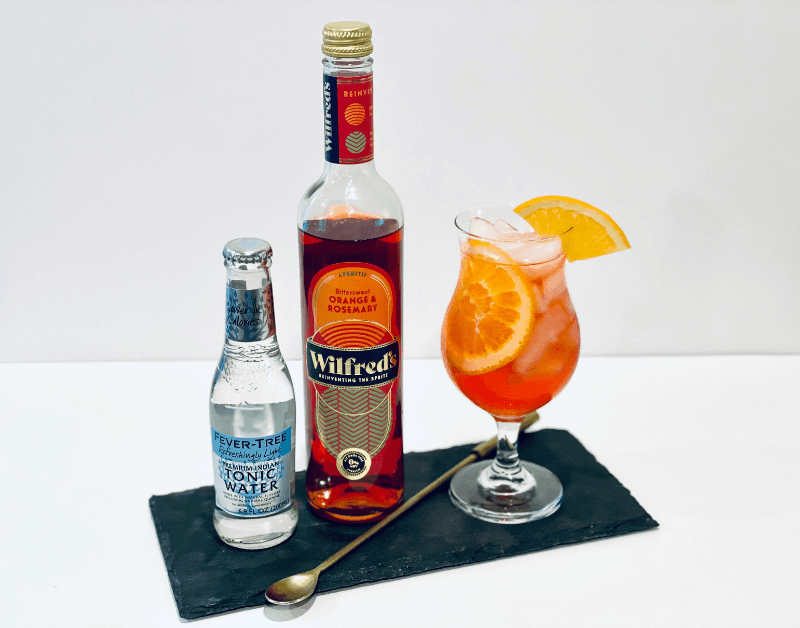 It's hard to name a more popular NA cocktail right now than the Non-Alcoholic Aperol Spritz.
Though we've shared hundreds of different alcohol-free cocktail recipes here at YOURS, our Non-Alcoholic Aperol Spritz Recipe with Lyre's Italian Spritz is by far our most popular. And honestly, it's no big surprise. The Aperol Spritz brings together the perfect blend of aroma, flavor, and presentation, making it an ideal cocktail to serve at almost any occasion.
With all this love for the Aperol Spritz, it wasn't long into our NA journey before we started hearing about this new brand of alcohol-free spirit coming out of the U.K. – Wilfred's Aperitif Non-Alcoholic Aperol Spritz. Named "Britain's #1 Non-Alcoholic Drink" at the 2020 Great British Food Awards, we kept reading about this beautifully bottled bitter orange and rosemary aperitif, that when blended with some simple tonic, turned into a delicious Non-Alcoholic Aperol Spritz.
Curious to see what the fuss was all about, we got our hands on a bottle of Wilfred's in order to give it a full review. Spoiler Alert: it absolutely lives up to the hype!
100 Ways to Make a Spritz
Like most of the great non-alcoholic spirits on the market today, the story of Wilfred's Aperitif Non-Alcoholic Aperol Spritz begins with a frustrated founder, Chris Wilfred Hughes.
Fed up with the uninspired, overly sweet alcohol-free drink options available both at home and at restaurants and pubs, Hughes began making his own NA drink concoctions in his kitchen. Searching for something that combined quality ingredients with complex, adult flavors, he eventually set his sights on creating the perfect non-alcoholic Aperol Spritz. Ever the experimenter, Hughes went through over 100 different non-alcoholic spritz recipes over the course of 18 months, tweaking it until he landed on a version he knew was perfect.
With that, Wilfred's Aperitif Non-Alcoholic Aperol Spritz was born.
Born from Nature      
One of the main reasons it took Hughes over 100 tries to nail the recipe for Wilfred's Aperitif Non-Alcoholic Aperol Spritz was his insistence that the spirit be made from the freshest, high-quality ingredients he could find. In his eyes, what good was removing alcohol from your body if you were just going to replace it with a bunch of sugar and artificial ingredients? No, for Wilfred's to be truly perfect, it had to be born from nature.
And that's exactly how Wilfred's Aperitif gets it start. Freshly picked rosemary. Ripe bitter orange. Hearty rhubarb. These are what comprise the essence of Wilfred's – not artificial flavors, sweeteners, and colors like you'll find in many products stocked on shelves – and why bringing this beverage to market was such a labor of love for Hughes.
Review: Wilfred's Aperitif Non-Alcoholic Aperol Spritz
Of course, quality ingredients can only get you so far. In order to have a true winner, it actually has to taste good too!
The classic Non-Alcoholic Italian Aperol Spritz Recipe suggested by Wilfred's is as follows:
1/3 Part Wilfred's Aperitif
2/3 Part Premium Tonic Water
Ice
Slice of Orange for Garnish
To test our bottle of Wilfred's, we decided to follow this recipe to a T, using Fever Tree Premium Tonic for our mixer.
The first thing we noticed when pouring our alcohol-free Aperol Spritz was the color. A beautiful shade of orangish-red, Wilfred's was immediately one of the most appetizing non-alcoholic cocktails we've ever seen. It just begs to be sipped. Which was good, because we were most definitely thirsty…
On the tongue, the slight bitterness of Wilfred's Aperitif Non-Alcoholic Aperol Spritz hits you right away. But it's balanced with the sweetness of the citrus and the tanginess of the herbs. The fizz from the tonic really brightens the whole experience, as each bubble pop releases a microburst of flavor. And while we thought it was a bit strange that the Wilfred's recipe called for no non-alcoholic champagne or prosecco (like a traditional Aperol Spritz), it turns out that it's really not needed. Somehow Wilfred's has managed to recreate the entire range of flavors and experiences in this single bottle.
While the flavors were spot on, what stuck us most about Wilfred's Aperitif Non-Alcoholic Aperol Spritz was just how easy it is. Pour a little from the bottle over ice and top with tonic, that's it! You don't even really need the orange garnish, as Wilfred's has plenty of citrus to go around. While the Aperol Spritz isn't necessarily a difficult cocktail to make, it does take a touch of time and effort. But Wilfred's has made it as simple as pouring a G&T or a Jack & Coke, meaning this could easily become a go-to non-alcoholic cocktail for any night of the week.
Final Thoughts: Wilfred's Aperitif Non-Alcoholic Aperol Spritz
They say where there's smoke there's fire. And when it comes to the hype surrounding Wilfred's Aperitif Non-Alcoholic Aperol Spritz, it's clear that it really is all warranted.
From the beautiful presentation of the bottle, to the bold color, aroma, and flavor of the spirit itself, Chris Hughes and the Wilfred's team have really crafted something special. And there is no doubt in our mind that Wilfred's Non-Alcoholic Aperitif will only grow in popularity as time goes on.
And to that we say cheers!