Homemade Non-Alcoholic Eggnog Recipe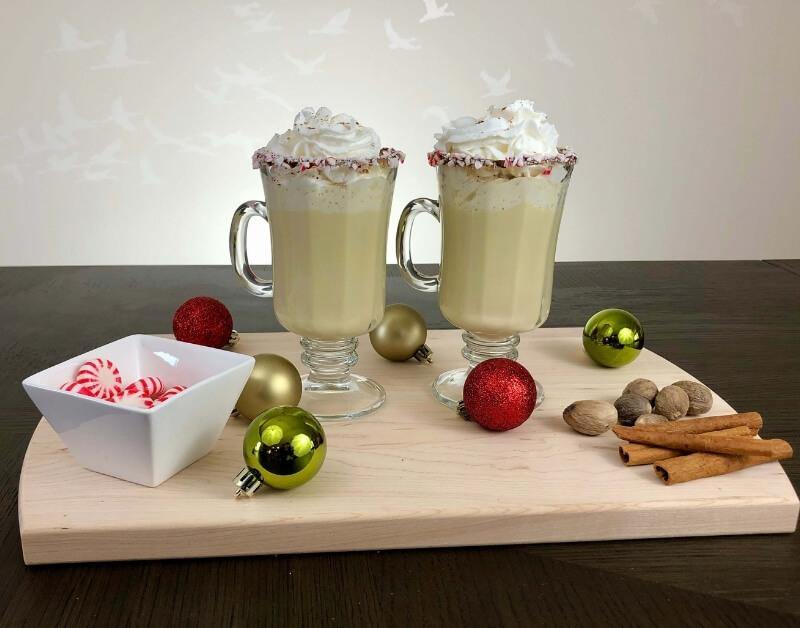 'Tis the season for the drink known across the globe for holiday cheer: eggnog!
This rich, creamy libation is one of the most common drinks you'll see served during the holiday season. And while not everyone enjoys the complex flavors eggnog brings to the table, if you're celebrating in your home, serving a quality eggnog is a must.
Drinkers traditionally catch their buzz off an eggnog that's swimming in rum or brandy. One might think that the easiest way to serve an alcohol-free eggnog is to simply omit this step of the recipe. But for those that have tasted eggnog straight, you know that the alcohol provides a rich side of the flavor profile, and without it, this holiday classic just isn't the same.
Thankfully, YOURS has developed a delicious, homemade non-alcoholic classic eggnog recipe. Substituting LYRE'S non-alcoholic rum for the traditional spirit, and you get all the great flavors of the adult eggnog you enjoy, but without the headaches, hangovers, and heated family debates around the Christmas tree.
Best of all, this homemade non-alcoholic eggnog is surprisingly easy to make. Read on for instructions on how to bring this holiday classic to life:
Ingredients for Homemade Non-Alcoholic Eggnog Recipe
2 Cups - Lyre's Dark Cane Spirit
2 Cups - Milk
6 - Egg Yolks
1 Cup - Heavy Cream
½ Cup - Granulated Sugar
½ Teaspoon - Ground Cinnamon
½ Teaspoon - Ground Nutmeg
½ Teaspoon - Vanilla Extract
Whipped Cream (optional)
Chocolate Syrup (optional)
Peppermints (optional)
Directions for

 

Homemade Non-Alcoholic Eggnog Recipe
1. Get a small saucepan going over low heat on the stove. Mix in the milk, vanilla, nutmeg, and cinnamon. Bring mixture to low boil.

2. In a large bowl, whisk together the sugar and egg yolks until you're left dull yellow mixture. Slowly add in your warm milk mixture a touch at a time and whisk thoroughly in batches to combine. Go slow so you don't overcook the eggs!

3. Place the entire mixture back into the saucepan and set the heat to medium. Cook until the mixture thickens enough to coat the back of a spoon, however be sure to never let it reach a boil. Those with a thermometer handy can shoot for reaching 160 degrees Fahrenheit.

4. Once the mixture has thickened, remove from the heat and stir in heavy cream and your Lyre's Dark Cane Sprit. Refrigerate the eggnog for at least 4 hours. 

5. To serve, rim glass with chocolate syrup and crushed peppermints. Place chilled eggnog in glass and garnish with whipped cream, cinnamon, and some freshly ground nutmeg.
There it is…holiday cheer in a glass! 
Give this classic alcohol-free eggnog recipe a try and let us know what you think below. And be sure to tag us on social @sipyours with photos of your finished.