Cranberry Pomegranate Non-Alcoholic Champagne Bellini's With Lime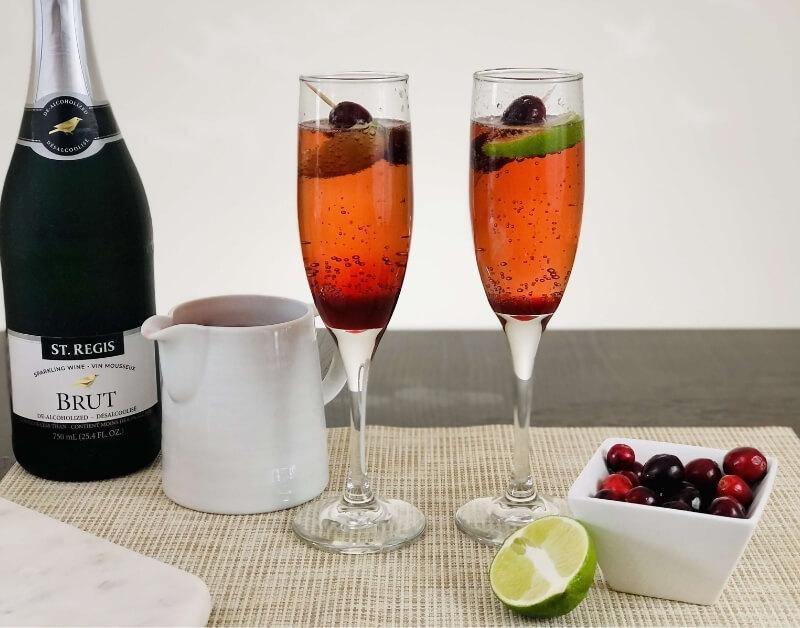 Alongside the mimosa, the Bellini is a classic prosecco-based drink that's light, slightly sweet, absolutely delicious, and the undeniable star of any good brunch.
Traditionally made with a peach puree or nectar, many home mixologists avoid Bellini's out of a fear they don't have the right ingredients. To eliminate that fear, we've taken a few liberties with this alcohol-free champagne Bellini recipe, making it super easy for anyone to make at home.
Arguably more of a hybrid between an alcohol-free mimosa and alcohol-free Bellini, the base of this drink relies on a simple syrup you can make right on your stove in 5 minutes using just 3 ingredients. And the best part is that this syrup can stay refrigerated for weeks on end, meaning you can make a batch once, and have many weekends worth of delicious alcohol-free brunch drinks to come.
To eliminate the alcohol in this boozy brunch favorite, all that's needed is a simple swap to an alcohol-free prosecco or non-alcoholic champagne. Thankfully, there are plenty of wonderful versions of non-alcoholic prosecco and champagne on the market, including two of our favorites: Gruvi Non-Alcoholic Dry Prosecco and St. Regis Nosecco. 
If you're looking for a delicious twist on the traditional brunch classic, be sure to give our Pomegranate and Cranberry Non-Alcoholic Champagne Bellini a try:
Ingredients (for Simple Syrup)
½ Cup – Unsweetened 100% Cranberry Juice
½ Cup – Unsweetened 100% Pomegranate Juice
1 Cup – Granulated Sugar
Ingredients (for Each Cranberry Pomegranate Non-Alcoholic Champagne Bellini)
1 oz – Simple Syrup
4 oz – Non-Alcoholic Prosecco or Champagne
½ Lime
3 Whole Fresh Cranberries (for Garnish)
Directions (for Simple Syrup)
Get a small saucepan going over medium-high heat on the stove.
Mix in the cranberry juice, pomegranate juice, and sugar
Bring mixture to a boil
Once boiling, reduce heat to low and simmer for 5 minutes, being sure to stir the mixture regularly to help sugar dissolve
Once sugar has dissolved completely, pour mixture into a jar and let cool completely 
Directions (for Each Cranberry Pomegranate Non-Alcoholic Champagne Bellini)
Pour 1 oz of your pre-made simple syrup into a champagne flute (or other desired glass)
Top with 4 oz of non-alcoholic prosecco or champagne
Squeeze ¼ of a lime directly into the drink, and slice the remaining ¼ into thin wedges for garnish
Top drink with 2 lime wedges and 3 fresh cranberries for color
That's it! A delicious, beautiful, non-alcoholic Bellini in just a few simple steps.
Tag us on social @sipyours with pic of your finished alcohol-free Bellini and let us know how you like it!