Non-Alcoholic Christmas Punch Recipe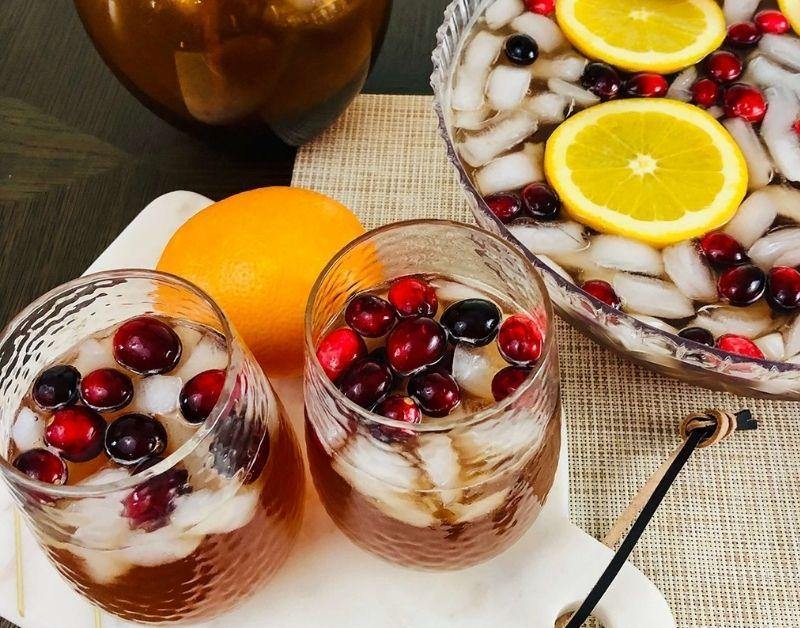 The holidays can be a tough time for those looking to avoid alcohol. Most parties and holiday get-togethers revolve around consuming alcoholic beverages. And making matters more challenging is the fact that many hosts tend to break out special (and admittedly delicious) custom cocktails and holiday punch to pass around the tree this time of year.
For those looking to cut back or abstain, you're left feeling like you're on a diet, but stuck at a Vegas buffet.
But as we'll show you in this recipe, there's a way to recreate a beautiful, delicious Christmas punch that contains the sophisticated, adult flavors you're used to, but without the alcohol. As with most of our non-alcoholic drink recipes, the secret lies in substituting the alcohol, not removing it completely, as simply removing the alcohol from your favorite drink recipes often leaves a sugary sweet concoction that doesn't come close to replicating the experience of having a sip of a cocktail.
In this recipe, we substitute the traditional brut with a non-alcoholic champagne that gives the same touch of dry sweetness, and we also sub out the rum for Lyre's Non-Alcoholic Dark Cane Spirit, one of our favorites! The end result is a non-alcoholic holiday punch that looks great, tastes even better, and will leave your guests wondering how on earth you managed to get the alcohol out of there!
Let's get started!
Ingredients for Non-Alcoholic Christmas Punch Recipe
5 Cups – 100% CranApple Juice
2 Bottles – Non-Alcoholic Champagne
1 Cup – Apple Cider
1 ½ Cups – Ginger Ale
1 ½ Cups – Lyre's Dark Cane Spirit
2 Oranges – Cut Into Rounds
1 Cup – Fresh Cranberries
Ice
Directions for Non-Alcoholic Christmas Punch Recipe
Chill all the ingredients
Fill a large punch bowl roughly 2/3 of the way with fresh ice
Add in cranapple juice, apple cider, and ginger ale
Pour in both bottles of non-alcoholic champagne
Stir to combine
Mix in Lyre's Dark Cane Spirit
Add in slices from 1 and ½ oranges (save the rest for garnish on the glass) and the cranberries
Mix ingredients well
Ladle glass with non-alcoholic holiday punch and rim with orange slice for garnish
Let us know what you think of this beautiful alcohol-free holiday punch below. And be sure to tag us on social @sipyours with photos of your finished punch bowl!