Non-Alcoholic Clover Club Cocktail Recipe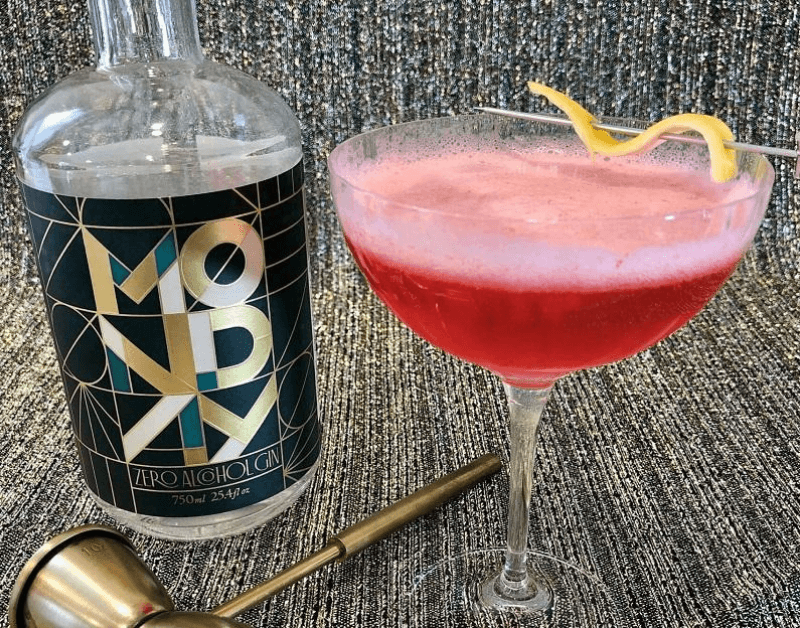 While continued innovation in the spirits industry helps mixologists craft delicious new recipes year after year, there are some cocktails that need no improvement.
Take the iconic Clover Club Cocktail. Dating back to the early 1900's, the Clover Club perfected its recipe well over 100 years ago. It's fresh, slightly tart, and features a subtle touch of sweetness. Not to mention it looks absolutely gorgeous when poured into a coup glass.
Like many great gin cocktails, the Clover Club relies on a mixture of sweet syrup, citrus, and egg white to create a frothy, well-balanced drink that is sure to please any palate. And with our non-alcoholic take on this classic cocktail, you can now enjoy this delicious libation with absolutely no guilt.
Of course, to make this retro cocktail alcohol-free, we'll need a little bit of help. That's why we're reaching for a bottle of Monday Alcohol-Free Gin. Handcrafted in Southern California, Monday Gin is one of the most talked about and well-reviewed non-alcoholic gins on the market. And for good reason too. The team at Monday has managed to blend the perfect mix of juniper, natural botanicals, citrus and spice for a gin alternative that looks, smells, and tastes just like the real thing, making it the perfect NA spirit for us to use in the gin-forward Clover Club.
But don't just take our word for it. If you're ready for a retro treat that tastes as good as it looks, give our Non-Alcoholic Clover Club Cocktail Recipe a try!
Ingredients for Non-Alcoholic Clover Club Cocktail Recipe
3 oz – Monday Alcohol-Free Gin
3/4 oz – Grenadine Syrup
1 oz – Fresh Lemon Juice
1 – Egg White
Lemon for Garnish
Directions for Non-Alcoholic Clover Club Cocktail Recipe
Fill cocktail shaker with Monday Alcohol-Free Gin, grenadine syrup, fresh lemon juice and egg white (do not add ice)
Shake for 15 seconds
Add ice to shaker
Shake for 30 more seconds
Strain into glass
Add lemon peel for garnish
There you have it…a classic cocktail with an alcohol-free twist thanks to the folks at Monday Non-Alcoholic Gin.
Give this Non-Alcoholic Clover Club Cocktail Recipe a try and let us know what you think below. And be sure to tag us on social at @sipyours to show us your finished drink!