Non-Alcoholic Gin Martini Recipe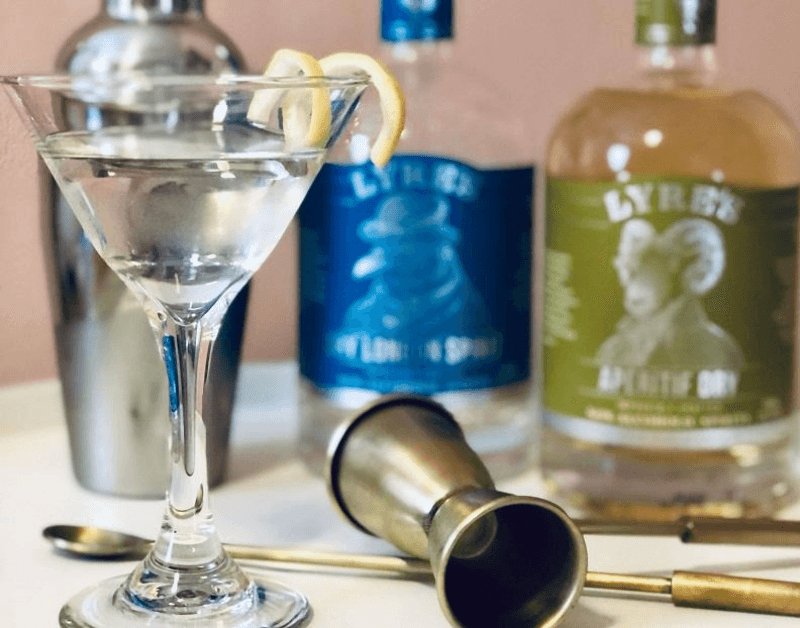 Shaken, not stirred.
It's probably the world's most famous cocktail order. Yet for as many times as James Bond has done all the right things to save the world, he's never been able to order a proper cocktail. Ask any bartender or mixologist and they'll all tell you the same thing…a real Martini is stirred, not shaken.
Ordering faux pas aside, Bond still gets credit for his drink of choice. There's no cocktail quite as iconic as the Martini. Even the glass is special. Traditionally made with a simple combination of dry gin and dry vermouth and garnished with an olive or a lemon peel, the Martini is an elevated, sophisticated drink for those that love the flavor of good spirits.
Of course, with a short ingredients list that's purely alcohol, making a non-alcoholic Martini has essentially been impossible for decades. That is, until the folks at Lyre's Non-Alcoholic Spirits introduced alcohol-free versions of London Dry Gin and Dry Vermouth. Now, Martini lovers everywhere can craft a delightfully delicious non-alcoholic cocktail that is every bit as complex as the fully-leaded version. Even if your job doesn't require you to travel the globe taking down bad guys, there's no reason you can't celebrate the end of a long day with a delicious alcohol-free take on a classic.
Ready for a non-alcoholic cocktail as iconic as Bond in a tux? Then give our Non-Alcoholic Gin Martini Recipe a try!
Ingredients for Non-Alcoholic Martini Recipe
Directions for Non-Alcoholic Martini Recipe
Fill shaker with ice, Lyre's Dry London Spirit Non-Alcoholic Gin, and Lyre's Aperitif Dry
STIR, not shake for 15 seconds
Strain into martini glass
Cut a lemon twist for garnish
That's all there is to it! With the help of Lyre's Non-Alcoholic Spirits, you can craft a Bond-worthy cocktail that replicates the delicious flavors you know and love from one of the world's most famous cocktails…but without the alcohol.
Give this Non-Alcoholic Martini Recipe a try and let us know what you think below. And be sure to tag us on social at @sipyours to show us your finished drink!