Non-Alcoholic Rosé Sangria Recipe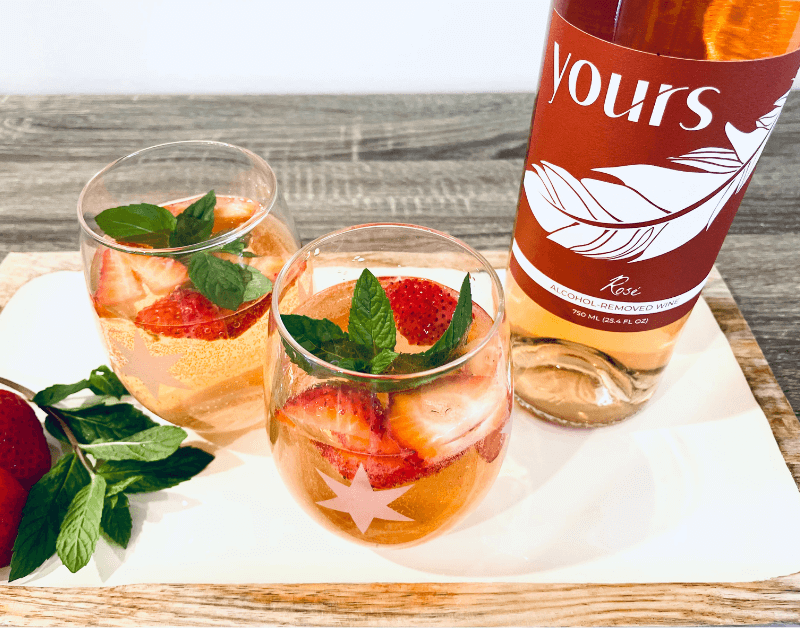 While we tend to think of sangria as a fruit bomb loaded with sugar and topped with cheap red or white wine, it doesn't have to be. In fact, sangria can be an elevated collection of flavors, and styled in a glass that makes it right at home at even the fanciest of occasions.
One of the best ways to elevate sangria is with an elegant rosè. And today, we're going to show you how to do just that with our Non-Alcoholic Rosé Sangria Recipe!
Picture this: luscious strawberries gently muddled in a glass, mingling with the enticing aroma of mint, all underpinned by the delicate blush of YOURS Non-Alcoholic Small Batch Seasonal Rosé. This non-alcoholic rosé sangria is a symphony of flavors that dance on your palate, creating a harmonious blend that's both visually stunning and utterly delicious. The addition of sparkling water adds a delightful effervescence, turning each sip into a celebration. Whether you're hosting a brunch, an afternoon picnic, or a glamorous evening soiree, this rosé sangria is the perfect companion to elevate your moments and leave a lasting impression on your guests.
What makes this Non-Alcoholic Rosé Sangria truly exceptional is its versatility. It's not just a beverage; it's an experience. From lazy summer afternoons to cozy winter gatherings, this recipe transcends seasons, bringing a touch of elegance to any occasion. So, gather your friends and family, prepare to be swept away by the vibrant hues and flavors, and indulge in the joy of a non-alcoholic sangria that's as sophisticated as it is delightful. Cheers to making memories with each sip of this effervescent and alcohol-free delight!
If you're ready for an explosion of flavor in a glass, read on for our Non-Alcoholic Rosé Sangria Recipe:
Ingredients for Non-Alcoholic Rosé Sangria Recipe
Directions Non-Alcoholic Rosé Sangria Recipe
Chop orange into quarters and slice strawberries
Add fruit to bowl, sprinkle with sugar, and stir – let sit for 25 minutes
Pour the YOURS Non-Alcoholic Small Batch Rosé into fruit mixture
Add in fresh mint (saving some for garnish) and lemon rounds. Stir, cover, and chill for 2-3 hours
Fill glass of choice with ice, add in sangria, leaving 1 inch on top to finish with a splash of sparkling water
Garnish with strawberries and mint
There you have it! Just a few ingredients and steps are all you need to put together this flavorful, bright Non-Alcoholic Rosé Sangria.
Whip this up for your next gathering and let us know what your guests think in the comments below. Also don't forget to snap a few photos of your Non-Alcoholic Rosé Sangria and tag us on Instagram at @SipYours!