Non-Alcoholic Mulled White Wine Recipe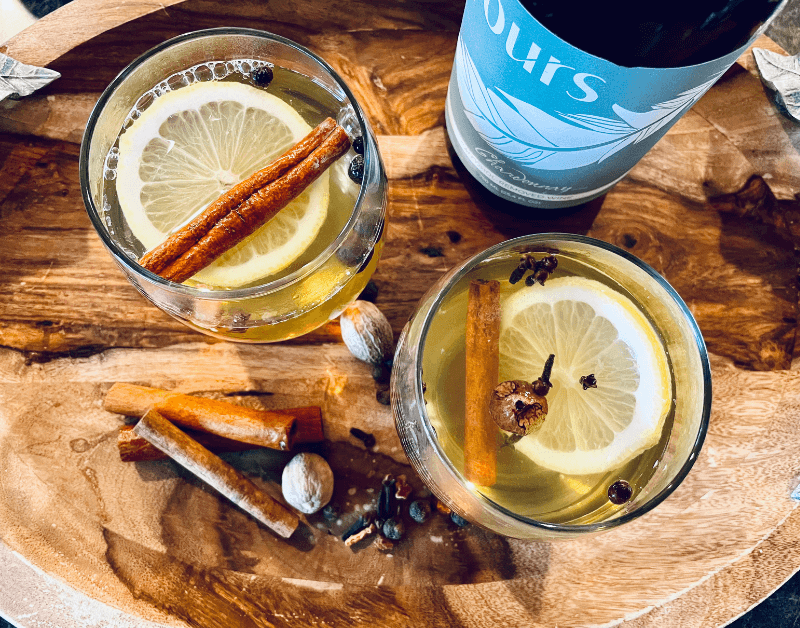 Nothing keeps you warm inside as temperature drop outside quite like a steaming glass of mulled wine.
Mulled wine has a rich history dating back to ancient times when it was first concocted by the Romans as a way to ward off the chill during the cold winter months. Over the centuries, this warm and spiced beverage evolved into a beloved holiday tradition across Europe, with variations emerging in different cultures, each adding its unique blend of spices and ingredients to create the comforting drink we know and love today.
Of course, traditional mulled wine comes with a high alcohol content. But it doesn't have to. Today we're going to show you how to enjoy the same warmth and flavor (but without the alcohol) with our Non-Alcoholic Mulled White Wine recipe featuring YOURS Non-Alcoholic California Chardonnay.
This delightful concoction brings together the crisp notes of Chardonnay with the comforting spices of oranges, honey, clove, and cinnamon, creating a beverage that embodies the essence of cozy evenings by the fireplace. Whether you're looking for a festive alternative to traditional mulled red wine or simply craving a soothing, alcohol-free treat, this recipe promises to be a sensory delight that will have you reaching for another cup.
Imagine the aroma of citrusy oranges mingling with the sweet embrace of honey and the earthy spice of clove. This mulled white wine takes your taste buds on a symphonic journey as the YOURS Non-Alcoholic California Chardonnay provides the perfect canvas for these flavors to dance upon. The warmth of cinnamon ties everything together, creating a harmonious blend that is as inviting as it is delicious. As you simmer this concoction on your stove, your home will be filled with the fragrant scents of the season, setting the stage for a cozy and memorable experience.
What sets this Non-Alcoholic Mulled White Wine apart is not just its delightful taste but also its versatility. Perfect for gatherings with friends and family or for a quiet night in, this recipe allows you to savor the comforting embrace of mulled wine without the alcohol content. So, whether you're hosting a winter celebration or simply want to unwind with a warm beverage, our Mulled White Wine is the ideal choice.
If you're ready for a warm winter delight, read on for our Non-Alcoholic Mulled White Wine Recipe:
Ingredients for Non-Alcoholic Mulled White Wine Recipe
Directions Non-Alcoholic Mulled White Wine Recipe
Pour the YOURS Non-Alcoholic California Chardonnay, oranges, and spices into a non-aluminum sauce pan and bring to simmer
Once simmering, reduce heat to medium low and let it continue to simmer for at least 15 minutes (longer if you want more flavor infused – up to 2 or 3 hours)
Strain wine into serving glass
Garnish with lemon, cinnamon stick, and cloves
Simple, right! A little time is all you need to bring these big flavors together and create a delicious Non-Alcoholic Mulled White Wine.
Try it out for yourself and let us know what you think in the comments below. And don't forget to share photos of your finished Non-Alcoholic Mulled White Wine with us on Instagram at @SipYours!