Non-Alcoholic Thanksgiving Apple Cider Sangria Recipe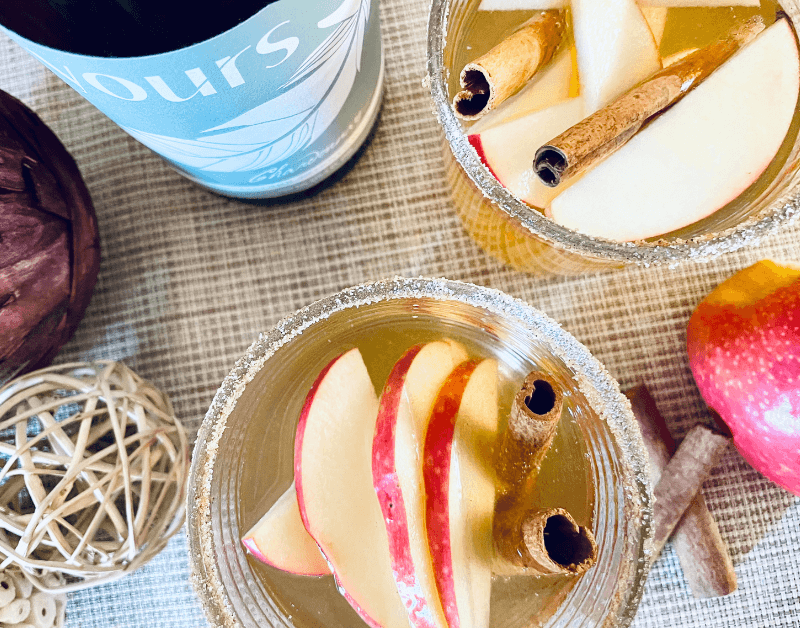 Are you ready to elevate your Thanksgiving celebration with a refreshing and festive twist?
Say hello to our Non-Alcoholic Thanksgiving White Wine Sangria, a delightful concoction that promises to be the star of your holiday gathering. This mocktail combines the rich flavors of YOURS Non-Alcoholic California Chardonnay with the crispness of apple cider, a touch of natural sweetness from maple syrup, and a medley of fresh ingredients that scream autumn. With every sip, you'll experience the cozy essence of the season, as apple and cinnamon dance in harmony, culminating in a sparkling finish from the addition of bubbly water. This is the ultimate non-alcoholic alternative for those who want to savor the holiday spirit without the alcohol, making it a perfect choice for all your guests, young and old.
What makes this Thanksgiving White Wine Sangria so enticing is its blend of familiar fall flavors that evoke memories of apple picking and the warmth of a crackling fire. The YOURS Non-Alcoholic California Chardonnay serves as the perfect base, imparting the subtle hints of oak and butter found in traditional Chardonnays but without the alcohol content. The apple cider and maple syrup combine to create a rich, sweet foundation, while fresh apple slices and a cinnamon stick add a burst of crispness and spice. Finally, the sparkling water adds a touch of effervescence that brings all the ingredients together in a harmonious, thirst-quenching symphony. Your taste buds are in for a treat as you dive into this delightful concoction!
So, if you're looking to impress your loved ones with a memorable, non-alcoholic Thanksgiving drink that captures the essence of the season, our White Wine Sangria is the perfect choice. Whether you're hosting a festive gathering or simply want to cozy up by the fireplace with a glass of something special, this mocktail is the ultimate way to celebrate Thanksgiving. Get ready to create lasting memories with each sip of this delightful blend that brings the spirit of the holiday to your glass, making it a must-try for the season. Cheers to a joyous and alcohol-free Thanksgiving!
Keep reading for our Non-Alcoholic Thanksgiving Apple Cider Sangria Recipe and try it for yourself today:
Ingredients for Non-Alcoholic Thanksgiving Apple Cider Sangria Recipe
½ bottle – YOURS Non-Alcoholic California Chardonnay
2 cups – Apple Cider
2 tbsp – Maple Syrup
½ cup – Pomegranate Seeds
1 – Apple (sliced thin)
1 – Cinnamon Stick (plus more for garnish)
1 cup – Sparkling Water
½ cup – Sugar
2 tsp – Cinnamon
4 – Orange Slices
1 – Orange Wedge
Ice
Directions Non-Alcoholic Thanksgiving Apple Cider Sangria Recipe
Pour the YOURS Non-Alcoholic California Chardonnay, apple cider, and maple syrup into large pitcher
Stir ingredients until blended well
Cover pitcher and let soak in fridge for 1-3 hours (or more, if time allows!)
To serve, rim glasses by rubbing edge with orange wedge, and then roll the glass rim in mixture of cinnamon and sugar
Add ice to glass
Pour sangria mixture into glass and add cinnamon stick and apple slices for garnish and serve
That's it! A few simple steps and you have yourself a unique, delicious Non-Alcoholic Thanksgiving Apple Cider Sangria.
Give this recipe a try and let us know what you think in the comments below. And be sure to tag us in photos of your finished Non-Alcoholic White Wine Apple Cider Thanksgiving Sangria on Instagram at @SipYours!