11 Delicious (and Discreet) Non-Alcoholic Drinks to Order at a Bar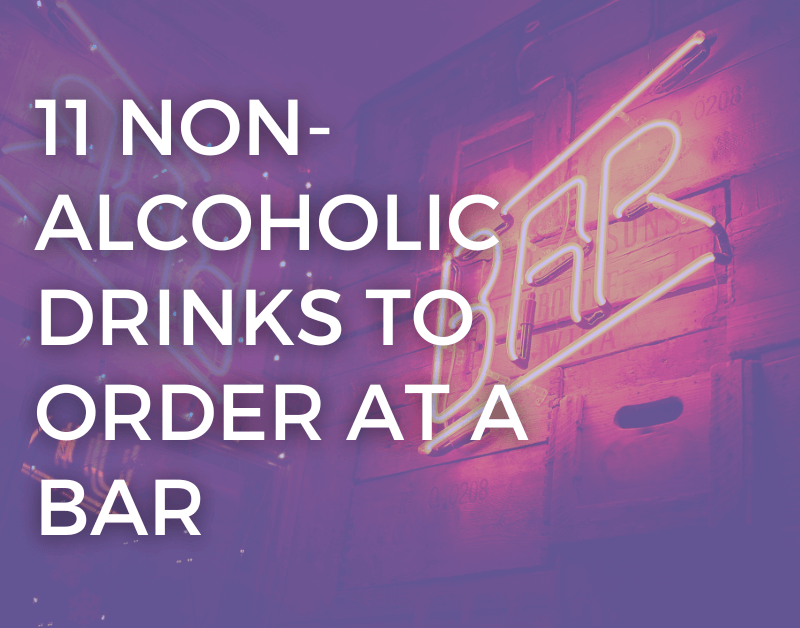 Like it or not, bar culture is here to stay. There are 70,000 bars alone in the United States, plus another 750,000 restaurants serving alcohol. Which is why it's no surprise that bars are such a common location for meeting up with friends, going on a date, watching a game, networking with colleagues, and pretty much any other occasion you can think of.
But what if you're not drinking? Well, then bars can be a bit challenging…especially if you don't want to feel left out or pressured to drink alcohol.
Thankfully, the explosion in the sober curious movement has led many bars and restaurants to up their non-alcoholic drink game. All you need to do is know what to ask for.
Looking for ideas? Here's a list of 11 Delicious (and Discreet) Non-Alcoholic Drinks to Order at a Bar:
1. Non-Alcoholic Wine 
If you're a wine fan, there's no reason you can't enjoy a glass next time you're out. Ask the bartender or server if they carry any non-alcoholic wines. More and more locations are stocking up on dedicated alcohol-free bottles, making it easier to replace that wine experience you love. And if they don't currently carry NA wines, just by asking you're increasing the likelihood that they'll consider stocking up in the future.
2. Non-Alcoholic Beer
Like non-alcoholic wines, non-alcoholic beer options have exploded over the past few years. Chances are any bar you frequent will have at least one or two options available. If you want to ask for one by name, here are a few of our favorite non-alcoholic beer selections.
3. Soda Water & Bitters
Bitters are a concentrated and complex concoction that brings a lot to the glass. A few dashes of bitters in soda water is enough to make it feel like you're drinking a unique adult cocktail (as opposed to fancy water), making it a perfect go-to option when you're looking to stay alcohol-free at a bar. Plus, every bar on earth will have soda water and at least one style of bitters handy, meaning this drink will always be available. Though be careful, as traditional bitters do contain alcohol. A few dashes won't be anything close to a standard drink, but if you truly want to be alcohol-free, ask for non-alcoholic bitters.
4. Soda Water & Citrus 
Another easy option that any bar will be guaranteed to have on hand, soda water splashed with citrus (lime, orange juice, twist of lemon, etc.) is a great, refreshing alcohol-free drink to enjoy when you're out. Plus, this non-alcoholic cocktail resembles so many alcoholic versions, that no one you're with would ever know you're not drinking (if that's something you're trying to keep to yourself).
5. Ginger Beer & Cranberry
Ginger beer is loaded with flavor, making it a great base for many non-alcoholic drinks. We particularly like a blend of ginger beer with cranberry juice. It's super tart and potent, encouraging you to sip slowly, as you would a traditional cocktail.
6. Non-Alcoholic Moscow Mule 
Traditionally made with just vodka, lime juice, ginger beer, and lots of mint, the key to the perfect Moscow Mule is fresh ingredients. Fresh mint, fresh lime juice, and plenty of good ice to cool down the liquids and the cooper mug. When done correctly, this classic cocktail is one of the most enjoyable things you can ever order at the bar. And because the ginger beer, lime, and mint are all such potent flavors, you can ask for a virgin mule and not miss the alcohol one bit!
7. Non-Alcoholic Margarita
Another traditional cocktail that can easily be made in non-alcoholic form, an alcohol-free margarita offers all the same tasty flavors as the original, making it a great option for those looking to stay alcohol-free at the bar. Ask for some extra citrus in yours to cut though the sweetness of the margarita mix. Or look to see if they have one of the many non-alcoholic tequila alternatives available on the market today.
8. Kombucha
Kombucha is a great drink to order at the bar when you're not drinking. Bubbly. Tart. Loaded with flavor. It has all the makings of a delicious adult beverage, just without the alcohol. Though do beware that – because of natural fermentation – kombucha does indeed have some alcohol. But it's well below the limits of what's considered a non-alcoholic beverage. In fact, most kombuchas have less alcohol than a ripe banana!
9. Virgin Bloody Mary
If you're headed out to brunch but want to skip the "boozy" part, consider ordering a virgin bloody mary. The spice of the tomato juice and seasonings mixed with the various accoutrements make the Bloody Mary an excellent alcohol-free drink of choice, as it's literally overflowing with flavor. Squeeze in some extra lime or a splash of ginger beer to add a kick to your virgin mary, or see if the bartender has some Seedlip Garden 108 Non-Alcoholic Vodka on hand to really take your drink to the next level.
10. Arnold Palmer 
Lemonade. Iced Tea. A classic combination that's easy to love, the Arnold Palmer is a perfect choice if you're at a packed bar for gameday, and the bartender doesn't have many alcohol-free options on hand (or much time to make you something from scratch). Ask for yours in a rocks glass with a lemon wedge if looking to blend in and keep your alcohol-free drink discreet.
11. Bartender Surprise 
One of the best things you can do if you're looking to order a non-alcoholic drink at a bar is simply ask the bartender to surprise you. This is especially fun if you're at a more upscale establishment with very well-trained and creative bartenders. Offer caveats to your order if needed (I hate olives, please don't make it too sweet, etc.), but then let the bartender show off their skills and craft. Who knows, they may end up serving you a new non-alcoholic drink that becomes your go-to order for years to come.
As you can see, there are plenty of great non-alcoholic drink options to order at a bar. Don't be afraid to go out and experiment in order to find the drink(s) that you love the most. As more and more people limit or eliminate alcohol from their lives, bars everywhere are wising up to the fact that need to improve the alcohol-free game. So get in there and encourage them to do just that.
Cheers!