Review: All The Bitter Alcohol-Free Bitters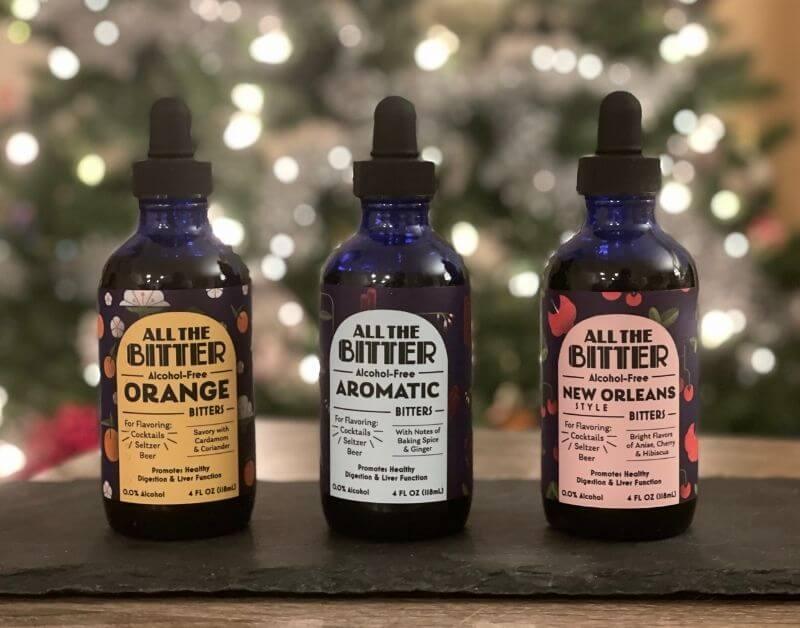 When famed director and writer Orson Welles was in Rome working on the film Black Magic, he conducted a remote interview with Ohio's Coshocton Tribune. Of all the topics discussed, one would inadvertently kickstart a new drink craze in the U.S. - Welles' mention of an Italian cocktail called the "Negroni".
As he put it to the reporter, "The bitters are excellent for your liver, the gin is bad for you. They balance each other." Of course, Welles was not the first person to discover the health benefits of bitters. There is evidence of bitters usage all the way back to the ancient Egyptians, who would infuse medicinal herbs in jars of wine. While the usage of these bitters varied, most signs point to them being used as an ailment for stomach issues. Which is why you'll find bitter-infused liqueurs and digestifs as the drink of choice after a large meal in many cultures around the world.
In addition to health benefits, bitters have a storied history as an essential ingredient in some of the world's most iconic cocktails. The Manhattan, Old Fashioned, Negroni, and Sazerac are just a few of the classic cocktails that rely on bitters to enhance their flavor. And find any modern bartender worth their salt, and chances are they've got bitters close at hand for any number of creations.
But for all the celebrated flavor and health benefits of bitters, for those of us choosing to limit or eliminate alcohol from our lives, they pose a bit of a conundrum: though they're generally sold as a "non-alcoholic" product, most bitters on the market today have anywhere from 35-45% alcohol by volume. When used sparingly in a drink this tends to equate to a negligible alcohol level, but the alcohol is there nonetheless, making bitters a bit of a gray area in the world of low and no alcohol beverages.
So, what's a mindful drinker to do? Up until recently, there weren't many options. But Carly and Ian, Founders of All The Bitter, are looking to change all that….
Meet All The Bitter - Real Non-Alcoholic Bitters
All The Bitter was founded on a simple premise: everyone deserves a tasty drink. Looking to provide a guilt-free choice for those looking to abstain from alcohol completely, All The Bitter offers three different bitters that contain absolutely no alcohol: Aromatic, New Orleans, and Orange.
For those new to bitters, they can be a bit intimidating. Thankfully, All The Bitter has created a beautiful "quick start" recipe guide that they include with their trio of bitters. To give our set the proper test drive for this review, we dove right into a couple of these appetizing recipes…
Non-Alcoholic Bitters & Soda
As simple as it gets, we mixed a few dashes of All The Bitter Aromatic Bitters into some ice-cold sparkling water. The bitters added a nice burst of flavor that was much more interesting than the typical lemon or lime flavor drops we usually put in. Though we can't be sure how much of this feeling was driven by our excitement and perhaps a touch of the placebo effect (which is powerful in the world of alcohol alternatives!), we definitely felt good drinking All The Bitter & Soda. No doubt this will become a go-to drink of ours throughout the day!
Non-Alcoholic Maple Old Fashioned
We're huge fans of using maple syrup as the sugar component of craft cocktails. It adds a unique twist compared to simple syrup, and pairs especially well with smokey non-alcoholic spirits such as whiskey and bourbon. Which is why we were so excited to see the All The Bitter Maple Old Fashioned Recipe in their cocktail book.
A combination of non-alcoholic whiskey alternative (we used Lyre's Non-Alcoholic Whiskey, by the way), maple syrup, All The Bitter Aromatic Bitters, and an orange twist, this alcohol-free cocktail really popped thanks to the bitters, and is one we'll definitely adding to our regular rotation.
Non-Alcoholic Hibiscus Sour
When we first started exploring non-alcoholic drink alternatives, we experimented a lot with various types of tea. There are so many different teas out there that deliver a nearly endless array of flavors, making them the perfect base for some super interesting alcohol-free cocktails.
The All The Bitter Hibiscus Sour combines chilled hibiscus tea, grapefruit juice, lime juice, agave nectar, All The Bitter New Orleans Bitters, and an egg white into a delicious NA cocktail that delivers a punch of fruity tartness that is super refreshing and lively. A+ for this one!
Non-Alcoholic Apple Cidecar
A take on the classic Sidecar cocktail, All The Bitter's Apple Cidecar is a mix of apple cider, lemon juice, orange simple syrup, apple cider vinegar, All The Bitter Alcohol-Free Orange Bitters, and a cinnamon sugar rim. Slightly hazy from the unfiltered apple cider, this drink packs a serious punch thanks to the acid in the vinegar, but is balance well from the hint of sweetness from the simple syrup and cinnamon sugar rim.
Final Thoughts: All The Bitter Alcohol-Free Bitters
With most non-alcoholic beverages we review here at YOURS, the response is binary: we either like it or we don't. But the great thing about All The Bitter Alcohol-Free Bitters is that the options are truly are endless. Since they're built on a base of quality ingredients and classic flavors, this trio of alcohol-free bitters can be used in any number of ways. From a few simple dashes in your soda water, to a delicious addition to your non-alcoholic cocktail, All The Bitter is a must for any kitchen or home bar cart!
Learn more at www.allthebitter.com