Non-Alcoholic Virgin Mojito Recipe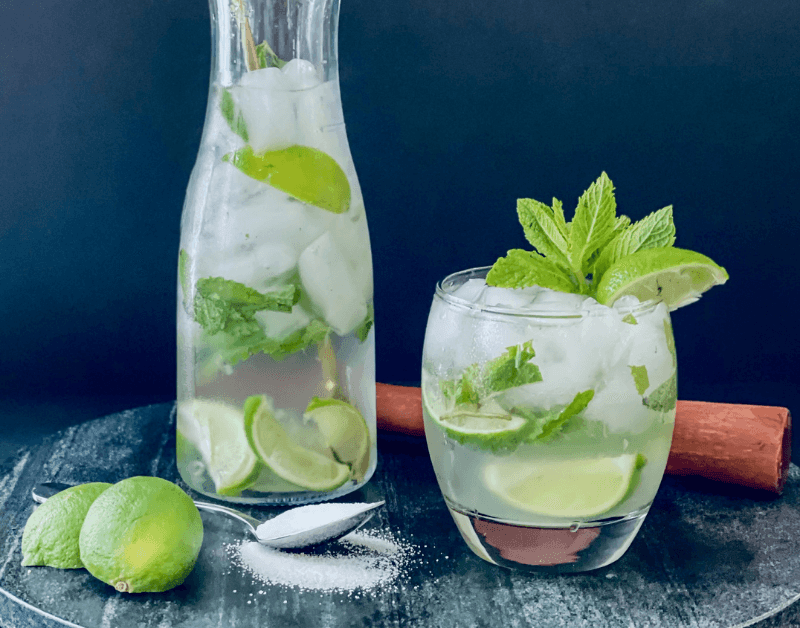 When I say Cuba, what's the first thing that comes to mind? Sun-soaked beaches? Dancing? Cigars?
How about Mojitos?
One of the world's oldest and most popular cocktails, the Mojito is as Cuban as it gets. While the origins are a bit fuzzy, legend has it that a variation of the Mojito goes all the way back to a 16th Century cocktail called El Draque, which was named after legendary English explorer Sir Francis Drake. El Draque was a mix of cane spirit, lime, mint, and sugar, and was originally consumed for medicinal purposes. However, as Cubans perfected their white rums, El Draque's original crude cane spirit was swapped for rum, and the name was eventually changed to Mojito.
Today, the Mojito ranks as one of the most popular cocktails around the globe. And why wouldn't it? With a near perfect blend of fresh mint, sugar, citrus, and bold rum, the Mojito is as flavorful as it is refreshing. Of course, this cocktail is all about balance, which has traditionally created a challenge when trying to craft a Non-Alcoholic Mojito. But that's all changed thanks to the complex bite offered by Lyre's Non-Alcoholic White Cane Spirit. A perfect replacement for the traditional Cuban white rum, Lyre's White Cane Spirit helps recreate that blend of oak, sugar, and coconut flavors, but without the alcohol. The result is a near perfect alcohol-free Mojito that sips just like the original!
Ready for a delicious alcohol-free version of this Havana highball? Then read on for our Non-Alcoholic Virgin Mojito Recipe!
Ingredients for Non-Alcoholic Virgin Mojito Recipe
2 oz – Lyre's White Cane Spirit Non-Alcoholic Rum
4 oz – Club Soda
1/2 oz – Simple Syrup
1 ½ oz – Freshly Squeezed Lime Juice
8-10 – Fresh Mint Leaves
Lime Slices for Garnish
Ice
Directions for Non-Alcoholic Virgin Mojito Recipe
Fill cocktail glass with 4 mint leaves and simple syrup and lightly muddle
Add Lyre's White Cane Spirit Non-Alcoholic Rum, lime juice, and ice to cocktail shaker
Shake briefly for 5-10 seconds
Fill glass with ice
Strain cocktail shaker into glass
Fill remainder of glass with club soda
Garnish with lime wheels and fresh mint leaves and serve
That's it! A few simple steps are all it takes for your delicious non-alcoholic Cuban cocktail.
Give our Non-Alcoholic Virgin Mojito Recipe a try and comment below to let us know how it turns out. Also be sure to tag us on Instagram @sipyours with photos of your finished mojitos!