Ritual Non-Alcoholic Gin and Tonic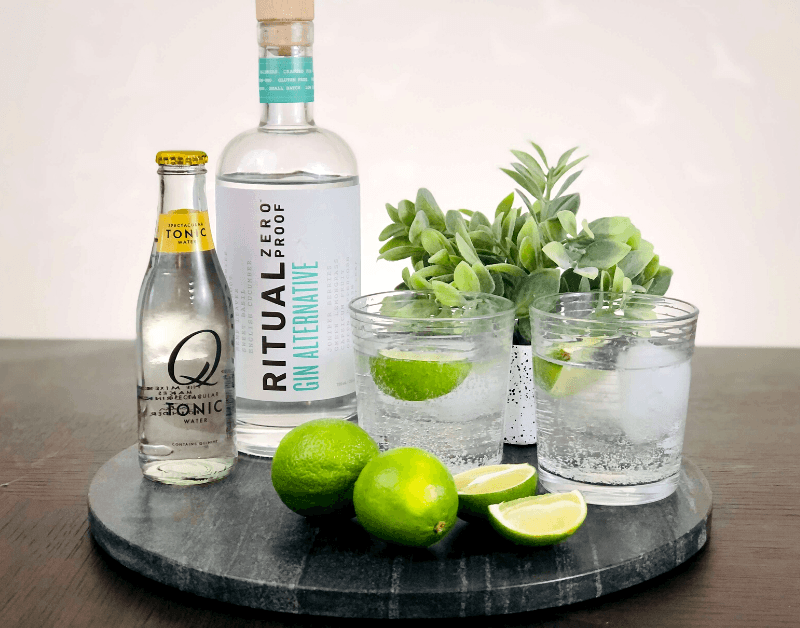 For anyone looking for the best alcohol-free gin or reading non-alcoholic gin reviews, there's one name you'll see pop up frequently: Ritual.
Ritual was started by three friends in Chicago looking to add another tool to their cocktail kit. Though the group loved to drink, as parents of young children with plenty of early morning sporting events and activities, they realized that not every occasion could or should be soaked with alcohol. So, they decided to create new alcohol-free gin to serve as an alternative way to celebrate moments.
The result of this collaboration is Ritual, a non-alcoholic gin alternative that's calorie-free, and nearly carb and sugar-free as well.  
As compared to some of the other non-alcoholic gins we've tried, Ritual has one of the best pours you'll find. They've managed to retain that beautiful, almost syrupy-like consistency with the product…so much so that you'd think you were pouring Beefeater or Hendrick's. And the bold juniper flavors and crisp bite makes this non-alcoholic spirit drink like your favorite cocktail, too.
Whether you're looking to cut back on alcohol, or are just in search of a low-calorie drink or low carb cocktail, Ritual is a great place to begin your adventure in the alcohol-free world. To get you started, here's a classic non-alcoholic gin and tonic that can be whipped up in just a few seconds using Ritual Gin Alternative:
Ingredients for Ritual Non-Alcoholic Gin and Tonic
2 oz – Ritual Non-Alcoholic Gin Alternative
Tonic
Lime Wedge
Directions for Ritual Non-Alcoholic Gin and Tonic
Pour 2oz of Ritual Non-Alcoholic Gin Alternative over ice 
Top with tonic water of choice
Squeeze in a lime wedge and add for garnish
It's that simple! This refreshing non-alcoholic gin and tonic still carries the bold woodsy flavors and fragrances of your favorite gin and tonic, but without the guilt or compromise.
Give this Ritual Alcohol-Free Gin and Tonic a try and let us know what you think below. And be sure to tag us on social @sipyours with photos of your finished product.