This Grandma Lost 84 Pounds By Ditching Red Wine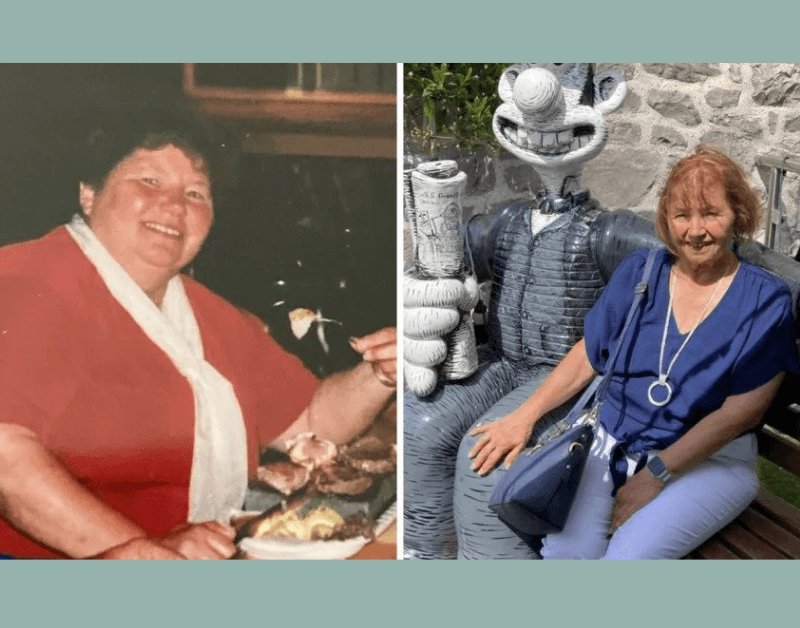 Can you imagine losing 84 pounds by simply giving up wine?
Don't believe me? Well, what if I told you that this was not only possible, but it was possible even if you were a 77-year-old great-grandmother?
Now you must think I'm crazy. But it's true...here's the incredible story of Angela Dimmer, the UK great-grandmother who lost 84 lbs by giving up wine.
Like most, Angela's weight crept up gradually. In her case, it began with the tragic death of her husband.
While she used to have an alcohol-free Monday, Angela says she'd enjoy a few glasses of wine every other day of the week and perhaps more on weekends.
"I'd probably have about four bottles of wine a week," she says.
At her heaviest, Angela weighed 240 lbs. She says the weight gain ended up causing her pain and leaving her unable to stand for very long.
"I started to realize I couldn't walk," she adds. "I even ended up being diagnosed with diabetes."
As well as her health, her size started to have an impact on her self-esteem. She would buy big clothes to try and hide her figure. Rarely, if ever, could she find something she actually wanted to wear that came in her size. 
The turning point came when Angela decided she wanted to lose weight for an upcoming holiday to Dubai. "I wanted to be able to put the tray down without my belly getting in the way," she explains.
The first step? Cutting out those evening glasses of wine, swapping them instead for low-calorie non-alcoholic wines.
By the end of the first week, Angela lost an impressive 7.5 lbs. And by the time her vacation arrived five months later, she was already down 42 lbs.
But this was just the halfway point. 
Angela changed her entire life in a single year.

Angela continued with her new healthy lifestyle, and within a year she had dropped an incredible 84 pounds - which she calls "life-changing".

 
"I can now do a four-mile walk three times a week, and I have joined a gym where I go to aqua fit classes and circuit training classes," she explains. "Now I can't sit down for too long now because I feel guilty and I like to be out walking."
 

Her weight loss has had an impact on her shopping habits, too.
 

"It's wonderful to be able to walk into clothes shops and buy what I like," she explains. "I am now wearing size 12s, which I never imagined would be possible. "I also wear things that I never would have chosen before, and it was so fun buying myself a whole new wardrobe."
 

Angela's story is one we don't hear often. That it's possible to change, even later in life. Alcohol (and the excess weight it brings) causes so many people to slow down as they age. And as they slow, they just assume it's the natural process of "getting older".
 

But there's nothing natural about your body carrying an extra 84 pounds or metabolizing several glasses of wine each evening. It's unnatural, and it's causing millions to lose their physical and mental capabilities prematurely. 
 

There's no rule that says you must live this way. Like Angela, you can earn your life back. All it takes is a single change on a single day. 
 

Will today be that day for you?