4 Tasty Ginger Beer Mocktail Recipes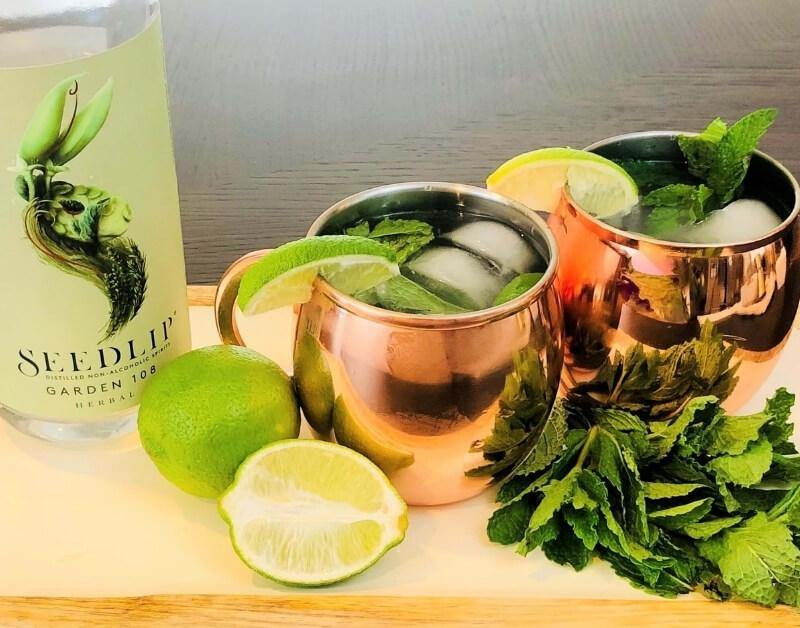 We love adding ginger beer or ginger ale to our mocktail recipes! Why? Sometimes we are just craving the "bite" that non-alcoholic beverages are often missing. Ginger brings spice and pepper into a mocktail palette and gives your mouth a buzz instead of your head.

Ginger ale provides the same robust flavor with a little less pepper. So if the spice of ginger beer is a little too much for you, you can always substitute it for ginger ale mocktails!

Ginger beer mocktails give that "bite" without the alcoholic content. They also produce an environment of warmth that one often expects with social drinking. The versatility of ginger beer and ginger ale may surprise you. They can be the perfect addition to any season or occasion!

We have compiled 4 of our favorite ginger beer mocktail ideas to make it easy for you to find the perfect recipe today! We hope you enjoy these non-alcoholic ginger ale mocktails as much as we do!
Ritual Non-Alcoholic Rum Dark and Stormy Cocktail Recipe
First up! We have our Ritual Non-Alcoholic Rum Dark and Stormy Recipe! This NA rum and ginger beer mocktail recipe is great for any season, but we especially love it in the summer!

With the spice of the ginger and the zing of the lime, you will love the flavors on your tongue! And with non-alcoholic rum, your head will be clear to fully enjoy it! 

Rum is considered the sailor's drink of choice. But NA rum is everyone's drink choice! You thought ginger beer was warm? Pairing it with this dark rum alternative will give you sweater weather feels no matter the weather.

Check out this not-so-drunken sailor mocktail here!
Non-Alcoholic Moscow Mule Recipe
This Moscow Mule mocktail with ginger beer is refreshing! Much like the Dark and Stormy, it combines ginger beer and lime. But this time, instead of NA rum, you will use Seedlip Garden 108 Non-Alcoholic Spirit!

This NA spirit is closer to gin than vodka, but it provides the perfect counterbalance to the spice of the ginger beer and lime. Adding some fresh mint will give the palette higher notes and fill out the taste even more!

A Moscow Mule is often served in a copper mug and you can choose to use this container or just a regular drink glass. But for some reason, it really is better in a copper mug. There's science there somewhere. But that's not our job.

Enjoy this spritzy mocktail recipe today!
Alcohol-Free Champagne and Cranberry Juice Fizz Cocktail
Ginger ale is also a great mixer for NA champagne! This alcohol-free Champagne and Cranberry Fizz Mocktail recipe uses ginger ale instead of ginger beer to bring down the pepper and increase the sweetness! This gives you sweet and spicy cranberry bubbles instead of peppery cranberry bubbles. But maybe you like peppery cranberries, go ahead and try it with ginger beer.

Think spicy mimosa with this baby! And you can go back for more without the guilt or the health detriment!

The tang of the cranberry juice perfectly blends with the spice of the ginger to make a pop of flavor! This recipe is perfect for the holiday season, brunch with friends, or when you are enjoying an intimate celebration.

Get the recipe for this sweet and spicy mocktail here!
Non-Alcoholic Christmas Punch Recipe
Hosting a party and want a great Alcohol-Free option for punch? This is the recipe for you! It's perfect for the holidays, but honestly, you can use it any time of the year!

This recipe will have you feeling great about reducing or abstaining from alcoholic beverages at a party while satisfying that craving for something more significant to sip on. This punch gives sangria vibes, the apple cider and spirits add warmth to the fruity sparkle of the cranberry juice and champagne.

Looking for a balanced and delicious NA punch for your get-together? Check this one out!

Start concocting your party punch with this recipe!
Mocktail Ideas with Ginger Beer
We hope you found these recipes helpful for making sweet and spicy mocktails with ginger beer.
Ginger beer and ginger ale can give your drink the spice and "bite" you want without the morning-after headache. They are a fantastic alternative to mocktails to bring life to your drink and spice up your life!