Can You Buy Non-Alcoholic Wine at Publix?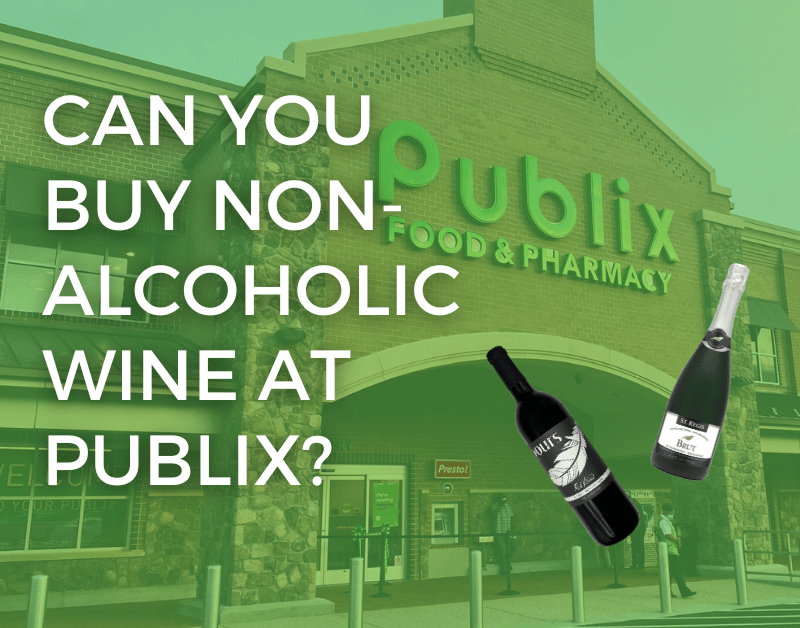 Last time I was in Florida, I took my first ever trip to a Publix…and it did not disappoint. With over 1,000 stores across the Southeast, Publix has the reputation of putting the customer at the center of all they do – service, selection, even the friendly smiles that greet you.
And on my first trip, I experienced all this and more.
But the most impressive to me was Publix's commitment to an alcohol-free lifestyle. As I mentioned in our guide, where to buy non-alcoholic wine, many regional and national grocery chains are coming around on the idea that they should be carrying a wider selection of non-alcoholic wine and other non-alcoholic drinks. But most of these stores still leave a lot to be desired, and have nowhere near the selection you can find when you shop for non-alcoholic wine online.
But in the case of Publix, you can tell they're really trying, as they carry one of the widest selections of non-alcoholic wines and other related products in store.
Shop at Publix? Let's take a look at what you can expect to see on your next trip.
What Non-Alcoholic Wine Can I Buy at Publix?
Like most grocery chains, what you find at each Publix location is going to vary, so be sure to call ahead of time (or check online) if you're looking for a specific item. But here are the non-alcoholic wines you're most likely to see next time you're shopping the aisles of your local Publix:
Fre Non-Alcoholic Wine
In our Fre Non-Alcoholic Wine Review, we discussed why the brand is so prominent across grocery aisle shelves. As one of the oldest non-alcoholic wine brands, Fre has had significantly more time than most brands to improve their collection of alcohol-free options, and to build the relationships and infrastructure needed to distribute widely across the U.S.
While Fre likely won't make your list of the most delicious alcohol-free wines, they offer several very decent options for those looking to give NA a try. Publix carries most of these varietals, including Fre Alcohol-Removed Chardonnay, Fre Alcohol-Removed Red Blend, Fre Alcohol-Removed Merlot, Fre Alcohol-Removed White Zinfandel, and Fre Alcohol-Removed Sparkling Brut Champagne.
Whether you're looking to swap your evening glass of red in pursuit of a healthier lifestyle, or you're pregnant and thinking about Fre as an option for your baby shower mimosas, the selection of Fre wines at Publix offers plenty of options for you to explore.
Ariel Alcohol-Removed Wine
Another long standing brand in the non-alcoholic space, Ariel Alcohol-Removed Wine offers a few of the most popular bottles on the market. As we discussed in our review of Ariel Non-Alcoholic Cabernet Sauvignon and Chardonnay Wine, Ariel has been making alcohol-free wines for nearly 40 years…no doubt why they've earned their slots on Publix's shelves.
For red wine lovers, Ariel Dealcoholized Cabernet Sauvignon is an oak-aged rich red wine that works hard to recreate that experience of enjoying a traditional California Cab. Some may find this wine to be a bit thin, but the flavor is definitely there. The same is true for Ariel Dealcoholized Chardonnay, which boasts rich flavors of fresh-cut pear, apple, butterscotch, and French oak.
Red or white, Ariel Alcohol-Removed Wine offers an excellent introduction to non-alcoholic wine, and should be readily available on most Publix shelves.
Welch's Sparkling White and Red Grape Juice Cocktail
Of course, it wouldn't be a grocery store non-alcoholic wine list without Welch's Sparkling Grape Juice. Don't get us wrong, there's most certainly a time and a place for Welch's. But with so many amazing non-alcoholic wines on the market today, it's getting harder and harder to consider this a true wine alternative versus a fizzy juice.
That said, Welch's is cheap and readily available, and offers a nice, tart bite that makes it feel more "adult" than your standard glass of juice. So don't let us stop you from stocking up on a few bottles next time you're at Publix!
Honorable Mention – Non-Alcoholic Beers 
While we're primarily on the lookout for delicious non-alcoholic wines when we're browsing a new supermarket, we also love to see what stores are doing in the non-alcoholic beer department. And in the case of Publix, we were not disappointed.
Publix sells a variety of non-alcoholic beers, including several options from Athletic Brewing, Becks, Budweiser Zero, Clausthaler Non-Alcoholic, Busch NA, and more. The selection is significantly more than we tend to see at most regional grocery chains, and for that we applaud Publix for their commitment to non-alcoholic!
Does Publix Sell Non-Alcoholic Wine?
As you can see, there are several great non-alcoholic wine (and beer!) options available at Publix. While you certainly won't find all the non-alcoholic wines you're looking for, if you live near a Publix, it's an excellent way to dip your toe into the world of alcohol free.
And as always, if you want to see more styles of alcohol-free drinks offered at your store, just ask! The more people ask, the more likely a store like Publix is to take a chance on the new non-alcoholic wine, beer, and spirits brands coming to market every day.
Regular Publix shopper? Let us know in the comments below if you're seeing any non-alcoholic wines for sale that we missed!