Everything You Should Know About St. Regis Non-Alcoholic Wines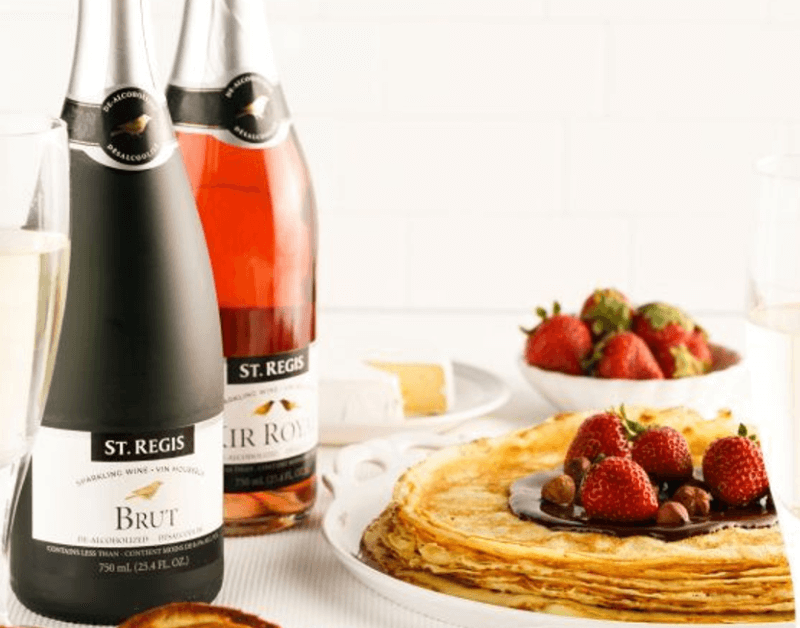 With an ever-increasing portfolio of alcohol-free products available on the market, why raise anything but a glass that's well-made and delicious … or as we like to say at YOURS, one that "provides that rich wine experience you love, without the compromise".
To that end, we like to highlight other companies that are doing it right; companies like St. Regis who are making dealcoholized wine that should be celebrated.
With "Old World" winemaking techniques, St. Regis starts with high-quality grapes grown in its prized vineyards across Europe, which are converted to wine and dealcoholized, then imported to its North American headquarters in Quebec. As St. Regis notes, its dealcoholized wines are "a premium product all the way from grapes to glass – without the alcohol"; A mindset YOURS emphatically shares.
So, how do they do it you ask? St. Regis uses a process called vacuum distillation whereby traditional wine is placed in a vacuum chamber whose pressure effectively lowers the boiling point of alcohol. This process to delicately remove the alcohol at very low temperatures enables the retention of aromas, flavors, color, acidity, etc., each so essential to its taste. Got it? Excellent. Let's explore their current library of dealcoholized sparkling and still wines:
Review: St. Regis Non-Alcoholic Spritz
Calories: 90 per 187ml serving
Alcohol Content: Less than 0.5%
Launched in January 2021, Spritz is the newest addition to St. Regis' portfolio of alcohol-free wines … and oh yes, it is extraordinarily tasty. Made from a blend of Spanish white grape varieties, Spritz has an attention-grabbing, brilliant orange color with effervescence, aromas and flavors to match. The palate is an expressive balance of fruitiness, a touch of natural sweetness, and streaks of herbaceous notes wrapped around a gently bitter finish. St. Regis Spritz pairs great with almost any appetizer including Caprese focaccia, smoked salmon crostini, or your favorite meat and cheese plate.
Review: St. Regis Non-Alcoholic Brut
Calories: 75 per 187ml serving
Alcohol Content: Less than 0.5%
St. Regis Brut is a wonderfully reflective, non-alcoholic Blanc-de-Blanc bubbly; aka white wine from white grapes. Made from 100% French Chardonnay grapes via traditional methods, it's no wonder this dry sparkler is crisp and clean with naturally bright acidity. With great panache, its delightfully expressive combination of fresh citrus notes coupled with swirls of floral tones and tantalizingly fruity bubbles will delight the palate. It's no wonder it landed a spot on our 10 Best Non-Alcoholic Champagnes list.
Review: St. Regis Non-Alcoholic Chardonnay
Calories: 37 per 187ml serving
Alcohol Content: Less than 0.5%
Made with 100% Chardonnay grapes from the South of France, St. Regis Chardonnay offers youthful layers of white flowers, apricot and Anjou pear that are pleasing to both the nose and palate. Elegant yet complex, there's a hint of sweetness to this Chardonnay and a great balance of fresh fruit, vibrant acidity, and supple mouthfeel. Top it off with a protracted, enjoyable finish and St. Regis Chardonnay is the perfect accompaniment to almost any fresh seafood - think smoked salmon on a just-baked baguette! A great option from our 11 Best Non-Alcoholic Wines collection.
Review: St. Regis Non-Alcoholic

 

Kir Royal
Calories: 82 per 187ml serving
Alcohol Content: Less than 0.5%
On the color spectrum of wine, garnet lives somewhere between ruby and tawny; unmistakable in its beauty. So, it's no surprise that St. Regis Kir Royal garnet bubbly is as pleasing to the eye as it is to the palate. Made from 100% Shiraz grapes, this delicately sweet bubbly features notes of fresh dark fruit (think blackcurrant), lively acidity, medium body, and a spicy "can't stop at one glass" finish. Quite pleasing and refreshing on its own, Kir Royal is equally tasty as part of your favorite mocktail. Yum!!!
Review: St. Regis Non-Alcoholic

 

Secco
Calories: 45 per 187ml serving
Alcohol Content: Less than 0.5%
What could be better than a deliciously light, refreshing bubbly to celebrate successes big and small, unwind after a long day, or make to toast with family and friends? Created from a blend of Spanish grapes, St. Regis dealcoholized Secco is the answer! Enticingly fruity with great structure, lively acidity and notes of nutmeg and white flowers, Secco's balanced sweetness makes it ideal for any course. Alternatively, St. Regis Secco makes the perfect blending partner for your favorite "Nomosa" – just add fruit juice, a touch of grenadine, and garnish with an orange peel. Another standout selection from our list of top non-alcoholic champagnes and sparkling wines.
Review: St. Regis Non-Alcoholic Shiraz Rosé
Calories: 45 per 187ml serving
Alcohol Content: Less than 0.5%
Lifted notes of cassis, strawberry, and melon energetically greet the nose and set the stage for an equally pleasing palate in this enjoyable Rosé made from 100% Shiraz grapes. Light in body but with plenty of depth and acidity to match, this delicately sweet non-alcoholic wine has noteworthy balance and a pleasing finish making it incredibly food friendly. Enjoy St. Regis Shiraz Rosé with pan-seared pork loin, chicken tacos, charcuterie boards, and virtually any light fare. It's that versatile!
Review: St. Regis Non-Alcoholic Cabernet Sauvignon
Calories: 45 per 187ml serving
Alcohol Content: Less than 0.5%
Layers of abundant fruit including ripe plum, blackberry, and blackcurrant headline this supple beauty, all framed by from swirls of mocha, dried herbs, and sweet oak spice; a virtual orchestra of flavors working seamlessly together. Made with 100% Cabernet Sauvignon grapes from Northern Spain, this bottle's wonderful complexity is complimented by supple yet powerful tannins, mouthwatering acidity, a full body and long finish. One of the best dealcoholized reds we've tried (and a longtime favorite on our list of the 15 Best Non-Alcoholic Red Wines), St. Regis Cab Sauv pairs effortlessly with filet mignon, flank steak and bison burgers. (Be sure to check out our full review of St. Regis Non-Alcoholic Cabernet Sauvignon here).