Review: St. Regis Non-Alcoholic Cabernet Sauvignon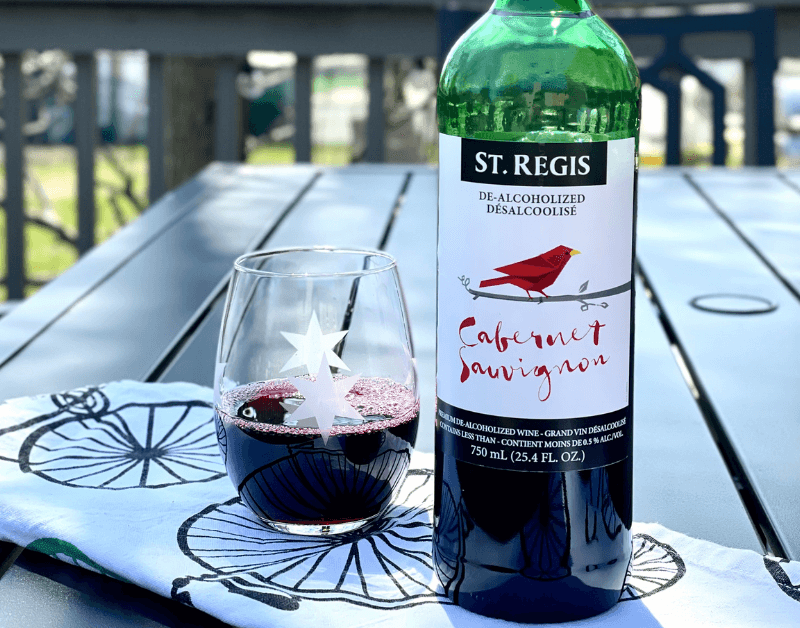 In nearly every area of life, we're told moderation is key. But St. Regis Non-Alcoholic Wines doesn't agree. In fact, their website boldly declares that all their customers should live their lives without moderation.
Well, at least when it comes to their alcohol-free wines, that is…
When we first tried St. Regis wines, we could clearly see why moderation is off the table. Located in Quebec, Canada, St. Regis offers a full cellar of delicious non-alcoholic wine options, including Non-Alcoholic Brut Champagne, Non-Alcoholic Chardonnay, Non-Alcoholic Kir Royal, Non-Alcoholic Prosecco (or "Secco," as they call it), Non-Alcoholic Shiraz Rosé, and our personal favorite, St. Regis Non-Alcoholic Cabernet Sauvignon.
[Psst. Hey you…looking for a non-alcoholic wine you'll love? Be sure to check out our private Facebook community - Non-Alcoholic Wine Reviews - to learn more about our favorite alcohol-free red, white, and sparkling wines!]
Having had the pleasure of trying some of the best non-alcoholic wines and champagnes on the market, we can say without a doubt that the St. Regis portfolio is one of the consistently best lineups you'll find right now in the alcohol-free space. And while we enjoy every St. Regis variety that's met our glass, there's one that manages to stand out above the rest:
St. Regis Non-Alcoholic Cabernet Sauvignon
Arguably the most difficult task in all of non-alcoholic beer, wine, and spirits, St. Regis has managed to craft a bold red wine that carries over nearly everything you know and love from your favorite glass of traditional Cab. Made with 100% hand-selected Cabernet Sauvignon grapes from Northern Spain that have been delicately dealcoholized, St. Regis Cab is without a doubt one of the best non-alcoholic red wines we've ever tasted.
In fact, St. Regis Alcohol-Free Cabernet Sauvignon is so good, we just had to sit down and give it a full review so you can see for yourself what makes this non-alcoholic wine so special.
Review: St. Regis Non-Alcoholic Cabernet Sauvignon
Quality wine – alcoholic or non-alcoholic – starts with quality grapes, and St. Regis Cabernet Sauvignon is no exception. Crafted using hand-selected 100% Cabernet Sauvignon grapes from the company's vineyard in Northern Spain, each bottle of St. Regis begins its life as any other wine would. Using Old World winemaking techniques that have been passed down for generations, St. Regis crafts a beautiful alcoholic Cabernet Sauvignon that one would guess is absolutely delicious. But thankfully for us, the process doesn't end here.
After their wine has finished aging, St. Regis Cabernet Sauvignon moves on to a state-of-the-art dealcoholization process. Using proprietary technology, the company delicately removes the alcohol molecules from each bottle. When they're done, all that's left is the beautiful collection of flavors and aromas from their Cab, just without the alcohol.
These aromas are ever apparent as you pour a glass of St. Regis Cabernet Sauvignon. Bright bursts of dark plum and blackcurrants are cut with a subtle touch of spice, which hints at what's to come when you take your first sip. Bold, lively and refreshing, St. Regis Cab hits the tongue with just right balance of subtle sweetness, acidity, and spice, carrying flavors of mint, plum, spice, oak, and chocolate. While it (like all other non-alcoholic wines) does not have quite the same "heat" of traditional wine, this missing sensation is offset by the full-bodied texture and spice of the wine.
Full transparency – our team did a double-take after our first sip of St. Regis Non-Alcoholic Cabernet Sauvignon. While it likely won't fool anyone into thinking they're drinking an alcoholic wine, with as many non-alcoholic varieties as we've consumed, we were quite surprised to try something that tasted this good. In fact, we finished the bottle on the very same day, something that is quite rare for us when it comes to non-alcoholic red wines.
A few sips of St. Regis Alcohol-Free Cab, and it was immediately clear why this is the #1 bestselling non-alcoholic red wine on Amazon. There's a depth here that many NA wines seem to miss. And one that we'll continue to enjoy again and again as this bottle enters our rotation of favorite non-alcoholic red wines. Oh, and did we mention it's only 60 calories per serving?!
Final Thoughts: St. Regis Non-Alcoholic Cabernet Sauvignon
If you visit our blog often, you know that quality non-alcoholic red wine is hard to come by. While it's getting better every day, there is an unfortunate void in the space that desperately needs to be filled.
St. Regis Non-Alcoholic Cabernet Sauvignon is doing the best it can to fill this void. While it may not be perfect, it's about as close as anyone can come right now to recreating the rich experience of traditional red wine. If you're missing that evening glass of Cab as you live a sober-curious lifestyle, we highly recommend trying a bottle of this delicious alcohol-free red wine. You may find it's just what you need to live a life without moderation…