Lyre's Non-Alcoholic Rum and Coke Recipe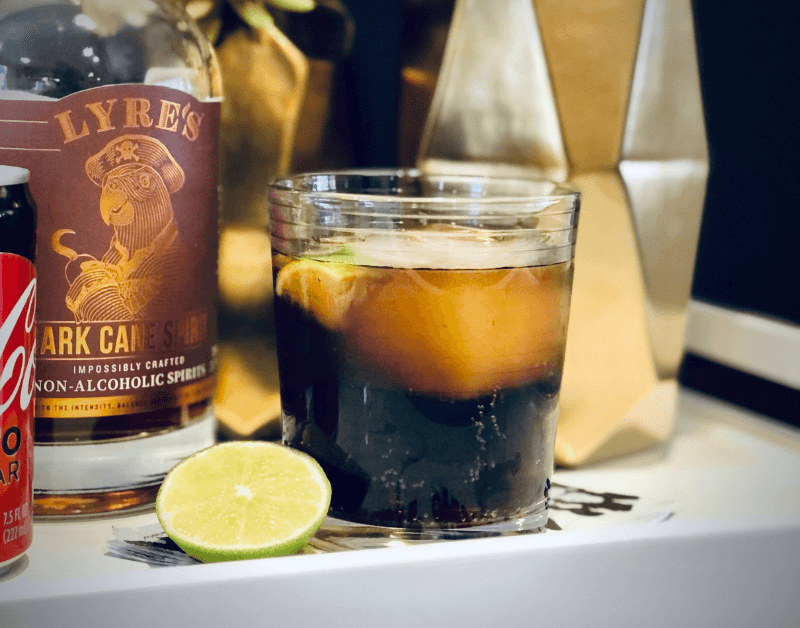 When you decide to give up drinking (for whatever reason), a whole new world of incredible non-alcoholic beers, wines and spirits opens up. And for anyone who reads our non-alcoholic mocktail recipes and follows us on Instagram knows, we here at YOURS are big fans of coming up with new, unique drinks for those looking to live a life without alcohol.
But even we have those occasional cravings for the classic cocktails we used to enjoy when we were drinking. And for many years, we've had to go without these classics, and focus instead on creating innovative mocktails of our own.
However, that's all starting to change thanks to the amazing new crop of non-alcoholic spirit alternatives.
Take for example the bar favorite rum and coke. The perfect blend of spiced bite from the rum and sweetness from the cola, a rum and coke makes a delicious cocktail for any occasion. And now, with the help of alternatives like Lyre's Dark Cane Spirit Non-Alcoholic Rum, we can recreate this classic drink in an alcohol-free mocktail form.
If you're missing those old standby cocktails and a ready for a refreshing, alcohol-free take on one of your favorites, read on for our Lyre's Non-Alcoholic Rum and Coke Recipe and give it a try for yourself:
Ingredients for Lyre's Non-Alcoholic Rum and Coke Recipe
4 oz – Coke (or Coke Zero/Diet Coke for a low-calorie mocktail)
Ice
Lime for Garnish
Directions for Lyre's Non-Alcoholic Rum and Coke Recipe
Fill glass ¾ full with ice
Pour in Coke
Add lime wedge for garnish
It's that easy! With a few simple ingredients and steps, you can enjoy a refreshing non-alcoholic mocktail any night of the week.  
Give this Lyre's Non-Alcoholic Rum and Coke Recipe a go and let us know your thoughts in the comments below. Also be sure to tag us with photos of your mocktails on Instagram at @sipyours!