31 Drinks to Enjoy During Dry January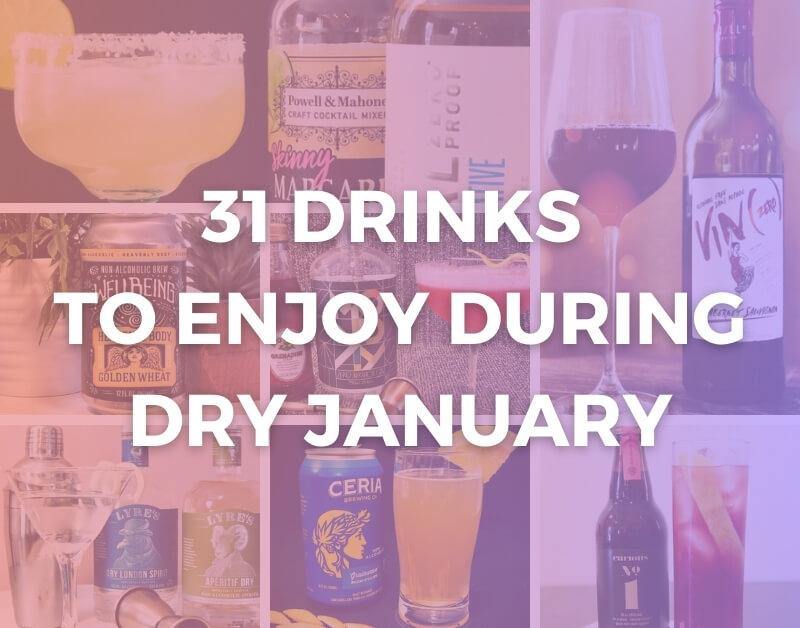 This year, one in seven Americans reported participating in Dry January. What started less than a decade ago with a few thousand participants in the United Kingdom has grown into a global movement, with millions of sober-curious adults choosing to spend their January alcohol-free.
Now, as anyone who has participated in Dry January knows, the health benefits of a month without alcohol are quite profound. Most participants who last the entire 31 days report weight loss, more energy, better sleep, and countless other physical and emotional improvements from giving up the booze. But even all these benefits don't make Dry January any easier…especially for those who have grown attached to the social rituals of pouring that evening drink.
Thankfully, the recent boom in non-alcoholic beer, wine, and spirits has made Dry January much more enjoyable. And for this year's Dry January, the team here at YOURS decided to go all out, exploring the vast landscape of different alcohol-free drink options. Our community followed along on Instagram as we tried something new each night of the month, ultimately leaving us with a list of 31 different alcohol-free beers, wines, spirits, and mocktails that provided all the same social rituals we know and love, just without the alcohol.
If you're looking for some great non-alcoholic beverage reviews, we've compiled our month of NA drinks for you here.
Read on for a full recap of all 31 alcohol-free beers, wines, and cocktails we enjoyed during Dry January 2021: 
Day 1: Non-Alcoholic Champagne Bellini
We're kicking off our 31 Days of Dry January with a bit of bubbly!
Using some leftover St. Regis Alcohol-Free Brut from last night, we've crafted our take on a non-alcoholic Bellini. While we don't expect all our Dry January drinks to be quite this fancy, it seemed only appropriate to start the new year off right by sipping something special as we say goodbye and good riddance to 2020. Get the recipe here!
Back to Drink List
Day 2: Suntory All-Free Non-Alcoholic Beer
Feeling a little sluggish after all the holiday treats?
That's how we're feeling over here. Which is why for Day 2 of 31 Drinks for Dry January we're pulling out a Suntory All-Free. Suntory All-Free is a light, crisp, refreshing non-alcoholic beer that through the power of science (or maybe sorcery?) comes in at 0 calories and just a single carb per can. 
Of course, you won't get the same robust flavors that you do from a lot of the amazing non-alcoholic craft beers on the market, but if you're looking for something that sips easy and goes easy on your waistline, this is a fantastic choice to keep stocked in the fridge.
Day 3: Kin Euphorics Spritz
If this is your first Dry January, welcome! You couldn't have joined the Sober Curious movement at a better time.
There are a TON of different non-alcoholic options on the market. Whether you're trying to replicate the feeling of pouring a glass of wine at the end of a long day, or are looking for a new experience entirely, there is literally something for everyone in the non-alcoholic space these days.
Take today's Dry January drink of choice...a Kin Euphorics Spritz. Kin uses a proprietary blend of ingredients to craft an entirely new category of adult beverages. One that fills you with a blissful warmth, but without the alcohol.
Their ready-to-drink Kin Euphorics Spritz is a super tasty non-alcoholic cocktail that features notes of fresh citrus, hibiscus, and ginger. The perfect blend of sweetness and warm bite, these cute little cans a great option for those looking to try something a little different this Dry January.
Day 4: Athletic Brewing Company Upside Dawn Non-Alcoholic Beer
Of all the things that go into a healthy lifestyle, beer tends to be pretty low on the list. Unless you're one of folks at Athletic Brewing Company, that is.
Pioneers in the craft non-alcoholic beer space, Athletic Brewing Co. is redefining how beer can fit into our lives. The team at this Stratford, CT brewery crafts an entire lineup of delicious brews that carry all the taste, social, and nutrient benefits of beer, but without the compromise of alcohol.
For Day 4 of Dry January, we're pouring ourselves an Athletic Brewing Upside Dawn, an awarding-winning non-alcoholic golden ale that sips just like the classics you know and love. Refreshing, light, and clean, it's the perfect balance of flavors and aromas, and a beer we'd reach for any night of the week.
Day 5: Vin(Zero) Alcohol-Free Cabernet Sauvignon Wine
One of the things we miss most during Dry January is pouring that big glass of red to keep you company while cooking dinner. Thankfully, this ritual can be replicated with a little help from Vin(Zero)
For Day 5 of Dry January, we're pouring ourselves a glass of Vin(Zero) Cabernet Sauvignon. One of the best non-alcoholic wines available today, this rich red boasts bold flavors and a delicious finish that'll satisfy those Cab cravings, and is the perfect sous chef as you whip up something tasty this evening!
Day 6: Gruvi Stout Non-Alcoholic Beer
Now that the holidays are over, winter tends to get a lot less fun. And on dark, cold days like this, there's nothing that raises our spirits higher than a nice, bold stout.
We're lucky that Gruvi has us covered for Day 6 of Dry January. One of the best non-alcoholic stouts we've tried, Gruvi does an amazing job packing a flavorful punch in this delicious beer. Rich and full, this NA has all the traditional flavors we love in our stouts, yet magically comes in at just 45 calories per can!
Day 7: Seedlip Garden 108 & Soda Non-Alcoholic Cocktail
We don't know about you, but this first week back has got us feeling a little sluggish. That's why for Day 7 of Dry January, we're opting for a clean and refreshing Seedlip Garden 108 and Soda.
There's something about the freshness of this non-alcoholic cocktail that just livens your senses. And after the year we just had, sipping on something this clean and delicious leaves us feeling like we're resetting our bodies for a much better year ahead. Check out the full recipe!
Day 8: Partake Pale Non-Alcoholic Beer
Happy Friday! And congratulations on making it through the first week of Dry January. 
To celebrate, we're cracking open a can of Partake Brewing Pale NA beer. One of the absolute best non-alcoholics on the market, we cannot get enough of the crisp award-winning craft. Just the right balance of bitter and sweet, this beer sips super easy, and is absolutely packed with flavor. And best of all, for those of us looking to shed a few pounds after the holidays (*raises hand*), Partake has somehow managed to limit this delicious beer with an astounding 10 calories and 0 carbs. What better way to kickstart the weekend?
Day 9: Almost Zero Wonderful White Dealcoholized Wine
For tonight's Dry January treat, we're cracking open a bottle of Almost Zero Wonderful White De-Alcoholized Wine. Hailing from South Africa, this vibrant white wine features the crisp flavors of apple and citrus, and pairs perfectly with a Saturday night charcuterie board. A can't-miss option for those missing their pinot grigios this month.
Day 10: Lyre's Non-Alcoholic Spirits Martini
Shaken, not stirred...
While many claim James Bond ruined his martini with this request, few can argue that this classic cocktail is as good as it gets when you want something special to cap off your evening. And to celebrate making it through the first 10 days of Dry January, tonight we're crafting our take on a non-alcoholic martini with the help of Lyre's Dry London Spirit and Aperitif Dry.
Oh, and in case you're wondering, at YOURS it's stirred, not shaken. Get the full recipe here!
Day 11: Athletic Brewing Company Run Wild Non-Alcoholic IPA
After a long Monday back in the (virtual) office, nothing beats cracking open an Athletic Brewing Run Wild IPA. Part of a recent boom in craft breweries dedicated exclusively to non-alcoholic beer, Athletic Brewing Company has quickly earned a name for itself as one of the best collections of NA beer on the market. Take just one sip of a Run Wild Non-Alcoholic IPA and you'll see why.
A blend of five different Northwest hops, this IPA is a refreshing, approachable alcohol-free craft beer, and holds its own against any of the IPA's you already know and love.
Day 12: Gruvi Dry Secco Non-Alcoholic Prosecco
Tonight we're settling in with a bottle of one of the most talked about non-alcoholic wines on the market - Gruvi's Dry Secco. Completely alcohol-free (0.0%), Gruvi Non-Alcoholic "Dry Secco" Prosecco is never actually fermented into alcohol like most alcohol-free wines. But that doesn't mean this delicious alcohol-free prosecco tastes any less like wine.
Using hand-picked wine grapes blended to perfection, this bottled bubbly is semi-dry, with just the right amount of tart. And with no sulfites or gluten, and just 50 calories per bottle, this is a choice you can feel good about making anytime you're searching for a drink.
Day 13: Ritual Zero Proof Whiskey Alternative Hot Toddy
As winter continues to wrap its arms around us here in Chicago, nothing beats a midweek warm-up courtesy of this non-alcoholic Hot Toddy! 
Made with Ritual Zero Proof Whiskey Alternative, this honey and lemon-soaked cocktail sips just like the real thing, leaving you with a sensation that'll warm you up on even the coldest winter nights. Get the full recipe here.
Day 14: Stella Rosa Black Non-Alcoholic Wine
Two weeks down! Congrats on making it through the first two weeks of Dry January! It only gets easier from here...
To celebrate our progress thus far, tonight we're opening up a bottle of Stella Rosa Black Non-Alcoholic Wine. One of the more interesting NA wine options on the market, Stella Rosa Black is more of a wine cocktail than a traditional wine. This popular Italian drink combines bright de-alcoholized red wine with real fruit flavors for a drink that's refreshing, complex, and absolutely delicious. With notes of real blackberry, blueberry, and raspberry flavors, this alcohol-free Stella Rosa wine goes down great chilled, over ice, or mixed into your favorite wine mocktail.
Day 15: St. Regis Non-Alcoholic Shiraz Rose Wine
To kick this weekend off right, we're diving into a bottle of St. Regis Non-Alcoholic Shiraz Rose.
With its beautiful color and bright, fruity notes, this NA wine from @st.regiswines sips great, and pairs perfectly with any number of dishes. Dancing on the tongue, you'll be shocked to learn that this flavorful wine comes in at just 60 calories per glass...a fraction of what you'd expect from a tasty wine like this.
Now there's something we can cheers to!
Day 16: Ceria Brewing Co. Grainwave Non-Alcoholic Belgian-Style Beer
With NFL playoffs on the TV, this Dry January Saturday calls for a beer in hand.
Founded by brewing legendary Keith Villa (the man who brought you Blue Moon), Ceria is a flavor-forward, Belgian-style beer that packs an incredible punch. Thick, rich, and bursting with bright pops of orange peel and coriander, Ceria Grainwave is an absolute treat to drink, and falls into that exclusive category of NA beers that you'd never guess were alcohol-free.
Regardless of who wins their games today, as far as we're concerned, Ceria Brewing Co. is the real winner.
Day 17: Monday Zero Alcohol Gin Clover Club Mocktail
Though we might be a day early, we couldn't resist finishing off another Dry January weekend with Monday Non-Alcoholic Gin.
Inspired by the 1920's vibe on the Monday bottle, tonight we're making a Clover Club, an elegant, perfectly balanced, and absolutely delicious mocktail! Shake 3 oz Monday Gin, 3/4 oz Grenadine, 1 oz Lemon Juice, and 1 Egg White in shaker for 15 seconds. Add ice and shake for 30 more seconds. Strain into glass and garnish. That's it! Get the full recipe here!
Day 18: Vin(Zero) Merlot Non-Alcoholic Wine
This far into Dry January, it's only natural to start missing some of your old favorites. For those that love a good glass of red, we recommend pouring yourself some Vin(Zero) Merlot.
Another well-done alcohol-free wine from the folks at Vin(Zero), this Merlot does a fine job replicating the rich, bold experience that only a red wine can deliver. And that's something we can cheers to!
Day 19: Wilderton Earthen Non-Alcoholic Wild & Free Mocktail
We can't say it enough...there has never been a better time to go alcohol-free! With so many great NA options in the market, there is literally something for everyone. Not only can you discover replacements for your favorite go-do alcoholic drinks, but you can also discover a whole new world of unique flavors and experiences. 
Take Wilderton. Wilderton combines traditional methods of tea making, perfumery, and alcoholic spirits using fresh botanics found across their home in the Pacific Northwest. For tonight's Dry January drink, we're using their Earthen non-alcoholic spirit to make what they call a "Wild & Free" - 2 oz Wilderton Earthen, 1/2 oz Orange Juice, & Ginger Beer. Slight spice & burst of citrus, it's an easy and delicious way to explore new NA flavors.
Day 20: Brooklyn Brewery Special Effects Non-Alcoholic Beer
Like the CGI in your favorite superhero movie, Brooklyn Brewery Special Effects Non-Alcoholic Hoppy Lager plays a trick on the audience…you think you're drinking a regular beer, only you're not. Using a special fermentation method, Brooklyn Brewery is able to develop the flavors, aromas, and character of traditional craft beer, just without the alcohol. Coupled with a generous dry hopping towards the end of the process, the result is a delicious hop-forward non-alcoholic craft beer you'll swear is the real deal.
Day 21: Stella Rosa Non-Alcoholic Peach Wine
We're 3 weeks down! Congratulations to those who have made it this far into Dry January. While we know it hasn't been easy, by now you're definitely feeling the improvements of life with no alcohol. And we're excited to keep sharing drink ideas to get you across the finish line.
If you're looking for an easy way to celebrate tonight, pour yourself a glass of Stella Rosa Peach. Resembling a white wine cocktail/spritzer, Stella Rosa Peach is packed with flavor, including white peaches and wildflower honey, for a tasty treat that's absolutely delicious poured over ice.
Day 22: Seedlip Grove 42 Non-Alcoholic Grapefruit Mocktail
It's Friday! Even though most of us are still stuck spending our weekends at "Club Netflix", that doesn't mean we shouldn't have something special in hand to sip on while we binge Bridgerton.
Tonight we're crafting a citrus cocktail using one of our favorite NA spirits: Seedlip. Combine 3oz Seedlip Grove 42, 2oz freshly squeezed grapefruit juice, and 0.5oz lemon juice. Cut grapefruit slices and crush into glass. Combine all ingredients with ice and stir. Garnish with grapefruit slice. Cheers!
Day 23: Wellbeing Heavenly Body Golden Wheat Non-Alcoholic Beer
There's nothing quite as refreshing as opening up that first ice cold non-alcoholic beer on a Saturday afternoon!
Today we're sipping on a Wellbeing Heavenly Body Golden Wheat. One of the first NA beers we ever tried (and believe us when we say it was love at first sip), Heavenly Body is dry, light, and crisp, making it the perfect beer to ease into your afternoon.
Day 24: Gruvi Bubbly Non-Alcoholic Rosé
Need a cure for those Sunday blues? Gruvi's got you covered!
One of the absolute best non-alcoholic wines available today, Gruvi Non-Alcoholic Bubbly Rose is a tart, refreshing drink that tastes as great straight out of the bottle as it does in your favorite champagne flute. 
And at just 60 calories, we can all agree that Gruvi Bubbly Rose is basically bottled happiness.
Day 25: Ritual Tequila Alternative Alcohol-Free Margarita
Margarita Monday anyone? We're kicking off the last full week of Dry January with a delicious non-alcoholic margarita made with a little help from Ritual Zero Proof Tequila Alternative.
The highest rated non-alcoholic spirit in the world, Ritual Zero Proof Tequila Alternative brings the heat, smoke, and lime you know and love, making it the perfect partner for Margarita Monday. And with no alcohol and just a handful of calories, you can order dos or tres margaritas with nada guilt! Get the full non-alcoholic margarita recipe here.
Day 26: Be Well Non-Alcoholic Chardonnay
If you love that oaky, buttery richness that can only come from a chilled glass of chardonnay, you're going to love Be Well.
One of the best non-alcoholic chardonnay's we've ever tasted, Be Well features notes of golden delicious apple, oak, and vanilla, along with a subtle touch of honey. The result? A beautifully balanced, light bodied non-alcoholic wine that goes toe-to-toe with your favorite glass of traditional chardonnay.
Day 27: Lyre's Non-Alcoholic Dark Cane Spirit Rum and Coke
This far into Dry January, no one can blame you if you're not-so-secretly missing some of your old standby cocktails. We know we'd love a Rum & Coke right about now...
Thankfully, Lyre's Non-Alcoholic Dark Cane Spirit makes an excellent substitute for rum...even in something as simple as a Rum & Coke. Which is exactly what we're pouring ourselves on this Wednesday night. 
What about you? Any old favorites you're missing? Comment below and we'll make some recommendations for substitutes and swaps!
Day 28: BrewDog Nanny State Non-Alcoholic Beer
Today, we'll be pouring ourselves the self-proclaimed "Holy Grail of Low Alcohol" - BrewDog Nanny State.
A favorite in the NA craft beer community, the magicians at BrewDog have found a way to take flavors to the edge, and harvest all the taste of fermentation before the alcohol arrives. The result is a deliciously complex craft packed with flavor and free from everything else. 
Day 29: TÖST Alcohol-Free Sparkling Drink
Welcome to the last Friday night of Dry January. As you ease into the weekend, we recommend popping open a bottle of TÖST.
TÖST is made with all-natural ingredients, including white tea, cranberry, and ginger. With bright bubbles, just a touch of sweetness, and a nice dry finish, it easily swaps in for your evening glass of wine, and is the perfect non-alcoholic drink to start your weekend!
Plus, TÖST clocks in with just 45 calories per serving. Now that's something we can toast to!
Day 30: Curious Elixirs No. 1 Non-Alcoholic Cocktail
It's the final Saturday of Dry January, and to be honest, nights like tonight we just don't have the urge to whip up a fancy af cocktail.
Thankfully, we've always got a few Curious Elixirs in our fridge. Tonight we're enjoying the Curious Elixir No. 1, their ready-to-drink alcohol-free take on the classic Negroni. Slightly bitter with a punch of herbal goodness, this cocktail is absolutely delicious, and is an effortless way to ease into your Saturday night. 
Day 31: Thomson & Scott Noughty Alcohol-Free Sparkling Chardonnay
CONGRATULATIONS!!! You've made it to the end of Dry January! Tonight, we celebrate!
Over here, we're kicking off the festivities by popping a bottle of Thomson & Scott Noughty Alcohol-Free Sparkling Chardonnay. This bubbly white wine is one of the best reviewed NA wines on the market, and for good reason...it looks and tastes delicious!
As we raise a glass and toast the end of Dry January tonight, we want to thank each and every one of you for following along on our journey this month. Even if you didn't participate this year, we hope we provided a little bit of inspiration as to all the amazing things you can drink when you're not drinking.
Be sure to check out our full recap of Dry January drink recommendations and recipes coming to our website in the coming days. In the meantime, we've got just on thing left to say...CHEERS!