Review: Monday Zero Alcohol Gin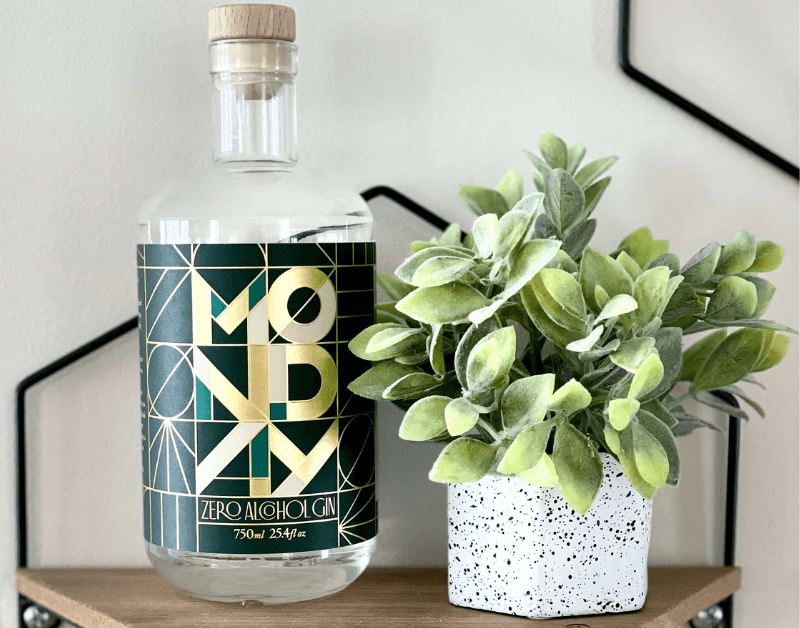 We've said it before and we'll say it again: there's never been a better time to not drink.
Whether you're abstaining for an evening or for the rest of your life, choosing to skip the alcohol isn't an exercise in "going without". It's an exercise in trying something new and exciting instead. And these days, this can mean any number of amazing non-alcoholic beers, wines, and spirits. By choosing to say no to one thing (in this case, alcohol), you're actually opening up an entire new world of incredibly delicious adult drinks that just so happen to be alcohol-free.
Of course, this new world would not be possible without a few pioneering brands, including Monday Zero Alcohol Gin. One of the fastest growing non-alcoholic spirits on the market, Monday is the creation of several gin-loving friends from Southern California. A few years ago, while looking to adopt a healthier, sober-curious lifestyle, these friends quickly identified some major problems that come with choosing not to drink. Namely, that not drinking left them with some serious FOMO at bars, restaurants, and other social outings, and that (at the time) options for alcohol-free drinks were boring, overly sweet, and at many establishments, limited to just water and soda.
Looking for a better way to skip the booze but still enjoy the social elements of drinking culture, the group starting developing their own type of spirit. One that smelled, sipped, and mixed like their favorite dry London gins, just without the alcohol. And after experimenting with a variety of different ingredients and formulas, they finally landed on a recipe that hit all three marks.
Monday Zero Alcohol Gin Was Born 
Launching on Kickstarter in late 2019, Monday Zero Alcohol Gin reached its funding goal in less than 48 hours, and was met with rave reviews when bottles started shipping out in early 2020. The brand very quickly developed a following, and it wasn't long before Monday was being featured on the pages of Forbes, Vogue, Bloomberg, The Washington Post, Rachel Ray, and more.
Monday Zero Alcohol Gin clearly struck a chord with consumers looking to embrace life without alcohol. And having followed their journey closely, our team was finally ready to experience Monday Gin for ourselves.
The Monday Gin Experience
Of course, what good is great press if the product doesn't live up to the hype. To see what all the fuss was about, our team here at YOURS sat down to give Monday Zero Alcohol Gin a full review, and see just where it stacks up on the list of best non-alcoholic spirits.
After a quick and painless ordering experience on the Monday website, our bottle of alcohol-free gin arrived promptly at our door within a few days. The first thing you notice when opening up your package of Monday Gin is just how beautifully it's boxed. The brand's signature Art Deco vibe is featured prominently on the box, tape, and packing materials, making for a super elegant experience as you unpack the gin.
While some may wonder why Monday (or any brand) would go to such efforts on something as simple as the packaging, we felt this unboxing experience was a much-needed reminder that, even without the alcohol, Monday is still very much a premium spirit. And anyone choosing to enjoy a premium spirit should have a premium experience from start to finish.
Fully unpacked, we got our first glimpse of the Monday Zero Alcohol Gin bottle in all its glory. We had read plenty of reviews that made mention of the bottle, and now having had the chance to hold it in front our own eyes, we could see why. The Monday bottle is a work of art, and would look at home on even the most elegant of bar carts and liquor shelves. From the rich green label and bright gold lettering, to the natural wood bottle stop and seal, this alcohol-free gin feels like something straight out of The Great Gatsby.
But How Does Monday Zero Alcohol Gin Taste?
When you open a bottle of Monday Zero Alcohol Gin, you're immediately met with a bold juniper aroma. Having tried countless non-alcoholic spirits, we can tell you first-hand that not all varieties do a great job replicating the smell of the alcoholic spirit they're aiming to replace, but Monday absolutely nails it. From the very first whiff, you know that this is meant to be enjoyed like a gin.
To kick off our Monday Alcohol-Free Gin review, we poured ourselves a classic gin and tonic with a squeeze of lime. With the first sip, it's clear that the team at Monday knows its gin. Crafted using a blend of juniper, natural botanicals, citrus, and spice, our Monday gin and tonic tasted almost exactly like the fully-leaded versions we used to drink. Quite honestly, it was one of the best non-alcoholic spirit replications we've tried to date.
Of course, if you know anything about YOURS, it's that we love to take things to the next level. Fully satisfied with the Monday gin and tonic, we decided to move on to a more complex gin cocktail: The Clover Club.
Using Monday as the base for our Alcohol-Free Clover Club Recipe, we mixed in grenadine, fresh lemon juice, and egg whites. While our team was concerned that the end result would come out thin (as many alcohol-free cocktails are known to do), these worries went unfounded, as this gin mocktail came out with a beautiful foamy head and just the right consistency. Oh, and it tasted pretty darn incredible, too…
Playing the star role in both our simple gin and tonic as well as the complex Clover Club Cocktail, Monday Zero Alcohol Gin passed both our tests with flying colors. It's clear…the hype around Monday is real.
Final thoughts on Monday Zero Alcohol Gin
Just like most drinkers develop a preference for one alcoholic brand of gin over another, choosing an alcohol-free gin that's right for you is a very personal process. That said, it's hard to go wrong with Monday Zero Alcohol Gin.
Crafted as a premium non-alcoholic spirit, Monday delivers a truly premium experience. From the box to the bottle to the glass, each step in crafting a Monday Gin cocktail is as enjoyable as the last. Sipping very much like a classic London dry, we found Monday to be one of the absolute best non-alcoholic representations of gin we've tried to date. Bright, bold hits of juniper. The bite of citrus. The warm spice of coriander. It all comes together in perfect harmony with Monday, leaving you with a non-alcoholic spirit that's perfect for any occasion.
If you're looking to enjoy the taste and experience of gin, but without the compromises of alcohol, we highly recommend you grab yourself a bottle of Monday Zero Alcohol Gin. It's a choice you'll be glad you made, any day of the week.