Review: Luminara Red Blend Napa Valley Alcohol Removed Wine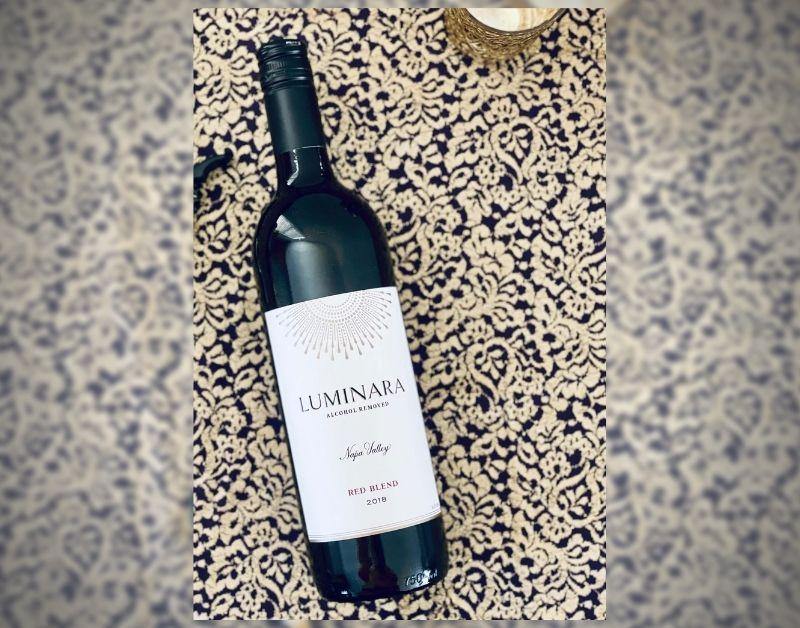 Wine is one of the world's oldest beverages. Records of winemaking go back many thousands of years to nearly every corner of the globe. And while the styles and methods may have looked quite different from region to region, the process could be replicated nearly anywhere because at its core, winemaking is a pretty simple endeavor. Pick some fruit, smash it into juice, and let that juice ferment into alcohol.
While wine technically can be made most anywhere on the globe, over the years a few regions have emerged as the premier winemaking regions. Places like Champagne, France, La Rioja, Spain, Yarra Valley, Australia, Tuscany, Italy, and The Marlborough Region, New Zealand. These regions have impeccable "terroir" – which is how winemakers describe the effect a region's climate, soil, and terrain have on making particular styles of wine.
[Psst. Hey you…looking for a non-alcoholic wine you'll love? Be sure to check out our private Facebook community - Non-Alcoholic Wine Reviews - to learn more about our favorite alcohol-free red, white, and sparkling wines!]
Of course, in the United States, there is a winemaking region with a worldwide reputation as one of the best terroirs around…
Napa Valley
Just north of San Francisco, Napa Valley is California's premier winemaking region. Nearly 800 square miles dotted with hundreds of hillside vineyards, and a history of winemaking that dates back to the early 1800's. Now known for producing some of the world's most beloved and awarded wines, Napa Valley has developed a reputation for crafting the best of the best when it comes to wine.
But there one thing this region has not been known to produce: alcohol-free wine. That is, until now…
Luminara Napa Valley Alcohol Removed Wine 
Until recently, it was nearly impossible to find a non-alcoholic wine with Napa Valley on its label. But that's all changed thanks to Luminara Alcohol-Removed Wine.
Part of the Trinchero Family Estates – a worldwide leader in winemaking for over 50 years – Luminara Alcohol Removed Wine is the product of decades of experience and expertise. And this experience really does show.
Offering both a Napa Valley Red Blend and a Napa Valley Chardonnay, Luminara changes the conversation around what a non-alcoholic wine can be. With rich Napa grapes hand selected for optimal aroma and flavor, Luminara wines are crafted from the ground up to offer that same, amazing wine experience that the Trinchero Family is known for. The only difference? They use advanced technology at the end of the process to delicately remove the alcohol, while retaining the aromas and flavors they've worked so hard to craft.
And it's this attention to detail throughout the entire process that makes Luminara such an incredible non-alcoholic wine.
Taste Test: Our Review of Luminara Red Blend Napa Valley Alcohol Removed Wine
Needless to say, with Napa Valley's reputation, we could not wait to get our hands on a bottle of this alcohol-removed wine.
The first thing you notice when you open a bottle of Luminara Red Blend Napa Valley Alcohol Removed Wine is the aroma. Unlike most alcohol-free wines, which tend to smell sweet (as they are often mixed with residual grape juice from the winemaking process), Luminara has a rich aroma quite similar to a traditional bottle of Cabernet Sauvignon. It's incredibly pleasant, and sets the tone for an experience that goes well beyond most non-alcoholic wines.
With the first sip of Luminara Red Blend, you're immediately met with the bold black cherry and subtle spice and smoke flavors that make Napa Valley reds so delicious. Luminara Non-Alcoholic Red Wine is aged in both French and American oak, which give the wine an added complexity that immediately sets it apart from most alcohol-free wines.
Luminara Red Blend sits on the palate quite nicely, and ends with a strong finish that most certainly reminds you that you're drinking a red. Of course, like all alcohol-free wines, there isn't quite the same "heat" from the alcohol, but that said, Luminara Red Blend might very well be the closest we've seen an alcohol-removed wine get to replicating the experience. Based on the label, it looks like the brand mixes very little juice back into the finished product, meaning there is little residual sweetness, allowing the full flavors of the fermented pinot noir and zinfandel grapes to shine through.
Final Thoughts on Luminara Red Blend Napa Valley Alcohol Removed Wine
We thoroughly enjoyed our experience sipping Luminara Red Blend Napa Valley Alcohol Removed Wine. It's clear that the heritage and history of Napa Valley and the Trinchero Family Estates does this wine well. There's a craftsmanship that you don't see very often in the non-alcoholic wine space (especially in the non-alcoholic red wine space), and that craftsmanship and attention to detail results in an amazingly lush, rich bottle of alcohol-free red.
Expect to pay a premium for a bottle of Luminara Red Blend or Luminara Chardonnay. But it's worth it. For those that are looking to replicate the experience of that evening glass of wine, you can't go wrong with Luminara. Cheers!