Monday Non-Alcoholic Gin Fix Cocktail Recipe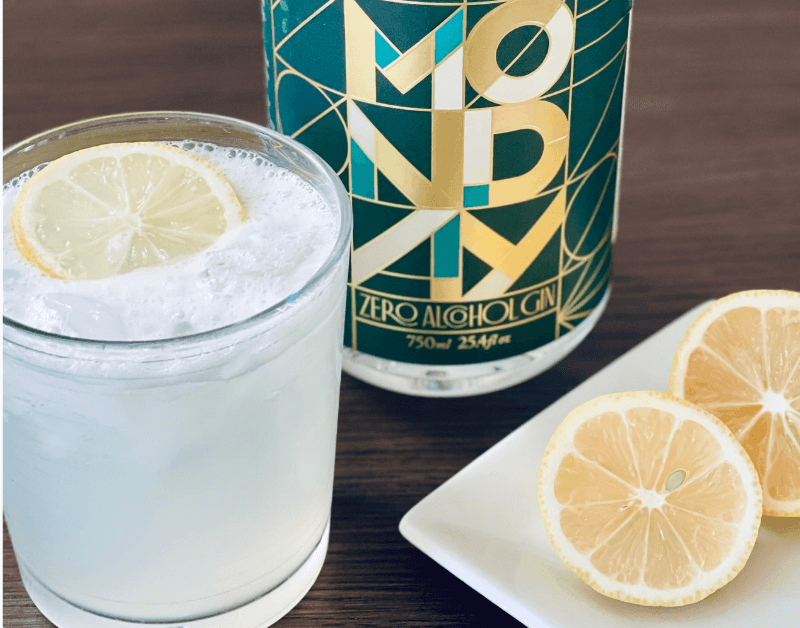 On the list of classic cocktails, there are few held in higher regard than the Gin Fizz.
First appearing over 150 years ago, the Gin Fizz is a bright, bubbly combination of gin, fresh citrus, sugar, soda water, and egg white to hold it all together. As the name suggests, you can literally hear the Gin Fizz's bubbles as you pull it in for a sip. Oh, and in non-alcoholic form (like the Ceder's Non-Alcoholic Gin Fizz Recipe we shared earlier this year), it's just as exciting and tasty as the original…
But what if you don't want the egg whites?
This is something we hear often. For some, it's the taste. For others, it's dietary. Either way, many have asked us what their options are for enjoying a Non-Alcoholic Gin Fizz, but without the eggs.
Enter the Gin Fix.
No, that's not a typo! The Gin Fix is a classic cocktail that hits the same flavor profiles of its Gin Fizz cousin, but without the egg white. Like many of the non-alcoholic cocktail recipes we craft here, this Alcohol-Free Gin Fix would not have been possible even a few years back, before we had today's amazing selection of non-alcoholic spirits. But that's all changed thanks to brands like Monday Gin Alternative, the backbone of this non-alcoholic cocktail recipe.
As we discussed in our full review of Monday Non-Alcoholic Gin, this brand from Southern California has absolutely exploded on the scene, and brought with it some of the best NA gin we've tried to date. Bursting with the aroma and taste of fresh juniper, natural botanicals, citrus, and spice, the team at Monday has done an incredible job replicating the experience of traditional gin, just without the alcohol, making it the perfect choice for our Non-Alcoholic Gin Fix recipe.
Does this gin-forward non-alcoholic cocktail sound like the perfect choice for you? Then read on to get our full Monday Non-Alcoholic Gin Fix Cocktail Recipe:
Ingredients for Monday Non-Alcoholic Gin Fix Cocktail Recipe
2 1/2 oz – Monday Non-Alcoholic Gin Alternative
1 oz – Fresh Lemon Juice
1 tsp – Simple Syrup
Crushed Ice
Lemon Wheel for Garnish
Directions for Monday Non-Alcoholic Gin Fix Cocktail Recipe
Add ice to glass
Add Monday Non-Alcoholic Gin Alternative, fresh lemon juice, simple syrup, and more ice to cocktail shaker
Shake for 15-20 seconds
Pour into cocktail glass
Garnish with lemon wheel and serve
There you have it – a delicious Alcohol-Free Gin Fix Recipe, all thanks to Monday Non-Alcoholic Gin Alternative.
Try our Monday Non-Alcoholic Gin Fix Cocktail Recipe and be sure to leave us a comment below to let us know how you enjoyed it. Also, don't forget to tag us in those finished photos on Instagram at @SipYours!