Non-Alcoholic Damrak Virgin Hawaiian Orange Blossom Recipe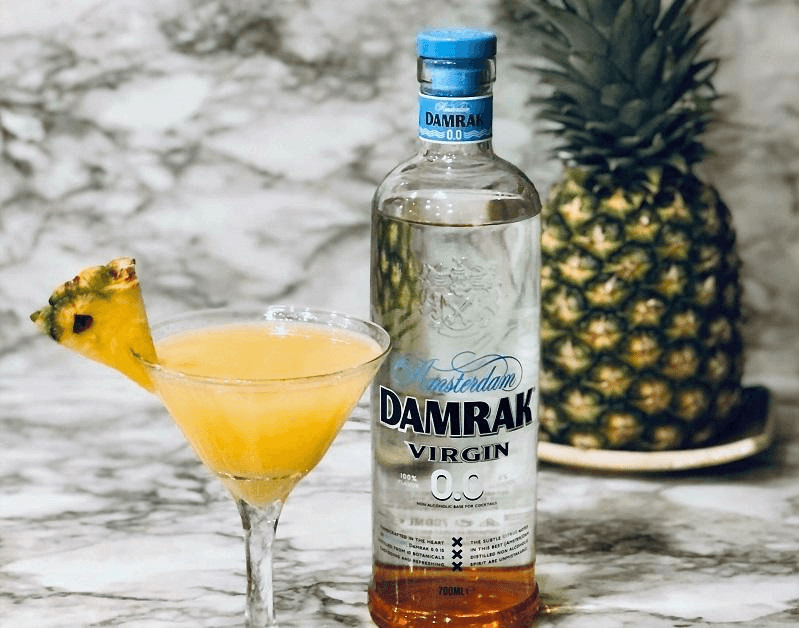 Whether you're sitting with your toes in a white sand beach or curled up on the couch at home during a winter storm in New England, there's no feeling quite like the one of having a tropical cocktail in hand.
Tropical drinks have the power to transport us. Worries and stress immediately melt away at the first sight of fresh citrus, a frosty glass, and bright, bold colors. Which is why we recommend mixing yourself an island treat every so often, even if you're thousands of miles away from the nearest beach.
Unfortunately, ordering a "virgin" non-alcoholic tropical cocktail traditionally meant being served a sugar bomb. Bartenders would simply remove the alcohol and leave the juices and syrups, which might be ok if you are 8-years-old, but for most adults it's way too sweet to enjoy. But all that's changing thanks to the fast rise in non-alcoholic spirits.
Take for instance the classic Hawaiian Orange Blossom Cocktail. Made using a mixture of orange juice, pineapple juice, triple sec syrup, and gin, this tropical drink is a delicious explosion of citrus. But when you remove the gin, all that's left is a sticky, sweet juice blend. Not our idea of paradise…
So, in order to maintain that original blend of flavors in this virgin mocktail, our non-alcoholic take on the Hawaiian Orange Blossom calls for swapping the gin for one of our favorite alcohol-free varieties: Damrak Virgin 0.0% Non-Alcoholic Gin. Hailing from a distillery in the heart of Amsterdam, Damrak Virgin 0.0% is the result of over two years of labor to create the perfect alcohol-free gin recipe. And with its traditional notes of juniper and spices, plus a unique touch of orange you don't usually find in gin, Damrak Virgin 0.0% Alcohol-Free Gin is a tasty, refreshing addition you can use to turn any gin-based drink into a non-alcoholic mocktail.
(FYI - you can get Damrak 0.0% delivered right to your home through Better Rhodes. Use code YOURS10 to save 10% on your order!)
With the help of Damrak Virigin 0.0%, our Hawaiian Orange Blossom Recipe is a tropical treat that keeps the perfect balance of sweetness, and offers the same warm weather, worry-free vibes, just without the alcohol.
If you're looking for a little fun in the sun, look no further than our Non-Alcoholic Damrak Virgin Hawaiian Orange Blossom Recipe:
Ingredients for Non-Alcoholic Damrak Virgin Hawaiian Orange Blossom Recipe
2 oz – Damrak Virgin Alcohol-Free Gin
1 oz – Alcohol-Free Triple Sec Syrup
2 oz – Fresh Orange Juice
1 oz – Fresh Pineapple Juice
Ice
Orange for Garnish
Directions for Non-Alcoholic Damrak Virgin Hawaiian Orange Blossom Recipe
Chill a glass
Fill cocktail shaker with Damrak Virigin Alcohol-Free Gin, triple sec syrup, fresh orange juice, fresh pineapple juice, and ice
Shake for 15 seconds
Strain into glass
Add an orange wedge or wheel for garnish
That's it!  A delicious, tropical non-alcoholic cocktail with an added boost from Damrak Virgin Non-Alcoholic Gin.
Give this Non-Alcoholic Damrak Virgin Hawaiian Orange Blossom Recipe a try and let us know what you think in the comments below. Also, be sure to tag us on social at @sipyours with photos of your finished alcohol-free cocktail!