Review: Gruvi Prosecco, Rosé, and Non Alcoholic Beer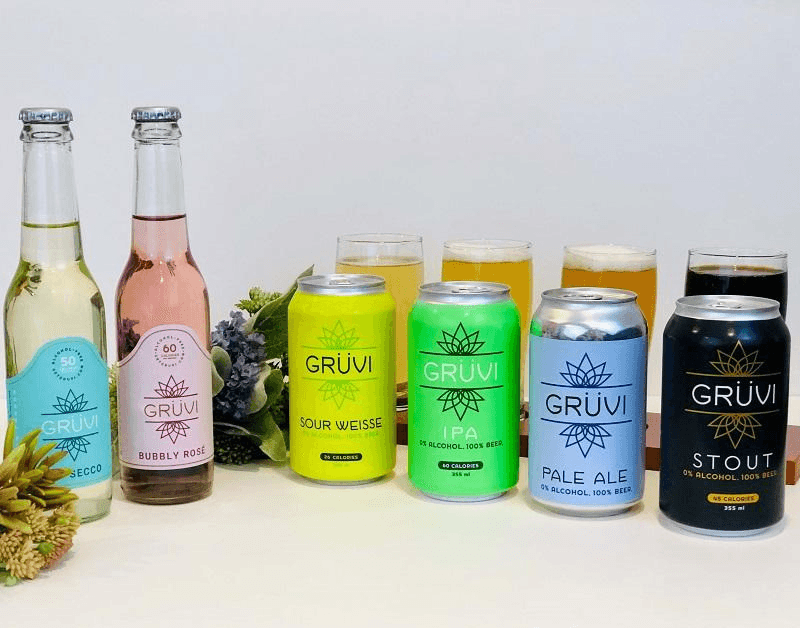 When it comes to non-alcoholic drinks, it's rare to see a brand finding success in more than one category. Brewers make non-alcoholic beer. Vintners make non-alcoholic wine. And distillers make non-alcoholic spirits. Stick with what you know, right?
Thankfully, no one shared this memo with the team at Gruvi. Launched in 2019, Colorado-based Gruvi (pronounced "groovy") not only offers a full lineup of delicious alcohol-free beer, but also a non-alcoholic prosecco and non-alcoholic rosé that are fast-becoming two of the most beloved non-alcoholic wines in North America.
Gruvi was started by siblings Niki and Anika Sawni. As young, active individuals, the pair decided a few years back that they'd like to live a life with less alcohol. But not wanting to lose their social lives, they went in search of a drink that would allow them to enjoy life the way they always had, just without the alcohol.
Unfortunately for them, finding such a drink proved to be much harder than anticipated. So, the siblings decided to do something about it…
Several years later, Gruvi is one of the hottest brands in the non-alcoholic drinks space. The company offers a full slate of flavor-rich alcohol-free beers, including Gruvi IPA, Gruvi Pale Ale, Gruvi Sour Weisse, Gruvi Stout, and more. They also offer two alcohol-free wine options: Gruvi Dry Secco Prosecco and Gruvi Bubbly Rosé. Together, this lineup represents one of the broadest selections of alcohol-free drinks we've seen by any one company on the market.
Of course, anyone can offer a broad lineup of products. The real test is in offering a broad lineup of products that actually taste good. Thankfully, Gruvi has hit the mark…and then some. Gruvi non-alcoholic beers offer rich, complex, and flavorful experiences, while their wines are undoubtedly some of the best alcohol-free wines we've ever tried. Best of all, the company is passionate about supporting an active lifestyle, and as such, their products clock in with surprisingly few calories, making them the perfect complement for those looking to stay fit while still enjoying their adult beverages.
Between all their non-alcoholic beer and wine options, Gruvi truly offers something for everyone. And to help you decide which Gruvi drink is right for you, we sat down and tasted the entire lineup.
Read on for our full review of Gruvi non-alcoholic drinks, and be sure to find us on social media (@sipyours) to let us know what you think!
Review: Gruvi Dry Secco Non-Alcoholic Prosecco
When it comes to crafting non-alcoholic wine, winemakers have two main options. The first is to craft a traditional alcoholic wine, and then using one of several methods to remove the alcohol while retaining the flavor. The second option is to build your drink from the ground up, using the juice from wine grapes, but never fermenting the product so that alcohol never enters the equation.
Gruvi opts for the latter with its "Dry Secco" non-alcoholic prosecco. Completely free of alcohol, Gruvi hand-picks grapes specifically chosen to replicate the balance of dry and sweet flavors you know and love from traditional sparkling wine. With hints of floral and just the right level of tart, Gruvi Prosecco is as smooth and delicious as any traditional bottle of prosecco. But unlike those traditional bottles, Gruvi Dry Secco clocks in at just 50 calories per bottle, meaning this wine is one you can pour glass after glass without the guilt!
Review: Gruvi Non-Alcoholic Bubbly Rosé 
Another fantastic 0.0% non-alcoholic wine option, Gruvi Non-Alcoholic Bubbly Rosé is the perfect drink for warm summer afternoons. Made using the same methods as Gruvi Dry Secco, Gruvi Bubbly Rosé begins its life with hand-selected wine grapes. These grapes are then crushed and combined with a handful of natural ingredients, and then lightly carbonated the give the drink its delicate fizz.
The end result is a non-alcoholic rosé that's the perfect shade of light pink, with notes of tart green apples and fresh strawberries. Like Dry Secco, Gruvi Non-Alcoholic Bubbly Rosé walks that fine line between sweet and tart, with a flavor reminiscent of many traditional alcoholic sparkling wines. And with only 60 calories per bottle, Gruvi Rosé isn't just a treat for your taste buds…it's a treat for your waistline, too!  
Review: Gruvi Non-Alcoholic IPA
It's no surprise that Gruvi Non-Alcoholic IPA is the company's best-selling beer. A lighter, more approachable take on a traditional IPA, this hop-forward brew uses a blend of Citra, Galaxy, and Mosaic hops to bring out that delicious IPA flavor you know and love. But that doesn't mean this beer will weigh you down with flavor like many traditional IPA's. In fact, it's quite the opposite. With notes of fresh citrus and a more subtle bitterness than many IPA's, Gruvi shows the lighter side of IPA's with this beer, and gives us the flavors we love in a refreshing take you can enjoy can after can.
Speaking of enjoying can after can, Gruvi holds true to its promise of supporting an active lifestyle with their non-alcoholic IPA. Though it boasts an incredible amount of flavor, this non-alcoholic beer comes in at just 60 calories per can!
Review: Gruvi Non-Alcoholic Pale Ale 
One of our personal favorites, Gruvi Non-Alcoholic Pale Ale is a beautifully done English-style pale ale. The mix of Chinook, Cascade, and Citra hops are balanced perfectly with the barley to give this beer a subtle bitterness that sits pleasantly on the tongue. Featuring notes of citrus and pine, this beer pours a nice shade of caramel, creates a rich head of foam, and checks in at 80 calories per can.
As you sip Gruvi Non-Alcoholic Pale Ale, there's no mistaking the delicate blend of hoppy bitterness and slightly sweet finish. The flavor isn't overly complicated, but it is one that keeps you coming back sip after sip, and serves as a pleasant reminder of just how far non-alcoholic beer has come over the last few short years.
Review: Gruvi Non-Alcoholic Sour Weisse
There aren't many non-alcoholic sour beers on the market yet, which makes us especially grateful that the team at Gruvi decided to craft this incredibly refreshing Gruvi Non-Alcoholic Sour Weisse.
Their take on a classic Berliner Weisse – a beer whose history dates back centuries – Gruvi managed to keep all the classic elements you'd expect in a sour weisse, just without the alcohol. This light beer boasts bright notes of lemon and grapefruit on the nose, and sips with the perfect level of tart. It's refreshing, it's interesting, it's flavorful, and yet it's only 26 calories per can!
Review: Gruvi Non-Alcoholic Stout
The darkest option in their beer lineup, Gruvi Non-Alcoholic Stout uses a blend of chocolate malt, abbey malt, and roasted barley. Pouring just like a classic stout, this beer is a deep shade of brown, and boasts a thick tan head that lingers quite a bit longer than many non-alcoholic beers.
Gruvi's mixture of malts and barley gives the beer a classic stout flavor, with plenty of rich notes of coffee, oats, caramel, nuttiness, oaky vanilla, and toasted malt. Yet with all this flavor, the team at Gruvi has figured out how to eliminate all the excessive calories that many stouts can pack. At just 45 calories per can, Gruvi Non-Alcoholic Stout can be enjoyed guilt-free all night long.
From their non-alcoholic prosecco and non-alcoholic rosé, to their collection of delicious alcohol-free beers, the team at Gruvi has crafted an incredible lineup of drinks that truly offers something for everyone.
Be sure to comment below to let us know what you think of our review of Gruvi below, and be sure to tag us on social at @sipyours with your thoughts!