Non-Alcoholic Sangria Recipe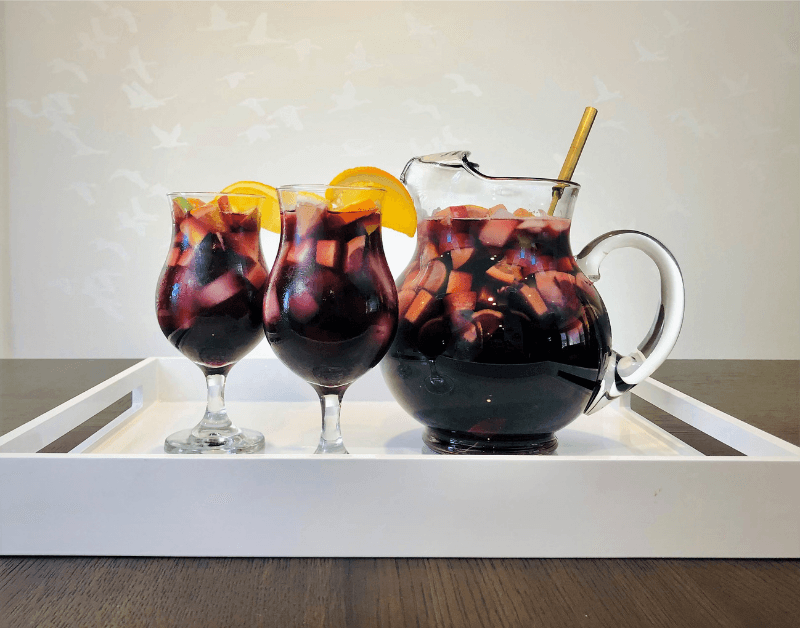 Few things are as bright and festive as a pitcher of freshly made sangria. And with its delicious, fruit-soaked flavors and rich red wine, traditional sangria tends to be one of those drinks that tastes even better than it looks.
That's probably why this Spanish favorite is now a staple drink across the world.
Order sangria in any bar or restaurant, and it's highly unlikely you'll ever get two versions that taste exactly the same. That's because the magic in sangria is that each creator gets the freedom to make it their own. There are really only two requirements when it comes to making a traditional sangria recipe: wine and fruit.
Of course, the wine component makes it slightly more difficult to make an alcohol-free sangria, as historically dealcoholized wines have been on the sweet side, which when coupled with the fruit, creates something that more closely resembles a kid's fruit punch than an adult libation. But thankfully, recent innovation in the non-alcoholic wine space has created a broad spectrum of wines that offer nearly the same flavor profiles as their booze-filled cousins.
Today, we are going to use one of the best non-alcoholic wines on the market - Be Well Dealcoholized Cabernet Sauvignon Non-Alcoholic Wine - to create a delicious alcohol-free sangria recipe. This California cab features rich notes of black plum, cherry, and cocoa, with plenty of firm tannins, making it the perfect choice for creating an alcohol-free version of this adult favorite.
And the best part? Like all good sangria, you can edit this recipe to make it your own! Choose the fruits and juices of your choice until you find the perfect blend, and make a non-alcoholic sangria you love.
So, discover your inner Spaniard, and check out our non-alcoholic red sangria recipe below:
Ingredients for Non-Alcoholic Sangria Recipe
1 Bottle – Be Well Dealcoholized Cabernet Sauvignon Non-Alcoholic Wine
16 oz – Blackberry & Raspberry Juice (Can Be Substituted with Any 100% Juice of Your Choice)
2 – Oranges
2 – Apples
2 – Lemons
2 – Limes
Ice
Directions for Non-Alcoholic Sangria Recipe
Wash and dry fruit
Cut all fruit into ½ inch pieces
Fill large pitcher halfway full with ice
Place your fruit inside the pitcher, setting aside 1 cup to use as garnish later
Pour in bottle of Be Well Dealcoholized Cabernet Sauvignon Non-Alcoholic Wine
Pour in fruit juice
Stir to mix well
Fill your glass halfway with ice
Pour in 5-6 oz of sangria
Top with a spoonful of the fruit mixture you set aside at beginning
That's all there is to it! Follow these simple steps, and you'll have a bold, complex glass of non-alcoholic sangria that tastes as good as any boozy version you've ever tried, and will leave you feeling like you're sipping away in the Spanish countryside.
Give this alcohol-free sangria recipe a try and let us know how you like it in the comments below. And be sure to tag us on social at @sipyours to show us your finished product!