Non-Alcoholic Virgin Cosmopolitan Recipe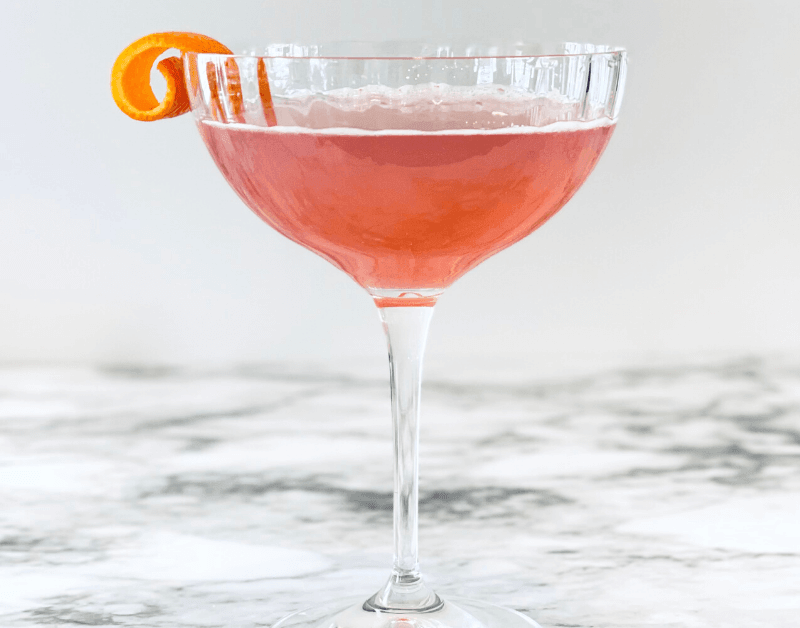 When you hear the word cosmopolitan, what's the first thing that comes to mind?
For most, it's probably something like chic or trendy. Or perhaps your mind went straight to the famed cocktail with the same name (more on that in a second). But the true definition of cosmopolitan is actually "including or containing people from many different countries".
It's no surprise then that New York is known around the world as one of the most cosmopolitan cities. NYC was also the setting for the classic television show Sex and the City, which has arguably done more for the Cosmopolitan Cocktail than anyone or anything else in history.
Bright pink and bursting with flavor, the Cosmopolitan Cocktail (or more simply, "The Cosmo") is a refreshing blend of gin, triple sec, lime juice, and cranberry juice. Like all the different citizens of New York City, the different flavors in the Cosmo blend together to create something so unique that it's unmistakable. And while the characters on Sex and the City may have sought out these festive drinks specifically for their alcohol content, today we're going to show you how to craft a delicious alcohol-free virgin cosmopolitan cocktail.
In addition to swapping the traditional triple sec liqueur for a non-alcoholic triple sec syrup, we will be swapping the traditional gin with one of our favorite non-alcoholic versions: Damrak Virgin 0.0% Alcohol-Free Gin. Featuring the traditional hints of spice and juniper, plus a special touch of orange that blends beautifully with the citrus in our Non-Alcoholic Cosmo, Damrak Virgin 0.0% Gin makes for the perfect substitute in this recipe.
So, are you ready to enjoy this bright, festive non-alcoholic cocktail? Read on for our Non-Alcoholic Virgin Cosmopolitan Recipe!
Ingredients for Non-Alcoholic Virgin Cosmopolitan Recipe
2 oz – Damrak Alcohol-Free Gin
1 oz – Non-Alcoholic Triple Sec
1 oz – Lime Juice
1 oz – 100% Cranberry Juice
Orange Peel for Garnish
Ice
Directions for Non-Alcoholic Virgin Cosmopolitan Recipe
Add Damrak Non-Alcoholic Gin, triple sec, cranberry juice, lime juice, and ice to cocktail shaker
Shake briefly for 5-10 seconds
Strain cocktail into martini glass
Garnish with orange peel and serve
Voila! A bold, sassy cocktail fit for any celebration.
Give our Non-Alcoholic Virgin Cosmo Recipe a try and be sure to leave us a comment to let you know how you enjoy it! And don't forget to tag us on Instagram @sipyours with photos of your finished cosmos!