Our Honest Review of Surely Non-Alcoholic Bubbly Red Wine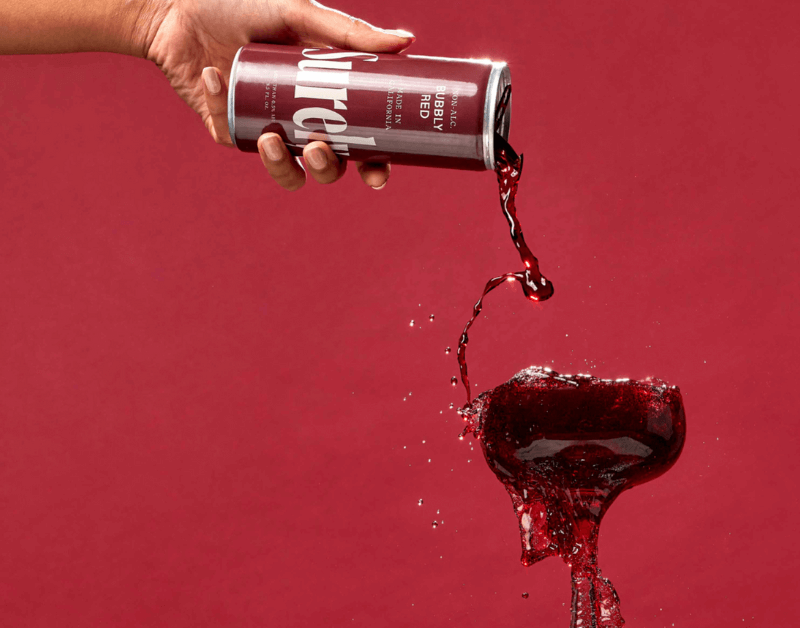 It hasn't been all that long since we did a full review of Surely Non-Alcoholic Wines. But we are happy to say that this review is officially out of date.
Why happy? Because it means that there is NEW Surely wine for us to enjoy.
That's right! Surely recently launched its new Non-Alcoholic Bubbly Red Wine. And today we're going to dive in and share our first thoughts on the taste and experience with this full review.
The Story
With a growing portfolio of non-alcoholic wines including Sparkling Rosé, Sparkling Brut, Sauvignon Blanc, Sparkling White, and now Bubbly Red, Surely was created with wellness in mind, regardless of where people are on their alcohol-free journey. "The lack of non-alcoholic beverages that were actually enjoyable" inspired Founder & CEO Ryan Hanson to "create a product that people would look forward to drinking, rather than settle for". And at YOURS, we couldn't agree more! We too believe in creating non-alcoholic adult beverages that people actually enjoy. 
Review: Surely Non-Alcoholic Bubbly Red
With a clear mission, it's no wonder Surely continues to churn out new, and often unconventional, non-alcoholic wines. "Bubbly" is not something you hear often with red wine. And it's quite rare to find a decent red in a can. But Surely is bucking both those trends with its new non-alcoholic options.
But enough talk. Let's dive into our experience with Surely Non-Alcoholic Bubbly Red.
Tasting Notes
Tantalizing in its bright ruby appearance, this red non-alcoholic sparkler is fruity, frothy and pleasant. Crisp and dry, it dazzles the palate with energetic notes of dark cherry, fresh blackberry, black plum and black currant which are complemented by elegant notes of savory baking spices, a hint of roasted coffee bean, and a slightly herbaceous lift via its time in French oak. Oh, and let's not forget the considerable frizzante that makes these flavors soar! With only 4 grams of sugar, this blend of 75% Cabernet Sauvignon and 25% Pinot Noir makes it an exciting and guilt-free party wine.
When to Drink
Incredibly versatile, Surely Bubbly Red is a popular choice for any occasion – dinner parties with friends, watching the sunset with your special someone, and celebrating life's successes big and small. And by the way, the 250ml cans are the perfect size for taking to the pool or beach!
As you would imagine, Surely Bubbly Red also makes a great food companion. Fruit forward yet dry with just a hint of natural sugar and loaded with bubbles, Surely Bubbly Red is a great match for Margherita pizza, pulled pork sandwiches, chorizo tacos, grilled vegetables, and your favorite charcuterie meats and cheeses - definitely try it with aged cheddar! Serve slightly chilled (we like to refrigerate for 25 to 30 minutes prior to serving) and enjoy.
It Starts with the Grapes
Be it traditional wine or non-alcoholic, great wine starts with top-quality grapes…and Surely Bubbly Red is no exception. Sourced from premier vineyards along the California coast, its various microclimates are characterized by warm days with high sunshine hours coupled with cool night temperatures via the Pacific's cooling influence. This wide diurnal range allows for the production of intensely flavored fruit, while also retaining the high acidity for which the region is known; the ideal combination for Surely Bubbly Red.
Once picked, grapes destined for Surely Bubbly Red undergo the same fermentation and winemaking processes as traditional wine – critical to deliver the aromas, flavors, natural sugars and tannins so essential to the final product. Surely then uses the latest dealcoholization technology to remove the alcohol without sacrificing any of the flavor, then infuses it with light bubbles. The result is a non-alcoholic sparkler that "doesn't force you to compromise on taste, quality, or your health".
Surely Non-Alcoholic Bubbly Red Ingredients and Calories
It's an ingredient list Surely is proud to share - simple, natural, and honest. Surely Bubbly Red is made from dealcoholized red wine blend, water, cherry concentrate, white grape concentrate, natural flavors, carbon dioxide, and sulfites (preservative). Period, that's it.
Calories: 35 per 250ml (1 can)
Carbs: 9g per serving
Sugar: 4g per serving
Final Thoughts on Surely Non-Alcoholic Bubbly Red Wine
The growing trend toward dealcoholized wine is hard to dispute. In the US, 52% of adults who drink alcohol are either trying now or have tried to reduce their alcohol intake, and in the UK, 65% of 25- to 34-year-old drinkers are trying now or have tried to reduce their alcohol intake (International Wine & Spirits Record). And regardless of "The Why", sobriety as a lifestyle should not be require one to sacrifice on taste when it comes to drink options. In fact, quite the opposite is true!
At YOURS, we raise a glass to those who choose to sobriety regardless of the reason - whether it's to improve your overall health journey, for medical reasons, because you're on-call for work, are sober curious, or looking for greater mental clarity, less hazy mornings, and heightened productivity. Whatever the reason, YOURS and companies like Surely are making premium-quality, delicious tasting, and guilt-free wine that you can Unequivocally Enjoy. Cheers.