Review: Ceria Brewing Company Non-Alcoholic Beer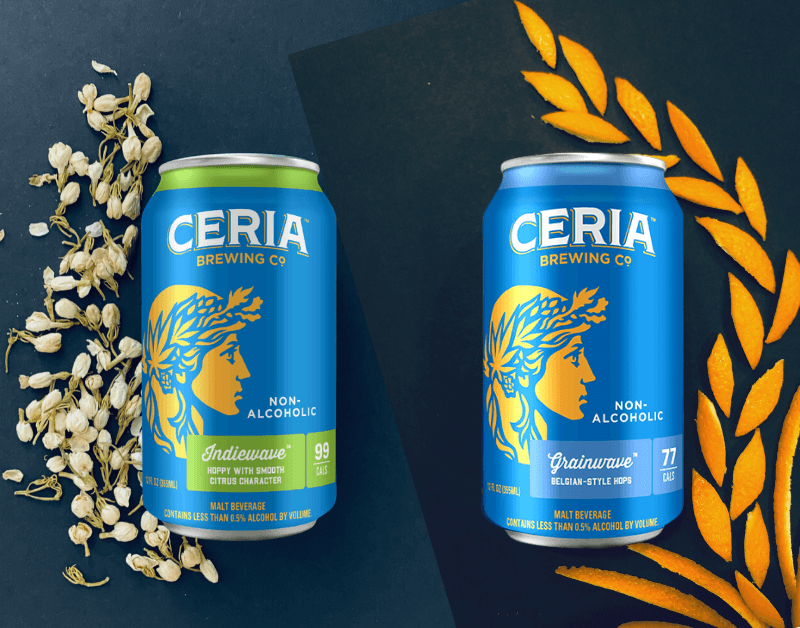 Though they may feel like just another new entrant onto the non-alcoholic beer scene, Ceria Brewing Company has roots that run incredibly deep in the beer industry.
Founded by legendary brewer Keith Villa (the man who brought the world Blue Moon), Ceria's roots go all the way back to 1986, when Villa took his first job as a research assistant at Coors Brewing Company in his home state of Colorado. Several years later, Villa left Coors and moved to Belgium, where he spent four years researching and working on a Ph.D. in Brewing at the University of Brussels, CERIA campus.
It was during this time that Villa developed his lifelong love for Belgian beer. The taste. The smell. The freshness. The wonderful pairing with food. Villa simply couldn't get enough. And in 1995, he returned to the States, and started one of the original pioneers of what was about to become a craft beer movement: Blue Moon.
Over the next 22 years, Villa turned Blue Moon into household name. But as he saw the industry begin to change, Villa started looking for a new challenge. One that would allow him to bring his love of delicious craft Belgian beers to the growing population of drinkers who preferred their beer without alcohol…
Enter Ceria Brewing Company
Ceria Brewing Company was started by Villa and his team as a means to deliver the enjoyment of great craft, but without the alcohol. To hear him say it himself:
"Beer has always had an essential role in our culture at the center of celebrations, connections and even relaxation. An NA beer helps people of all ages stay in control. Our beers are just like any other great tasting craft beers, except that they have no alcohol. They allow people to fit into occasions where alcohol is served, but where they choose to abstain."
In addition to their regionally-available, cannabis-infused non-alcoholic beers (a story for another day), Ceria Brewing offers two distinct styles of alcohol-free beer: Ceria Brewing Co. Grainwave Belgian-Style Hops Brew, and Ceria Brewing Co. Indiewave IPA Style Brew.
With such a deep history in the beer industry, our team couldn't resist sitting down with both, and giving Ceria Brewing Company a full review. Read on for our take on both styles of non-alcoholic beer: 
Review Ceria Brewing Co. Grainwave Belgian-Style Hops Brew
Ceria Brewing Co. Grainwave Non-Alcoholic Belgian Style Hops is a refreshing, medium-bodied Belgian White Ale – a style of which Villa is the undisputed king. While he may not proclaim so himself, we can say with certainty that Grainwave is the closest thing you'll find to a Blue Moon in the non-alcoholic space…by a mile.
The first thing that strikes you when you open a can of Ceria Grainwave is the consistency. It has that thick, rich pour you'd expect from a Belgian Ale, and as you see it fill the glass you realize that this beer is so much more substantial than many AF beers on the market. And that substance certainly carries over to the flavor as well. Grainwave is bursting with bright pops of orange peel and coriander, delivering a nice hit of citrus and spice as you drink. And while it is incredibly flavor-forward, it still sips easy can after can.
In short, Ceria Grainwave is an absolute treat to drink, and falls into that exclusive category of NA beers that you'd never guess were alcohol-free. And at just 77 calories per can, you can feel good reaching for this non-alcoholic beer any night of the week!
Review Ceria Brewing Co. Indiewave IPA Style Brew 
Ceria Brewing Company Indiewave Style Brew is the brewery's take on an IPA. Brewed with Cascade, Citra, and Amarillo hops, plus light caramel malts for a smooth citrus character, Indiewave is most definitely carving out its own corner of the alcohol-free IPA market. One that's focused more on the flavors of IPA, and less on the bite that comes from many of these styles.
Ceria Indiewave pours a medium amber hue with good carbonation that helps define a rich, foamy head. The notes of citrus are quite noticeable in the aroma, though the hops come through as well, making it clear that this is indeed an IPA-style non-alcoholic beer. And this balance of citrus and hops carriers over to taste. As you sip, you'll experience notes of toasted caramel, orange, and grapefruit, which then give way to floral and herbal hops, and that IPA bitterness you'd expect. Though as stated, this is a much more balanced and subdued IPA (in a good way). The kind that could win over anyone who claims they're "not an IPA fan". The citrus does an excellent job balancing out the hoppy bitterness, leaving you with an alcohol-free beer that's full of flavor, yet incredibly drinkable beer after beer.
Though Ceria Brewing Company Indiewave IPA comes in at 99 calories – a few more than Grianwave – it's still a great option for any occasion, and we highly recommend that everyone who can give this one a try!
Final Thoughts: Ceria Brewing Company Non-Alcoholic Beer
When Keith Villa entered the brewing industry decades ago, one imagines he had no idea that he would help kickstart the craft beer revolution. Even more far-fetched would have been the idea that after that success, Villa would go on to become a pioneer in the non-alcoholic beer space.
Yet with Ceria Brewing Company, Villa clearly has another winner on his hands. The company has developed two incredibly delicious non-alcoholic beers that are redefining what NA can be. These beers are a testament to Villa's skill as a brewer, and to the potential of the alcohol-free industry as a whole.
Whether you're a Belgian Ale fan or love a good IPA, do yourself a favor and add some Ceria Brewing Co. to your rotation. We promise you'll be glad you did!