Review: Vignette Wine Country Soda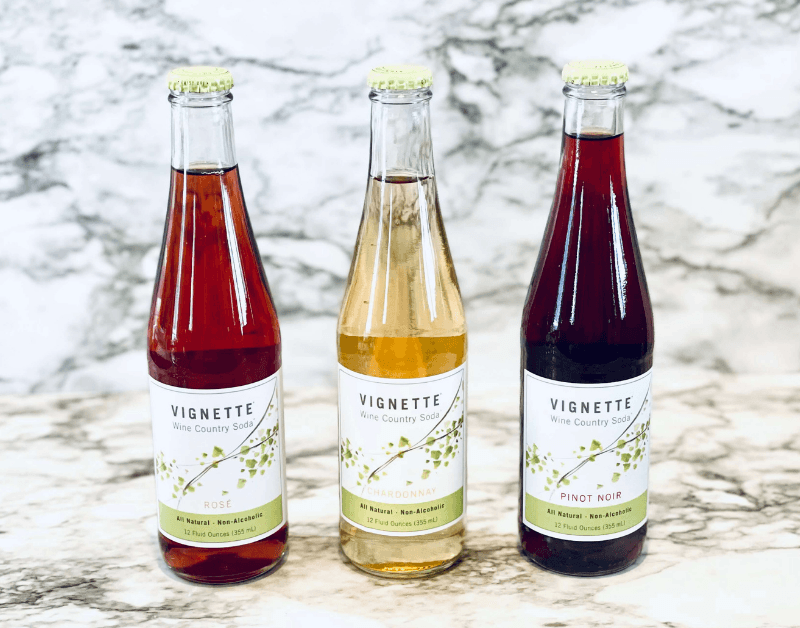 Of all the great things about running a community dedicated to non-alcoholic beer, wine, and spirits, one of our favorites is the sheer number of amazing brands and beverages we get to try.
[Psst. Hey you…looking for a non-alcoholic wine you'll love? Be sure to check out our private Facebook community - Non-Alcoholic Wine Reviews - to learn more about our favorite alcohol-free red, white, and sparkling wines!]
There are just so many sophisticated adult drinks to enjoy as a person choosing to live alcohol-free. And while many of these beverages serve as wonderful stand-ins for a traditional beer, wine, or cocktail, every so often our team's journey to try them all leads us to discover something truly special and unique. And when we do, we get the most incredible feeling of joy, because we know it won't be long before we get to share the discovery with you.
That's exactly how we felt when a recent shipment of Vignette Wine Country Soda arrived at our door.
Making Soda from Wine 
If you're a fan of the non-alcoholic drinks space but have yet to hear of Vignette, don't fret. It took us surprisingly long to hear about this product too. Which is strange, considering they've been on the market for nearly 15 years. And during this time, Vignette Wine Country Soda has gotten quite a bit of press. From Oprah's O Magazine and The New York Times, to Food & Wine, Modern Bride, and many other major media outlets, Vignette Soda has been getting rave reviews for years.
Based in Berkeley, California, just steps from wine country, Vignette Wine Country Soda offers a lineup of three different non-alcoholic "wine" beverages: Vignette Pinot Noir, Vignette Rosé, and Vignette Chardonnay. To craft these beverages, the team at Vignette works with local vineyards to procure California-grown wine grape varietals, and then blends these grapes with a few natural ingredients to craft a sophisticated "wine soda".
While many might be quick to quip that this is simply "adult grape juice," if the countless glowing reviews are to be believed, it's so much more than that. Which is why when our team first discovered Vignette, we just had to give it a try…
Read on for our full review of Vignette Wine Country Soda:
Review Vignette Wine Country Soda
As soon as the Vignette Wine Country Soda Sampler Pack arrived at our door, we couldn't wait to dive in. Packed with care, our order included a dozen 12oz glass bottles, with four of each variety: Vignette Pinot Noir, Vignette Rosé, and Vignette Chardonnay.
While they call themselves a "soda," the first thing you'll notice with Vignette is how elegantly it's packaged. With tall clear bottles capped with a branded lime green top, and an almost wax-like label, the packaging is most definitely reminiscent of a miniature bottle of wine. We have no doubt that this was intentional; though we were about to drink a soda, the look of Vignette made it clear that this was an adult-style beverage we should savor, not some convenient store fountain drink to chug.
As we popped the top of each bottle and the sound of carbonation came bursting out, our team debated whether or not to enjoy the Vignette Sodas straight from the bottle or to pour them into a wine glass. In the end, we opted for the bottle, but make no mistake – there's no wrong answer here. The color of each beverage is beautiful, and with the Vignette Rosé and Vignette Chardonnay, they would likely go completely unnoticed if poured into a wine glass (if you're looking to avoid any inquiries about choosing not to drink at a social event). The Vignette Pinot Noir is a little more conspicuous due to the rich red hue mixed with carbonation, but the longer the drink sits out of the bottle the more the bubbles calm, and eventually you're left with a pretty standard looking glass of red.
Of course, looks are a small part of the experience. It was time to give Vignette Wine Country Sodas a taste!
The first word that came to mind when sipping these wine sodas was refreshing. They are heavily carbonated (in a good way), and when it hits your tongue these bubbles explode with flavor. Not a heavy flavor, mind you, but a light burst of sweetness from the California wine grapes. And with no alcohol, preservatives, or artificial flavors, you feel good sipping on these sodas.
That said, it's important to remember that these are labeled "soda" for a reason. While there are many great non-alcoholic sparkling wines on the market, Vignette is not trying to be one of them. It is its own unique flavor profile and experience. Which makes it all the more special when you're looking for an adult-beverage that's a little bit different.
Flavor-wise, there is a distinct difference between the three varieties. Though again, like all non-alcoholic beverages, it's important to go into the experience with the right expectations. Vignette Wine Country Soda Pinot Noir is not going to sip like a classic glass of red. But there are hints, notes, and nods to each variety's traditional wine flavors. The Pinot Noir boast subtle hints of cherry and raspberry. The Rosé hints at strawberry, cherry, citrus, and melon. And the Chardonnay, while not buttery and oaky like many California whites, has subtle notes of apple and lemon.
Vignette Wine Country Soda Pinot Noir and Rosé each come in at 110 calories per bottle, with 28g of sugar and carbs. Vignette Wine Country Soda Chardonnay comes in at 100 calories, 25g of sugar, and 26g total carbohydrates.
Final Thoughts on Vignette Wine Country Soda
With as many non-alcoholic beers, wines, spirits, and mocktails we try here at YOURS, it takes a lot for us to be pleasantly surprised these days. But with Vignette Wine Country Sodas, that's exactly how we felt.
With their unique blend of California wine grapes and natural flavors, these alcohol-free beverages are an excellent wine alternative. Try them over ice on a warm summer day, or sip it straight from the bottle as you sit down to enjoy a home-cooked meal.
No matter how you enjoy your Vignette Wine Country Soda, we can promise you one thing: it'll be an experience you won't soon forget.