Review: Seedlip Distilled Non-Alcoholic Spirits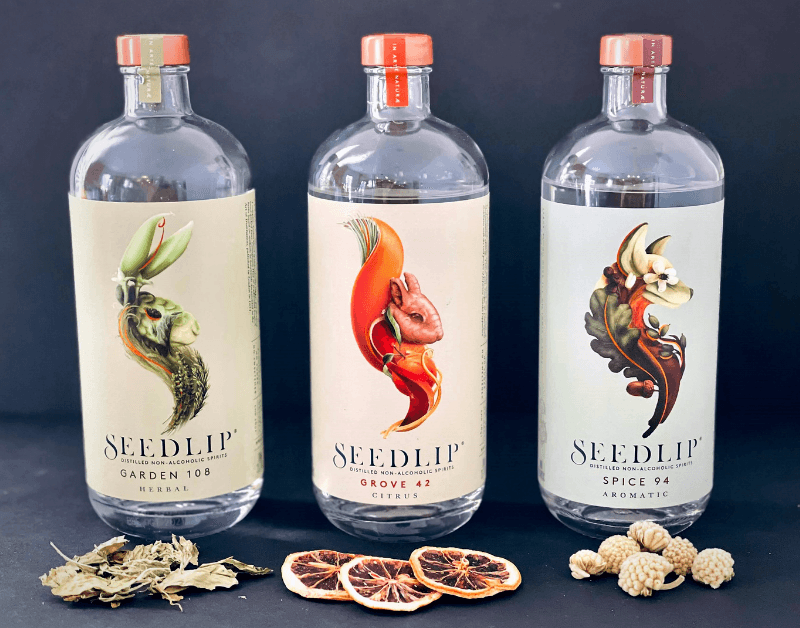 The recent rise in non-alcoholic spirits can be attributed to the efforts of many incredible companies and advocates for the low and no-alcohol movement. But in this category of non-alcoholic drinks, there is one name that stands alone as one of the true pioneers. The first brand to bring global scale, prominence, and prestige to an otherwise ignored category…
Seedlip Distilled Non-Alcoholic Spirits
It'd be impossible to explore the world of non-alcoholic spirits without exploring Seedlip. Offering a lineup of three unique non-alcoholic spirits, the brand didn't just help define the alcohol-free cocktail space. They defined a whole new experience, bringing sophistication to glasses around the world.
(Jump to Seedlip Distilled Spirits Reviews)
And like many of the pioneers in the non-alcoholic beer, wine, and spirits space, the story of Seedlip started with Founder Ben Branson and what he thought would be a simple request: a non-alcoholic cocktail to enjoy with his meal at an upscale London restaurant.
The Story of Seedlip
Branson requesting a non-alcoholic cocktail was nothing out of the ordinary for him. In fact, by this time he had become somewhat obsessed with the idea of alcohol-free spirits, after stumbling upon a copy of the 1651 manual The Art of Distillation. Written by English physician John French, this book outlines a variety of recipes for herbal remedies crafted in copper stills, unlocking the power of nature to solve common ailments of the day.
Over 350 years later, Branson came across French's distilled herbal remedies and was immediately intrigued. An avid lover of nature and the outdoors, and a passionate gardener with a family farming heritage, Branson couldn't resist trying some of these ancient herbal recipes for himself. So, he found a small copper still, and began experimenting at home.
It was during this experimentation phase that Branson had his fateful night out at a fancy London restaurant. Looking to abstain from alcohol that evening, but still enjoy a beverage with more sophistication than water or soda, he asked the bartender to mix up a non-alcoholic cocktail. What appeared before him minutes later was a pink, sugary drink that paired horribly with the meal, the aesthetic of the restaurant, and the overall experience.
It was in this moment Branson realized that the work he was doing in his home distillery could be used for so much more than herbal remedies. He knew then and there that he could change the way the world drinks by crafting sophisticated, high-quality non-alcoholic beverages.  
Seedlip Distilled Spirits Are Born
Of course, pioneering a movement is never easy. In fact, it took Branson two more years of tinkering to come up with a lineup of non-alcoholic spirits that he felt were ready for the world. But on November 4, 2015, Seedlip launched with its first non-alcoholic sprit – Seedlip Spice 94 – at London's Selfridges. And in less than three weeks, the entire inventory of 1,000 handmade bottles sold out.
The next batch? It sold out in less than three days. And the third? Well, that was gone in 30 minutes.
Needless to say, Branson was on to something with Seedlip. It was clear that the world was ready for a sophisticated adult beverage without alcohol.
Years later this still holds true, and Seedlip remains a leader in the non-alcoholic spirits space, offering three unique varieties: Seedlip Grove 42, Seedlip Spice 94, and Seedlip Garden 108. These bottles grace the shelves of the world's finest retail establishments, bars, and restaurants, and have been featured in countless magazines and news outlets. In fact, there was so much buzz around the brand that the spirits giant Diageo purchased a majority stake in Seedlip in 2019, helping the brand further its footprint and prominence in the industry.
Review: Seedlip Distilled Non-Alcoholic Spirits
Even with all the attention and success, there are still many out there who haven't experienced the wonderful world of Seedlip. And these folks tend to all have the same question: What does Seedlip taste like?
As mentioned, Seedlip is not a pure alternative to any one style of spirit. They are their own unique styles with their own unique flavors. That said, they do work wonderfully as the base of many cocktails you already know and love (Seedlip Moscow Mule, anyone?)
To help you better understand their entire lineup and find the style that's right for you, our team sat down with all three varieties to share our thoughts. Here's our full review of Seedlip Distilled Non-Alcoholic Spirits:
Review: Seedlip Grove 42 Non-Alcoholic Spirit
Flavor Profile: Citrus
Calories: 0
Seedlip Grove 42 is a fresh, bright non-alcoholic spirit built on a profile of juicy citrus. Using bitter orange, blood orange, lemon, mandarin, lemongrass, and ginger, plus a unique spice profile, Grove 42 is clean and refreshing, yet still surprisingly complex. Orange and mandarin are the first flavors you'll experience sipping Seedlip Grove 42, followed by the freshness of the lemongrass and the bite of ginger and peppercorn.
With its citrus-forward flavor profile, Seedlip Grove 42 is easy to mix into almost any non-alcoholic cocktail. For something simple, start with Grove 42, tonic, and a lemon or orange twist. Or swap the tonic for ginger ale and watch the flavors come alive with that fresh ginger bite! You can even swap Seedlip Grove 42 for the tequila in your favorite margarita recipe, as the salt and lime juice work perfectly with the citrus in this non-alcoholic spirit.
For those looking for an easy-to-use and easy-to-sip non-alcoholic spirit, you can't go wrong with Seedlip Grove 42.
Review: Seedlip Spice 94 Non-Alcoholic Spirit
Flavor Profile: Aromatic Spices
Calories: 0
Seedlip Spice 94 is crafted using a carefully selected blend of warm, aromatic spices, including allspice and cardamom. These spices are then mixed with oak, cascarilla, and the fresh citrus of grapefruit and lemon to help balance the bitterness. The result? A bold, complex non-alcoholic spirit that brings incredibly interesting flavors to just about any alcohol-free cocktail.
Of course, like any non-alcoholic spirit, you must temper expectations when it comes to replacing the heat and "burn" of the missing alcohol. While there is no mistaking the spice in Seedlip Spice 94, it won't bite the same way a tequila or vodka will. Which in our opinion is a good thing. Alcohol masks many of the flavors and ingredients in cocktails. But Seedlip Spice 94 delivers the spice, while still allowing all the flavors to shine.
Whether it's a simple Seedlip Spice 94 and tonic, or a more complex cocktail using cold brew coffee, grapefruit juice, or grenadine syrup (all flavors that blend amazingly well with this non-alcoholic spirit), Spice 94 is a wonderful choice for those looking for something a bit more bitter and interesting when it comes to their alcohol-free cocktails.
Review: Seedlip Garden 108 Non-Alcoholic Spirit
Flavor Profile: Fresh Herbs
Calories: 0
While we enjoy all three Seedlip varieties, in our opinion, Seedlip Garden 108 is the most interesting. Built on the flavors of peas, hay, spearmint, rosemary, hops, and thyme, Garden 108 is a true bouquet of freshness. And this freshness comes through with every sip, which is unmistakably herb and vegetable-fueled.
Now let's be clear – Seedlip Garden 108 is not for everyone. In fact, if you browse customer reviews of this non-alcoholic spirit, it is clearly the most polarizing of all three Seedlip flavors. But polarizing can be good. For those that enjoy the herbal freshness, we promise that you will not find anything else quite like Garden 108 on the market. And when mixed into your alcohol-free cocktail of choice, Seedlip Garden 108 can clearly define and add to the drink in ways you never thought possible.   
Speaking of drinks, the garden freshness of this alcohol-free spirit means it pairs exceedingly well with any number of fruit juices, including ones you wouldn't normally associate with cocktails, like apple and pomegranate. You could also go super simple with a Seedlip Garden 108 and Soda and let the true flavor of the spirit shine. And no matter how you pour your Seedlip, we highly recommend keeping some fresh herbs on hand – like mint and rosemary – to use as a garnish, as the aromas and flavors will really open up Garden 108's potential!
Final Thoughts on Seedlip Distilled Non-Alcoholic Spirits
With their broad range of flavors that can be used to craft a nearly infinite array of non-alcoholic cocktails, Seedlip Distilled Non-Alcoholic Spirits are a wonderful trio for any non-drinker's bar cart. Whether you're looking for that bite of citrus in Seedlip Grove 42, the heat from Seedlip Spice 94, or the fresh herbs of Seedlip Garden 108, these non-alcoholic spirits are an eye-opening look at what is possible in the world of cocktails without alcohol.
Of course, not every Seedlip variety or recipe is right for everyone. Because they are their own unique flavors, Seedlip takes a little while to work into your mocktail routine. But we promise you, when you do find that magic recipe(s), it'll be worth the effort. The care and quality of ingredients and flavors that go into each and every bottle of Seedlip are second to none, and make for a non-drinking experience that is unlike anything you've ever tried.
And it's an experience everyone choosing not to drink (for whatever reason) deserves to have!