Review: Ritual Zero Proof Non-Alcoholic Alternatives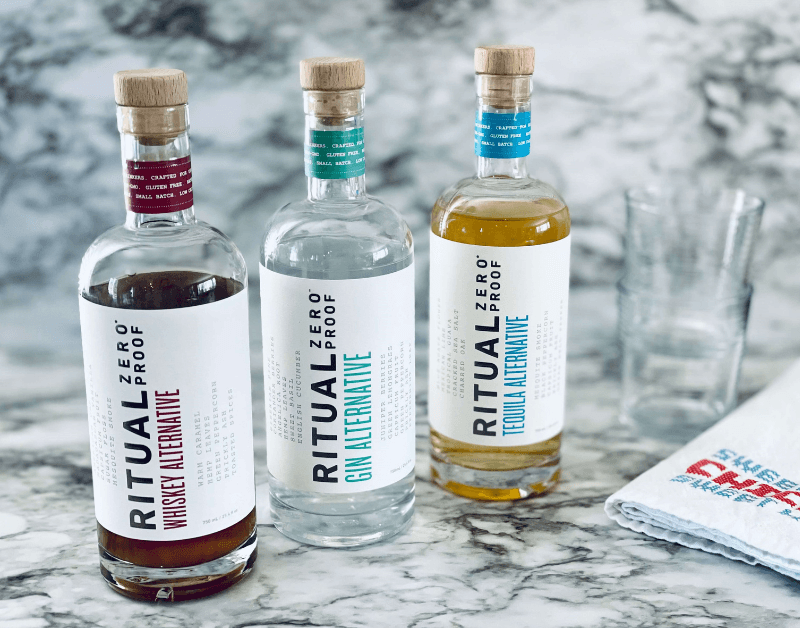 Like many great innovations, Ritual Zero Proof Non-Alcoholic Alternative Spirits are the result of home experimentation.
Back in 2019, husband and wife Marcus and GG Sakey, alongside their close friend David Crooch, were searching for a new way to mark a moment. While the trio loved to gather well into the evening over great food and drinks, changing lifestyles, hobbies, and parental responsibilities made it harder and harder to enjoy the night, yet still be ready to conquer the morning.
While the trio had no desire to abandon their socializing, something had to give. So, they asked themselves a simple question…
How do we maintain this ritual without the alcohol?
The group knew they would never want to replace traditional spirits. They just wanted another option. Something that allowed them to maintain those special bonds and mark those special occasions with a cocktail that wouldn't require them to sacrifice the following morning.
And after nearly a year of experimenting and several hundred iterations, the team finally uncovered what they were looking for. Ritual Zero Proof was born!
Ritual began their journey in the alcohol-free space with a take on gin, Ritual Zero Proof Gin Alternative. After quickly establishing themselves as one of the premier non-alcoholic gins on the market, the team went back to work trying to find the perfect formula for recreating some of their other favorite fully-leaded spirits, and returned with two new offerings: Ritual Zero Proof Tequila Alternative, and Ritual Zero Proof Whiskey Alternative.
With their full lineup of three non-alcoholic sprits, the Ritual name spread throughout the non-alcoholic space at breakneck speed. And it wasn't long before the company was attracting the attention of major players, including spirits giant Diageo, who announced an investment in Ritual Zero Proof at the beginning of 2020. Eugene Khabensky, ventures director at Diageo, had this to say about the partnership:
"We are excited to support such an interesting new brand in the vibrant non-alcoholic space. We put the consumer at the heart of our business, and Ritual Zero Proof is a fantastic offering that provides consumers with more choices of the highest quality."
With all their amazing progress as a leader in the non-alcoholic spirits space, our team couldn't wait to get our hands on the full Ritual Zero Proof lineup. And we recently did just that, sitting down with all three alcohol-free spirits to conduct a full review of Ritual Zero Proof Gin Alternative, Ritual Zero Proof Tequila Alternative, and Ritual Zero Proof Whiskey Alternative.
Review Ritual Zero Proof Non-Alcoholic Gin Alternative
The original flavor that launched it all, Ritual Zero Proof Alcohol Free Gin Alternative is a powerhouse in the world of non-alcoholic gin. And after you experience it for yourself, it's easy to see why.
Like most gins, the first thing you notice with Ritual Zero Proof is the aroma. Fresh hits of juniper and botanicals hit the nose almost the second you open the bottle, and intensify as you begin to pour your cocktail of choice. To see if these aromas carried over to the flavor, we mixed ourselves a traditional Non-Alcoholic Gin and Tonic.
If you've had some experience with non-alcoholic spirits before, you'll quickly notice that Ritual Gin Alternative has a much thicker consistency than most as your pour. It certainly helps the alcohol-free spirit feel more substantial, reminding us of the heaviness you'd experience pouring a Tanqueray or Beefeater into a glass.
Upon tasting Ritual's gin, you are hit with all the notes you'd expect (and some you don't). English cucumber. Juniper berries. Botanicals. Mint. Basil. They're all there, and they're all balanced quite well. There is also a nice heat that comes into the mix a bit later, helping replicate that traditional bite of a G&T.
Ritual Zero Proof Gin Alternative is one of the more flavor-forward non-alcoholic gins we've experienced, which means it may not be for everyone. But if you are a true gin afficionado, and want to recreate that bold juniper freshness, Ritual will not disappoint! Plus, with no alcohol, sugar, GMO ingredients, allergens, or calories, Ritual Zero Proof Gin Alternative is about as guilt-free as it gets when it comes to enjoying that evening cocktail!
Review Ritual Zero Proof Non-Alcoholic Tequila Alternative 
While the world of alcohol-free spirits has experienced its own Renaissance over the last few years, much of the industry has yet to catch on or catch up. In fact, many choose to dismiss or even completely ignore the incredible brands and flavors coming out of the space. Which makes it all the more impressive that Ritual Zero Proof Non-Alcoholic Tequila Alternative was able to score 94 points from the industry-standard Beverage Testing Institute, making it the highest-rated non-alcoholic spirit in the world!
Of course, part of any great tequila experience is the aroma, and Ritual Tequila Alternative does not disappoint. In fact, it's spot-on. You'd be hard-pressed to know this was non-alcoholic based on smell alone.
Ritual makes it clear that their intention for this tequila alternative was to make a mean alcohol-free margarita. But as anyone who has had an AF marg before knows, this is no easy feat. Without the tequila, most virgin margaritas end up way too sweet. So, our first order of business in reviewing Ritual Zero Proof Non-Alcoholic Tequila Alternative was to mix up a batch of Non-Alcoholic Margaritas for ourselves, and see if they hit the mark.
With the very first sip, you'll notice a heat sensation that is most definitely not present in other alcoholic-free margaritas. In addition to the heat, there are notes of black peppercorn, rich tropical guava, blue agave, charred oak, mesquite smoke, and Mexican lime, all dancing together in perfect harmony. Overall, we were blown away with how well Ritual Tequila Alternative replicates the experience of your favorite traditional bottle. Our favorite of the three Ritual spirits for sure!
And with zero alcohol, calories, carbs, and gluten, it makes for another great choice for those looking to enjoy tonight and tomorrow morning!
Review Ritual Zero Proof Non-Alcoholic Whiskey Alternative
With a rich heritage that goes back centuries, and one of the boldest, most iconic flavor profiles in all of spirits, trying to recreate the experience of whiskey is no easy feat. But with Ritual Zero Proof Non-Alcoholic Whiskey Alternative, it's about as close as you can get!
Like all non-alcoholic spirits, it's important to remember that Ritual Whiskey Alternative is not intended to be consumed straight up or on the rocks. Whiskey tends to be consumed with little else added, making this a particularly difficult spirit to enjoy in alcohol-free form. That said, a little bit of effort goes a long way in creating a non-alcoholic whiskey experience that can be enjoyed just like the original.
For our review, we decided to go two routes: a Non-Alcoholic Hot Toddy Recipe, as well as our tried and true Alcohol-Free Whiskey Sour Recipe. As we poured our Ritual Zero Proof Non-Alcoholic Whiskey Alternative, we were hit immediately with hints of American oak, as well as a touch of vanilla. A quick sip of the spirit on its own before pouring it into our cocktail shaker (again, not recommended!) left us with a hit of peppercorn that provided a nice warmth to the alcohol-free spirit.
When mixed with the quality ingredients in our recipes, Ritual Zero Proof Alcohol-Free Whiskey made for a delicious cocktail! The oaky smoke and rich burn of a traditional whiskey all carry over in this alcohol-free version, but without the alcohol, and just 10 calories and 2 carbs per serving.
Overall, we were pleasantly surprised with how well Ritual Zero Proof Whiskey stood up, and would definitely recommend it for anyone looking to craft an alcohol-free classic whiskey cocktail at home! 
Final Thoughts: Ritual Zero Proof Non-Alcoholic Spirits 
Though there are many wonderful, innovative new styles of non-alcoholic spirits hitting shelves almost every single day, Ritual Zero Proof Alternatives are all about the classics. This lineup of non-alcoholic gin, non-alcoholic tequila, and non-alcoholic whiskey are exquisitely crafted to recreate those flavors and cocktails you already know and love…just without the alcohol.
You'd be hard-pressed to find a lineup a solid as Ritual Zero Proof Gin Alternative, Ritual Zero Proof Tequila Alternative, and Ritual Zero Proof Whiskey Alternative. Much like Ritual's trio of founders, this trio of alcohol-free spirits makes for the perfect addition to any home bar. No new recipes. No new flavors. Just the tried-and-true experience of classic gin, tequila, and whiskey cocktails.
So, keep those rituals, and cheers to great nights and even better mornings with Ritual Zero Proof.