Review: Giesen 0% Alcohol-Removed Marlborough Sauvignon Blanc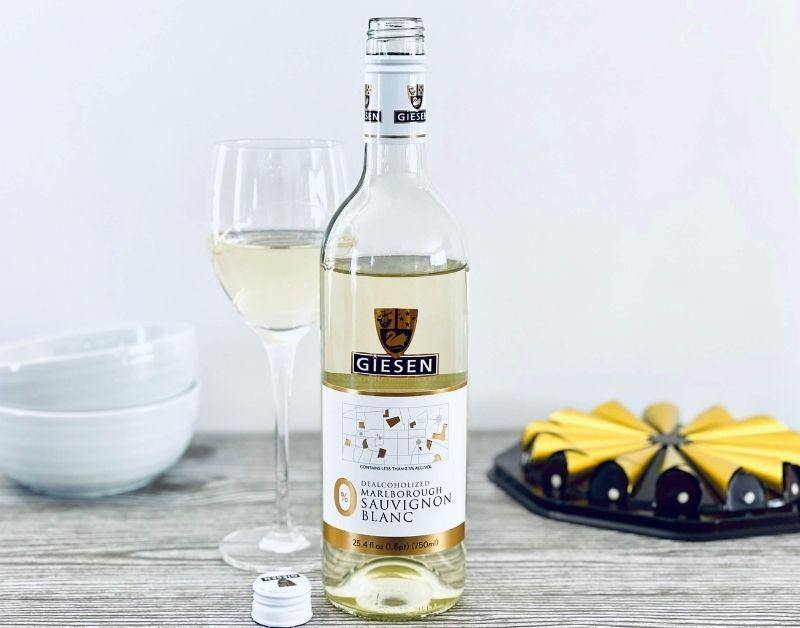 There are few wine regions on earth as important or renown as the Marlborough region of New Zealand. Located on the northeastern tip of the country's South Island, there are over 65,000 acres of vineyards managed by over 500 growers, each looking to capitalize on the area's dry, sunny climate. And while there are a variety of grapes and wine styles coming out of this region, most growers in the area, if they're honest, will tell you that their focus is on one style and one style alone…
Marlborough Sauvignon Blanc
In fact, 86% of the wines produced in the Marlborough region are Sauvignon Blanc. And for good reason. With a climate that's perfect for this varietal, Marlborough Sauvignon Blanc exploded on the scene in the 1980's and quickly became known around the world for their zesty, intense flavor profile and complete lack of subtlety.
[Psst. Hey you…looking for a non-alcoholic wine you'll love? Be sure to check out our private Facebook community - Non-Alcoholic Wine Reviews - to learn more about our favorite alcohol-free red, white, and sparkling wines!]
One of the biggest names in Marlborough Sauvignon Blanc is Giesen. Run by a trio of brothers, Giesen Estate released its inaugural vintage in 1984. Included in that release was a Giesen Sauvignon Blanc. With generous notes of fresh cut herbs, blackcurrant leaf, and tropical fruit, Giesen Sauvignon Blanc was a flavorful departure from the much more modest Sauvignon Blanc's on the market. So much so that this wine garnered an international fanbase seemingly overnight, and helped kickstart the global fascination with Marlborough Sauvignon Blanc.
Not surprisingly, Giesen Sauvignon Blanc has been the company's top seller since 1984, and helped propel them to become one of the leaders in New Zealand wine. Which is why they sent shockwaves through the industry when, in early 2020, they announced the release of their first ever alcohol-free wine: Giesen 0% Alcohol-Removed Marlborough Sauvignon Blanc.
Why an Alcohol-Free Marlborough Sauvignon Blanc Matters
While there have been plenty of alcohol-free and alcohol-removed wine options on the market for years, Giesen's announcement of the 0% Marlborough Sauvignon Blanc was a huge step forward for the alcohol-free movement. Traditionally, most alcohol-free wines have been nothing more than placeholder. A blend of leftover grapes from less desirable regions, mixed into a wine that was quickly dealcoholized and left to gather dust on the bottom of a store shelf. Generally speaking, these wines were a last resort for those that badly wanted their wine fix, but for one reason or another were looking to skip the alcohol.
Sure, these wines did the trick, but they were far from the experience most wine drinkers know and love.
That's why it was such a big deal when Giesen announced they'd be releasing their world-famous Marlborough Sauvignon Blanc in an alcohol-free form. For many non-drinkers who love wine, it was as if the industry was finally acknowledging their existence. With a track record for putting the utmost of care and expertise into every bottle they make, alcohol-free wine drinkers knew they were in for something special with Giesen 0% Alcohol-Removed Marlborough Sauvignon Blanc.
And as absolute wine fanatics, our team here at YOURS was excited too. Which is why when we finally got our hands on a bottle of Giesen 0%, we just had to sit down and give this non-alcoholic wine a full review.
Review: Giesen 0% Alcohol-Removed Marlborough Sauvignon Blanc
What makes Giesen Alcohol-Free Marlborough Sauvignon Blanc such an exciting entry on the scene is the fact that it actually begins its life as the world-famous full-strength Giesen Sauvignon Blanc. The only difference is that this version goes through one additional step before bottling, where an advanced system of spinning cones gently removes the alcohol from the wine, but keeps all the aromas and flavors.
Speaking of flavor, the first thing you'll notice when you take a sip of this alcohol-free white wine is the remarkable similarity of flavors to the alcoholic version. The same notes of blackcurrant, herbs, and tropical fruit come through, and it finishes with a nice, acidic bite. While the Giesen 0% Sauvignon Blanc doesn't have quite the same heat as the alcoholic version, there is a bit of red capsicum that helps add some warmth to the experience, as well as a nice dry finish that is characteristic of New Zealand whites. Oh, and all this flavor somehow comes in at just 19 calories per 5oz glass!
There is a ton of great character in Giesen 0% Alcohol-Removed Marlborough Sauvignon Blanc, and it is without a doubt one of the best non-alcoholic white wines we've ever tried. While you can expect to pay a premium for this bottle, in our opinion it's completely worth the price, as the experience leaves you feeling like you're truly enjoying a luxury bottle of wine. Which in the NA wine world, is very hard to come by.
Final Thoughts on Giesen 0% Alcohol-Removed Marlborough Sauvignon Blanc
Just like with alcoholic wines, not every bottle is suitable for every drinker. While we believe many of you will absolutely love Giesen's 0% Sauvignon Blanc, others may not be a fan of the flavor-forward white. But that's ok! What's most important is that world-famous winemakers like Giesen are beginning to acknowledge the millions of wine lovers who, for one reason or another, are choosing to limit or remove alcohol from their lives altogether.
We believe options like Giesen 0% Alcohol-Removed Marlborough Sauvignon Blanc are the first small steps towards an inevitable tipping point. One that leads to a future with a nearly endless array of amazing alcohol-free red, white, and rosé wine options for all of us non-drinkers out there.
And that's the kind of future we can cheers to!