Non-Alcoholic Gimlet Recipe with Seedlip Spice 94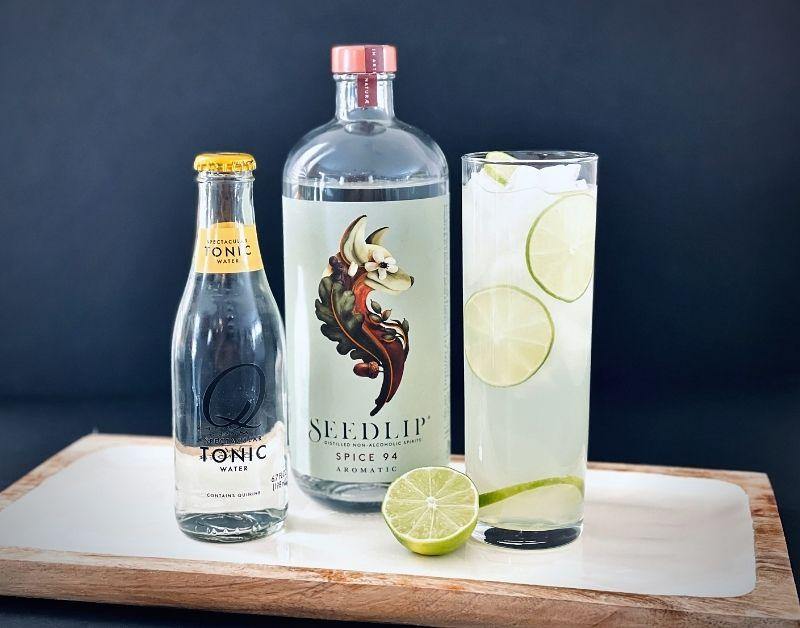 On any list of classic cocktails, you don't have to search very far to find a listing for "Gimlet". A bar staple for nearly a century, gimlets are surprisingly simple – gin, fresh lime juice, and for some, a splash of water or tonic to mellow out the bite.
Of course, those that have spent any time at all crafting non-alcoholic cocktails know that "simple" recipes often end up being the hardest to replicate. Without multiple mixers, juices, and syrups, the backbone of "simple" cocktails tends to be the alcohol. Which, when you're trying to mix an alcohol-free drink, can make for a challenge.
Thankfully, the market for non-alcoholic spirits is getting better by the day, which means there are plenty of options for swapping out the alcohol in these classic cocktail recipes. Take, for example, the wonderful world of Seedlip. The world's first distilled non-alcoholic spirit, Seedlip offers three varieties of alcohol-free spirits – Seedlip Grove 42, Seedlip Spice 94, and Seedlip Garden 108 – each with their own unique flavor profile.
While there are plenty of non-alcoholic spirits that look to replicate their alcoholic counterparts flavor by flavor and note by note (for example, the spot-on Monday Alcohol-Free Gin), Seedlip offers a unique twist when used to craft non-alcoholic cocktails, and can make for a drink that's way more interesting than the original.
In the case of the classic Gimlet, swapping the gin for Seedlip Spice 94 opens a whole new side of the drink. With cardamom and allspice bringing a warm heat, and fresh notes of citrus blending perfectly with the lime juice, Seedlip Spice 94 is the ideal backbone of a non-alcoholic Gimlet. While the flavors are reminiscent of the original, this swap to non-alcoholic spirits makes for a new, complex alcohol-free cocktail that's sure to turn heads.
If you're looking to craft a modern, alcohol-free take on one of the classics, read on for our Non-Alcoholic Gimlet Recipe with Seedlip Spice 94 and mix one up for yourself today!
Ingredients for Non-Alcoholic Gimlet Recipe with Seedlip Spice 94
1 oz – Fresh Lime Juice
2 oz – Tonic Water
Ice
Lime for Garnish
Directions for Non-Alcoholic Gimlet Recipe with Seedlip Spice 94
Fill glass ¾ full with ice
Pour in Fresh Lime Juice
Top with Tonic Water
Add lime wedge for garnish
That's all there is to it! A few simple ingredients and you can craft this super tasty classic Non-Alcoholic Gimlet Recipe in a matter of minutes.
Try our Non-Alcoholic Gimlet Recipe with Seedlip Spice 94 and let us know what you think in the comments below. Also be sure to tag us with photos of your finished gimlet mocktail on Instagram at @sipyours!