Review: Grüvi Dry Red Blend Non-Alcoholic Wine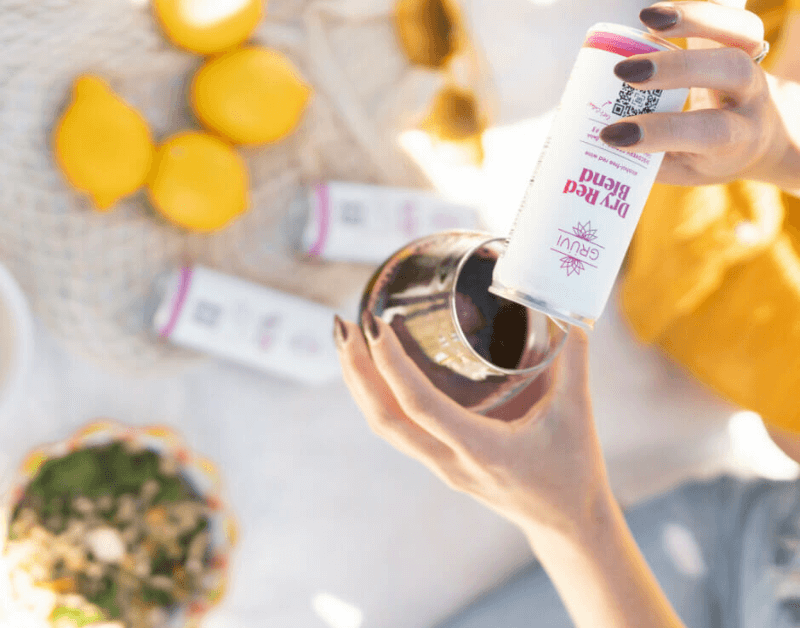 For alcohol-free wine drinkers, finding a favorite go-to red wine can be a challenge.
Craft non-alcoholic beverage maker Grüvi has stepped up to the challenge and done something special to fill the need for an everyday non-alcoholic red wine. Their Dry Red Blend was developed in partnership with their customers, utilizing customer feedback to develop and perfect a smooth, enjoyable red blend.
Whether looking for an alcohol free red wine to enjoy for a special occasion or a weeknight at home, Grüvi Dry Red Blend is another great option in the world of delicious non-alcoholic red wines. Conveniently available in single serving size cans, this satisfying red made from California grapes is accessible yet indulgent.
You'll find a full Grüvi Dry Red Blend review below, but first, let's get to know the wine maker!
About Grüvi Wine
Grüvi has been making waves in non-alcoholic beverages since they first launched in 2019. The family-owned company based in Denver, Colorado has grown quite the following with their unique (and tasty) alcohol-free craft beer and wine offerings.
Aside from creating award-winning non-alcoholic beverages, Grüvi has also built a community around their brand. The company strives to unite like-minded people interested in making better, healthier choices in their daily lives. No matter your reason for choosing alcohol-free beverages, Grüvi creates a space of inclusion, delivering on their mission to "help others be healthy and stay social, one drink at a time."
Another trait that makes Grüvi unique is their range of product offerings, including both non-alcoholic wine and beer options. Gruvi's line of craft non-alcoholic beer includes a wide variety, from IPAs, to ales, to stouts. Low-calorie, flavorful varieties will make your taste buds happy and keep you feeling great.
Grüvi Non-Alcoholic Wine
Grüvi's selection of non-alcoholic wine includes something for every wine lover to enjoy. All Grüvi wine is 100% vegan and gluten free, and made with all-natural ingredients. They contain absolutely no trace of alcohol and are safe for anyone to enjoy.
Sparkling wine options include Alcohol Free Dry Secco and Alcohol Free Bubbly Rosé. These wines are unfermented and contain zero alcohol in any stage of production. For more details, check out our full review of Grüvi Prosecco and Rosé.
Newer varieties include Alcohol Free Sangria and Alcohol Free Dry Red Blend, which are both dealcoholized. This means they start out as regular wine and go through the process of having the alcohol gently removed until the wine is reduced to an ABV of 0.5% or less.
Gruvi's Sangria is a non-alcoholic sparkling red wine perfect for sipping on a summer evening. The combination of fruit (blood orange, red currant and blueberry) and spice (cinnamon and clove) provides a unique balance and depth of flavor that is an excellent not to the classic Spanish beverage. Each 250ml can contains 60 calories, 13g of carbs and 8g of sugar. Grüvi's Alcohol Free Sangria is a limited release, so try it while you can!
Grüvi Red Blend Review
Calories: 45
Carbs: 17g
Sugar: 6g
Alcohol: 0.0%
(Per 250 ml can)
This full-bodied dry red blend is fruity and bold. Smooth and easy to drink, Grüvi Dry Red Blend has a nice balance of tannins with a hint of oak and coffee. Made from California grapes, this alcohol-free wine manages to maintain the classic texture and tannins of an authentic dry red wine, without the alcohol.
Grüvi developed this wine in partnership with their customers to achieve a blend that is just right. The third iteration has an updated flavor profile and smoother finish than previous versions. Grüvi Dry Red Blend is alcohol free, gluten-free and low sugar. It is also Kosher certified and vegan-friendly.
This versatile red can be enjoyed alone or paired with a classic steak dinner or rich chocolate dessert. Whether hanging with friends or winding down at the end of the day, Gruvi's Dry Red Blend will not disappoint, giving you all the flavor with none of the headaches.
What People Are Saying About Grüvi Alcohol Free Wine
According to their website, 73% of reviewers would recommend Grüvi Dry Red Blend to a friend. Out of 77 reviews, this blend has a rating of 4.2 out of 5 stars, with a medium taste rating and slightly above average sweetness rating.
Recent reviews include rave comments such as: "Well done! Please send a truckload!", "Great new find for evening wind down" and "The best alcohol-free red wine that I've tasted.". Not-so-stellar comments include "Too sweet for my taste" and "it's a little too grape-juicy-tasting".
With somewhat mixed reviews, it seems Grüvi Dry Red Blend falls into the "love it or leave it" category for most alcohol-free wine drinkers. We recommend trying it for yourself. You never know, it might just be your new favorite!
Final Thoughts: Grüvi Dry Red Blend
There is a lot to love about Grüvi, from their community-driven mission to their wide selection of alcohol-free beverages. Whether you favor wine or beer, Grüvi has something for everyone who wants to enjoy a delicious beverage with no regrets.
Grüvi Dry Red Blend is a noteworthy addition to round out their line of non-alcoholic wines. Their concept to collaborate with customers on their products is admirable, and we can't wait to see what they come up with next.