Sovi Non-Alcoholic Wine Review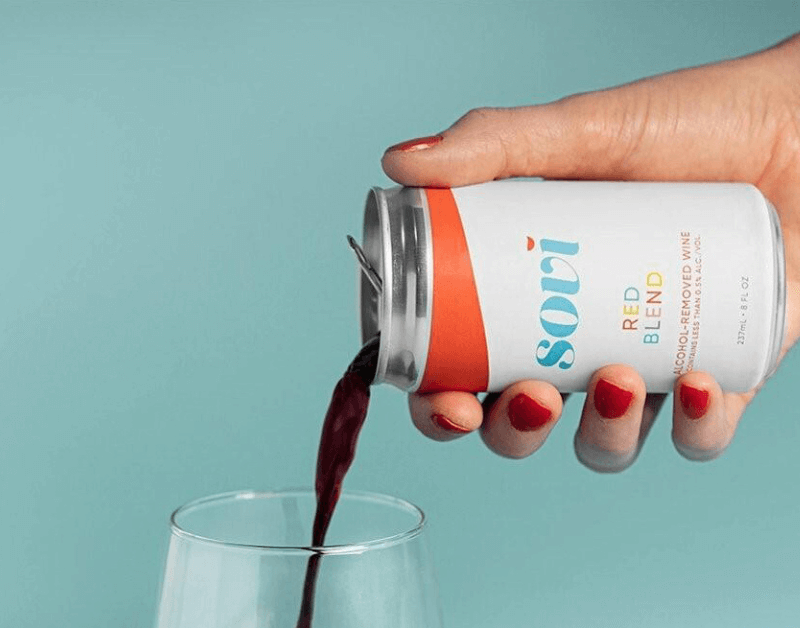 Sovi Wine Co is a newcomer to the nonalcoholic wine segment. They released their first wine in early 2021, after spending a year and a half in the trial process. They've emerged with a splash, getting publicity from big names like Good Morning America and Cosmopolitan. So what exactly is Sovi?
The Sovi Team
Sovi was started by a husband and wife team in California. They are both wine industry professionals. The wife, Julia Littauer, is a Certified Sommelier, and the husband, Alex Littauer, holds a WSET Diploma. Together, they bring over 20 years of experience in the industry.
The Littauers believe that in order to make quality wine, (even nonalcoholic!) you must start out with quality grapes. With this in mind they have enlisted a family-owned winery to grow all the grapes and make the wines for the brand. The winery and vineyards are located in Clarksburg, California. This area is a wine region located in the Sacramento Valley, just south of the city of Sacramento and east of Napa Valley. The winery uses only certified sustainable grapes to make all the Sovi wines.
How Sovi Nonalcoholic Wine is Made
Sovi's winery starts with quality, sustainably farmed grapes and lets them go through fermentation to make a normal alcoholic wine. The wine is then distilled in a vacuum at a low temperature, (about 90 degrees). This low temperature allows the alcohol in the wine to boil off, while preserving the maximum amount of flavors and aromas. Finally, a small amount of grape juice concentrate is blended into the resulting nonalcoholic wine to give the final product a balanced taste. The alcohol-free wine is then finished and bottled in cans.
The Finished Product
All of the Sovi alcohol free wines do contain a very small amount of alcohol. However, the FDA states anything under 0.5% ABV is classified as nonalcoholic. Sovi's wines measure in at 0.3% ABV, and therefore considered nonalcoholic.
Sovi wine currently comes in three varieties:
Sparkling Rosé (2021)
The sparkling rosé was the first Sovi wine to be released. It is made from 100% Tempranillo grapes in a crisp, dry style. Think strawberry, rhubarb, and watermelon flavors.
Red Blend (multi-vintage with 2021 base)
A blend of Syrah, Malbec, Petite Sirah, and other red grape varietals. Part of the wine was aged in French and American oak barrels. This wine is dry with soft tannins, bright acidity, and a medium body. Think black raspberry, cherry, and vanilla flavors.
Sparkling White (2021)
This is the latest offering from the brand. Like all the Sovi wines, it's a dry style. It's made from 95% Chenin Blanc and 5% Muscat, creating a crisp, refreshing style. Think green apple, lemon peel, and white flower flavors.
All three wines contain 25 calories per can. With each can being the equivalent of one serving or 1.5 glasses of wine. All of Sovi's wines are low in both carbs and sugar. The two sparkling wines have both 3 grams of sugar and 3 grams of carbs per can. The red blend has 2 grams of sugar and 2 grams of carbs per can.
Why Cans?
Sovi has chosen to use single-serving cans rather than traditional glass bottles. An unusual choice, but there are some solid arguments in favor of cans. Cans are actually easier to recycle compared to glass, and therefore more eco-friendly. The single serving size for sparkling wine is more convenient, allowing customers to only open what they will drink. Rather than opening a full bottle of bubbles, and risk losing some of the carbonation if they don't finish the bottle right away.
Sovi Wine Reviews
Sovi has recently been featured in many major publications. Cosmopolitan calls the sparkling rosé their favorite nonalcoholic canned sparkling wine. Drinkhacker notes the first vintage of sparkling rosé had a bit too much minerality and needed to be tweaked. But in a more recent review of the 2021 vintage, says it has been much improved. They also praise the red blend as well-rounded. Forbes calls the sparkling rosé one of the driest and most complex nonalcoholic wines they've tried.
Customers are impressed with how close these taste to normal wine, especially the red blend. Sovi is also garnering praise for being drier, and less sweet than many other nonalcoholic wines. As the popularity of non-alcoholic wines and beverages grow, more and more producers are appearing. And with each new quality producer the quality level gets higher and higher, making the entire industry better. Sovi is the one of the latest quality producers doing their part to improve the nonalcoholic wine industry.
Have you tasted Sovi wines yet? If so, let us know what you thought in the comments!