10 Best Low Carb and Keto Mocktails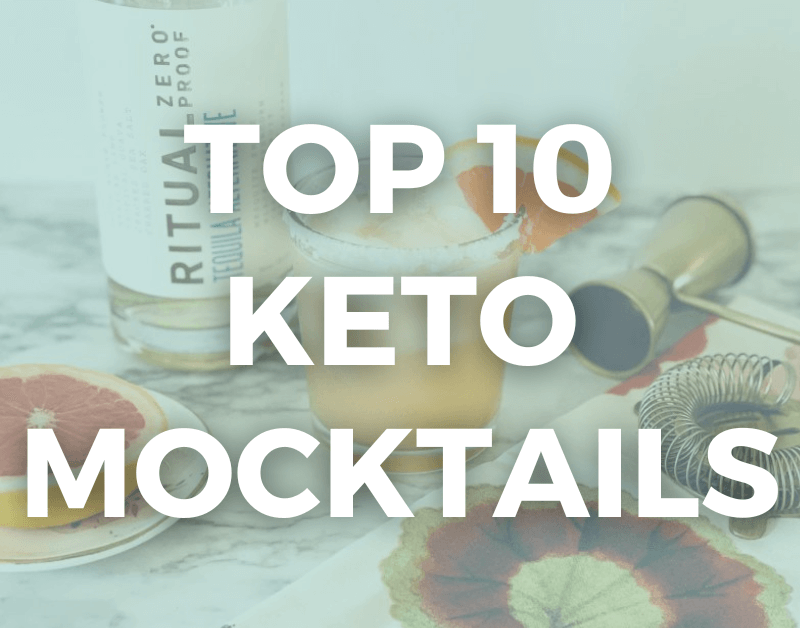 The intention that goes into crafting the perfect cocktail is nothing short of an art form. If you're taking some time off from the booze, then you don't have to give up entirely on the practice of mindfully mixing a delicious beverage for yourself. Drinking a mocktail is the perfect, guilt-free way to unwind after a long day.
 
Most people think of mocktails as being a sugary, juice-laden drink but luckily this assumption is false. Plenty of delicious mocktail recipes are low in carbs and even keto-friendly! Keep reading for some of our favorite recipes for low carb non-alcoholic mocktails.

What is a mocktail?

A mocktail is a mixed beverage that is completely free from alcohol. Mocktails are ideal for just about anyone, whether you're entirely alcohol free or you just feel like taking a night off. Thanks to the amazing invention of alcohol-less spirits, the possibilities are endless when it comes to mixing your own mocktails. The following recipes include mocktail recipes that are low in carbs and sugar and some are even keto friendly.
Note: some of the recipes below call for regular tonic water and/or simple syrup, two not very keto friendly ingredients. However there are easy swaps you can make to fit your dietary guidelines. For tonic water, replace with diet tonic water or soda water/mineral water. And for the simple syrup, check out this easy-to-make low-carb simple syrup recipe you can make once and refrigerate to use in all your low-carb mocktails!

10 Best Low Carb Mocktails:
The Gin Rickey is a refreshing, gin-based cocktail that is naturally low in calories because of its ingredients. If you'd like to try one of these low carb mocktails, you'll want to start by acquiring some non-alcoholic gin. DHOS is a brand of non-alcoholic gin that is low in calories and sugar-free. Since the other components of this cocktail are naturally low carb (lime juice and soda water) this is a great go-to keto mocktail. 
The Aperol Spritz is an iconic Italian-born beverage that is typically enjoyed before dinner to stimulate the appetite. Making this delicious, brightly colored mocktail is made possible by combining Wilfred's Non-Alcoholic Aperol with tonic water and ice. Wilfred's is low in calories and sugar, crafted from simple, natural ingredients like botanical extracts and English beet sugar. Full disclosure: this mocktail does contain some sugar.
Many people are familiar with the Gin Fizz cocktail, which combines gin, soda water, lemon juice, sugar, and egg white. Not everyone is as familiar with the Gin Fix. You read that right, this low carb mocktail is ideal for anyone who is intrigued by the flavor profile of the Gin Fizz but wants to do without the egg white. So if you're egg free and a lover of gin, then this is the mocktail for you!
There is hardly anything as refreshing as a good mojito. Check out this recipe for a delicious low carb non alcoholic mocktail version of this fresh and minty beverage. This mocktail is made using Lyre's non-alcoholic rum, club soda, simple syrup, lime juice, and mint leaves. If you're trying to do without sugar then you can leave out the simple syrup or only use a small amount.
If you're no longer a drinker and your go-to drink was once the rum and coke, you may think that the days of enjoying your signature cocktail are long gone. Well, think again. We are happy to tell you that a non-alcoholic rum and coke does exist. This recipe uses Lyre's Dark Cane Spirit Non-Alcoholic rum. You'll want to use coke zero or diet coke to keep this drink low in sugar and carbs.
The key to creating a low carb mocktail version of the classic Gimlet is a high quality non-alcoholic gin like Seedlip Spice 94. This is because the main component of a gimlet is the liquor. Simply mix your non-alcoholic spirits with lime juice, ice and a dash of tonic water (if you want) to replicate this classic cocktail, in all of its low carb mocktail glory.
This delicious low carb mocktail is unique in and of itself. Made simple with the Seedlip Garden 108 alcohol-free spirit and soda water, you're sure to enjoy all of the botanical flavors that this delicious mocktail has to offer.
If you like a simple beverage with a lot of ice, then the gin and tonic is for you. The modern luxury of non-alcoholic gin makes this type of low carb mocktail a possibility. Enjoy your favorite non-alcoholic gin (we used Lyre's Dry London Spirit) poured over ice with tonic water.
Another classic go-to cocktail is the gin and tonic. We made this tried and true cocktail using Ritual Non-Alcoholic Gin. Check out the recipe here.
Martinis are the perfect cocktail for anyone who loves botanical flavors and aromas. Because a standard martini has two different alcoholic components (dry vermouth and gin) you'll need more than just a non-alcoholic gin for this recipe. We used Lyre's Drye London Spirit and Lyre's Apéritif Dry for this recipe. Garnish with a twist of lemon or some olives.
 
 
You don't have to compromise to enjoy a classy adult beverage and feel healthy at the same time. Low sugar mocktails make it possible to sit back and enjoy all the same flavors of your favorite cocktails without any guilt. Cheers!