12 Best Non-Alcoholic Brunch Mocktails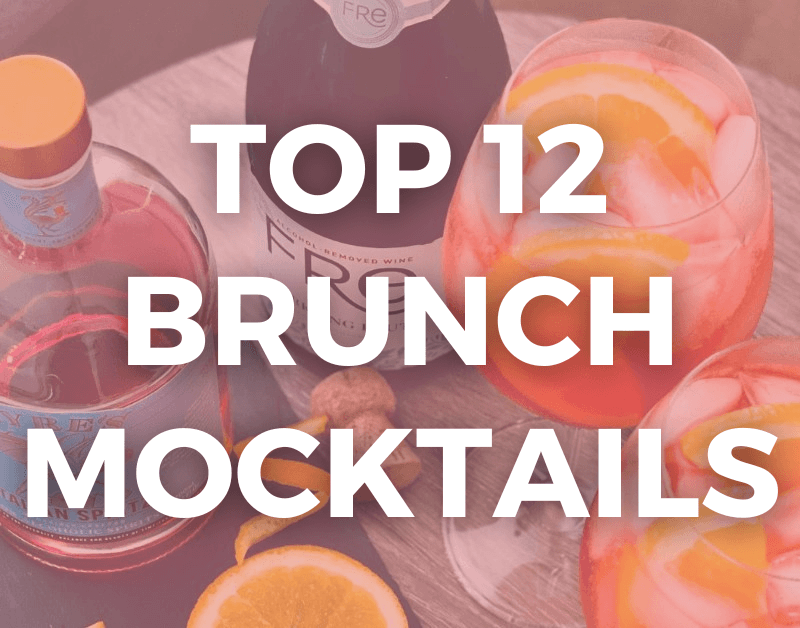 Wake up sleepy head, we're going brunching.
Step aside mimosas with the cheap bubbles and yawn-fest oat milk lattes, these breakfast mocktails are taking over brunch with mouthwatering recipes to spark your morning tastebuds. While these recipes can be enjoyed anytime of day, let's face it, a bottomless non-alcoholic drink is more satisfying in between bites of eggs benny and fluffy pancakes. And no matter what your mood or type of brunch drink might be your a.m. fancy, this list is sure to tempt even the night owls to break muffins and sip mocktails under the sun's rays. 
Tart. Refreshing. Bubbly.
Mood: Let's stay classy while we day drink into night. Likes to top their scrambled eggs with Nonna's tomato sauce. Speaks Italian to their teacup Yorkie. Has nicer shoes than you. Listens to opera while taking too long of showers. Scarves are for every season. Invited to their spin instructor's pool party. Used the noodle and didn't get hair wet.
Ingredients:
1oz - Ruby Red Grapefruit Juice
1oz - Club Soda
Ice
Grapefruit slice for garnish (optional)
Directions:
Fill the largest wine glass you have with ice. Add in YOURS Non-Alcoholic California Red Blend, Lyre's Italian Orange Non-Alcoholic Liqueur, and ruby red grapefruit juice. Stir. Top with club soda, stir again. Add grapefruit slice for garnish and serve.
Rich. Smoky. Sweet and Daring. 
Mood: Wakes up before the rooster. Takes ice cold showers. Knows how to flip an egg without breaking it. Mom is always their plus one. Signed their lemonade stand "cash and crypto only" — outsold every kid on the cul-de-sac. Buys all the cheap properties on Monopoly, renovates, then Air bnb's them. Coaches little league.
Ingredients:
Directions:
Fill a cocktail shaker with ice, Spiritless Kentucky 74 Non-Alcoholic Bourbon, freshly squeezed lemon juice, and pineapple juice. Seal and shake vigorously for 10 seconds. Set shaker aside, and if desired, rub rim of cocktail glass with lemon juice, dip in seasoned seals and fill with ice. Strain cocktail through Hawthorne strainer into glass. Garnish with lemon zest and dried red chili and serve.
Smooth. Flavorful. Refreshing.
Mood: Talks endlessly about hydration. Wears gingham all day. Pretends to have too much fun at parties, but down-low watching out for double-dippers. Reads every email then deletes, but collects Bumble profiles like trading cards.
Ingredients:
8 - Watermelon Chunks (1-2" each with seeds removed)
8 oz- Club Soda
4 - Limes
3 tbsp - Sugar
30 Fresh Mint Leaves
Ice
Maraschino Cherries for Garnish
Directions:
Fill a blender with watermelon chances, juice from lies and sugar. Blend mixture until smooth. Add in Lyre's White Can Spirit Non-Alcoholic Rum, club soda, and 20 fresh mint leaves and stir for 15-20 seconds. Strain mixture into pitcher fills with ice. Serve over ice in glass of choice and garnish with fresh mint leaves and maraschino cherries.
Bold. Aromatic. Slightly bitter, but sweet.
Mood: Has cappuccino running through their veins. Likes refreshing Italian mocktail upon waking. Is it arrabbiata ravioli for brunch or just a slice of toast so they don't get heartburn and ruin their Venetian vibe. They prefer bottomless, but sport designer pants from the outlet. On Sundays they wear orange.
Ingredients:
1/3 Part Wilfred's Aperitif
2/3 Part Premium Tonic Water
Ice
Slice of Orange for Garnish
Directions:
Fill glass with ice. Pour in Wilfred's Aperitif and tonic water. Mix well and garnish with orange slice.
Citrusy. Eggy. Strangely Intriguing.
Mood: Her name is Margot, she reads Hemingway at brunch and always orders her eggs poached. Her faux fur coat is a hand-me-down from her Aunt Clovis and she spent her entire trust fund on a cat sanctuary in upstate New York. She collects tiny spoons. Also a freelance hand model.
Ingredients:
Directions:
Add ice to cocktail shaker. Pour in Damrak 0.0 Non-Alcoholic Gin, grenadine and egg yolk. Shake for 15-20 seconds. Strain into cocktail glass. Add garnish of choice and serve.
Light. Aromatic. Natural Botanicals.
Mood: For the morning person who wakes up with at least six impossible new ideas before breakfast. See also Mad Hatter. Takes long naps after sugar and carb-loading on lemon-ricotta pancakes. Their daily planner has inspirational quotes that they turn into fridge magnets. Married their high school crush.
Ingredients:
Directions:
Add ice to glass. Add Monday Non-Alcoholic Gin Alternative, fresh lemon juice, simple syrup, and more ice to cocktail shaker. Shake for 15-20 seconds. Pour into cocktail glass. Garnish with lemon wheel and serve.
Tastes like summer. Refreshing. Subtle heat.
Mood: Loves the 80s, ombre, and non-alcoholic orange juice drinks. Always eats a big breakfast. Has a fast car with budget insurance. Great hair. Likes the heat, but appreciates a good-running air conditioner. Dances with an overbite.
Ingredients:
Directions:
Add ice to glass. Pour in Ritual Non-Alcoholic Tequila Alternative. Pour in fresh orange juice. Top with grenadine syrup. Add garnish of choice and serve.
Robust. Smoky. Unique.
Mood: Wears large novelty hats. Likes bacon for breakfast with a side of eggs. Uses maple syrup like a condiment. Has a running card game on Sundays. Poker face always activated. Comments on the humidity way too much. Kisses their dog on the mouth.
Ingredients:
1 oz - Lemon Juice
1 tsp - Maple Syrup
Crushed Ice
Directions:
Add Spiritless Kentucky 74 Non-Alcoholic Bourbon, lemon juice, maple syrup, and crushed ice to cocktail shaker. Shake vigorously for 15-20 seconds. Strain cocktail into glass filled halfway with crushed ice. Add garnish of choice and serve.
Classic yet modern. Bitter. Bright. Refreshing.
Mood: Prefers a salad for brunch. Every napkin has a rattan holder. Enjoys a good romance novel during the day, but dives into true crime docs at night. Plays the harmonica after breakfast to a pet cockatoo. Meditates at the farmer's market. Holds onto grudges and their 401k.
Ingredients:
1oz - Soda Water
Ice
Orange for Garnish
Directions:
Fill glass 1/2 full with ice. Pour in Lyre's Non-Alcoholic Italian Spritz. Pour in Fre Non-Alcoholic Sparkling Brut Champagne. Top with soda water. Add orange wedges for garnish.
Flavorful. Complex. Herbal. Liquid veggie patch.
Mood: Drinks their veggies at brunch. Has more than one Tik Tok account. Voted "Most Likely To Have An Opinion About Everything". Sleeps with a white noise machine. Talks religion and politics at holiday dinners. Knows a lot of magic card tricks.
Ingredients:
6 cups - Tomato Juice
3 tbsp - Creamy Hot Horseradish
3 tbsp - Worcestershire Sauce
2 1/2 tsp - Celery Salt
3 tsp - Garlic Salt
Tabasco Sauce
Fresh Ground Black Pepper
Kosher Salt
Ice
Creative Garnish (celery, pickles, cheese cubes, bacon, etc.)
Directions: 
Fill large pitcher with tomato juice, horseradish, Worcestershire sauce, celery salt, garlic salt, and fresh ground pepper. Stir contents of pitcher. Add in 10-15 shakes of Tabasco sauce (more or less if desired). Stir contents again and refrigerate until ready to serve. To assemble, mix equal parts celery salt and kosher salt on a plate and rim each glass with the mixture. Fill glass with ice. Pour in 2 oz. Seedlip Garden 108 Non-Alcoholic Spirit. Fill remainder of glass with your Bloody Mary mix. Garnish with celery stalk, pickles and any other ingredients you see fit.
Tropical. Citrusy. Relaxed vibes.
Mood: Always has a tan. Prefers breakfast outdoors and floral prints. Omelette stations make better reels for Instagram. Likes hard candy and soft taco shells. Umbrellas are for cocktails. Plays the ukulele at brunch. Never shrinks from applause. Listens to Yacht Rock. Wears matching outfits with the bestie.
Ingredients:
1 oz - Alcohol-Free Triple Sec Syrup
2 oz - Fresh Orange Juice
1 oz - Fresh Pineapple Juice
Ice
Orange For Garnish
Directions:
Chill a glass. Fill cocktail shaker with Damrak Virgin Alcohol-Free Gin, triple sec syrup, fresh orange juice, fresh pineapple juice, and ice. Shake for 15 seconds. Strain into glass. Add an orange wedge or wheel for garnish.
Bold, flavorful, soothing, warms your spirits.
Mood: Talks with a British accent even though they've never been to the UK. Likes their eggs fried with beans. Brunch begins after the soccer match is over. Still has their childhood Paddington bear. Likes a good bath bomb. Connery was their favorite Bond. Claims House Gryffindor.
Ingredients:
2 oz - Boiling Water
2 tsp - Fresh Lemon Juice
1 tbsp - Honey
Lemon For Garnish
Directions:
Fill a glass mug with Ritual Zero Proof Whiskey Alternative Non-Alcoholic Spirit and fresh lemon juice. Add in honey. Pour boiling water over mixture. Stir drink until honey has completely dissolved. Cut a wheel of lemon atop glass for garnish.