Top 7 Wines for Weight Loss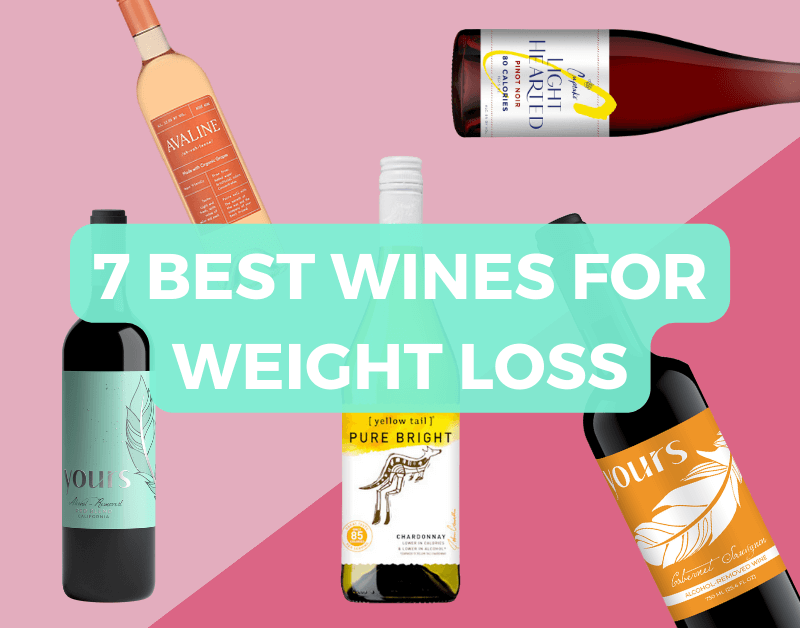 It's no secret that wine can cause weight gain.
 
With upwards of 160 calories per glass for many red wines (and even more for sugar-rich dessert wines), a few glasses can quickly add up to hundreds of empty calories. But that doesn't mean wine is completely off the table if you're trying to lose weight. In fact, there are plenty of low-calorie, low-carb wine options out there that can deliver that wine experience you love, without derailing your fitness goals.
 
Looking for the best wines to enjoy while watching your waistline? Here's our list of the Top 7 Wines for Weight Loss:
YOURS Non-Alcoholic California Red Blend
Calories per Serving: 10
 
It's hard to believe just how much flavor can be packed into a 10 calorie glass of wine. Yet that's all you'll find inside YOURS Non-Alcoholic California Red Blend.
 
The result of a two-year journey to craft the world's best alcohol-free red wine, YOURS California Red Blend carefully layers in a curated blend of natural flavors, creating a full-bodied non-alcoholic red wine that boasts notes of chocolate, ripe black currant, blackberry, cedar, oak, and vanilla. We've even added back a touch of that texture and warmth that are staples of the red wine experience.
 
Of course, you'll only really understand when you try YOURS for yourself. Get a bottle delivered today. 
 
Yellowtail Pure Bright Chardonnay
Calories per Serving: 85
 
With just 85 calories per serving and 9.6% alcohol by volume, this lighter Chardonnay from Yellowtail is an excellent choice for those looking for that rich, buttery white wine experience, without the calorie count that usually accompanies it. Loaded with bright notes of pear, peach, melon, and vanilla, this low-calorie white wine pairs perfectly with freshly grilled fish and herb roasted chicken.
Avaline Rosé
Calories per Serving: 107
 
Though a bit higher on the calories than most of the wines on this list, Avaline prides itself on being an incredibly "clean" wine, using only the finest, organically grown grapes. Avaline Rosé is a prime example of this effort, with a light, clean palate filled with notes of melon and citrus. Perfect for sipping on a warm summer afternoon.
FitVine Pinot Noir
Calories per Serving: 118
 
Loaded with pops of black cherry, orange, cedar, and honey, FitVine's Pinot Noir is a classic example of the brand's dedication to crafting low-sugar, low-calorie wines that still pack a flavorful punch. At 118 calories, you'll still need to keep an eye on how many glasses you enjoy per week, but it's definitely an improvement from most red wines you'll find on your local shelves.
 

Skinnygirl Pinot Grigio

Calories per Serving: 100
 
If you're in search of a bright, flavorful white wine that's low in calories, look no further than Skinnygirl Pinot Grigio. Coming in at 100 calories per glass (which is about 25% less than a typical pinot grigio), you'll be shocked at how bright and bold this white wine tastes, with notes of fresh pear and melon.
 
 
YOURS Non-Alcoholic California Cabernet Sauvignon 
Calories per Serving: 20
 
Looking to craft a non-alcoholic cabernet sauvignon that was light on calories but bold on flavor, it took us 26 tries working alongside some of California's most talented winemakers and sommeliers to craft YOURS Non-Alcoholic Cabernet Sauvignon.
 
With just 20 calories and 2g sugar per serving, YOURS Non-Alcoholic Cabernet Sauvignon is bold, rich, dry, and free from the lingering sweetness that dominate most NA wines on the market. Bursting with notes of black cherry, blackberries, anise, bell pepper, oak, and fresh ground peppercorn, each sip of YOURS Non-Alcoholic Cab is an explosion of flavor, and will have you double-checking the label to remind yourself that there really is no alcohol.
 
 
Cupcake Light Hearted Pinot Noir
Calories per Serving:
80 
With just 80 calories, less than one gram of sugar, and 8% alcohol/volume per serving, Cupcake Light Hearted Pinot Noir is a light wine that's heavy on the flavor. Light bodied like any good pinot noir, this wine is bursting with juicy fruit flavors such as strawberry, plum, and fresh cherry. But don't mistake the fresh fruit palate for a sweet wine, as Cupcake Light Hearted Pinot Noir still carries a spiced warmth reminiscent of your favorite full-bodied red wines.