Meet the YOURS Non-Alcoholic Cabernet Sauvignon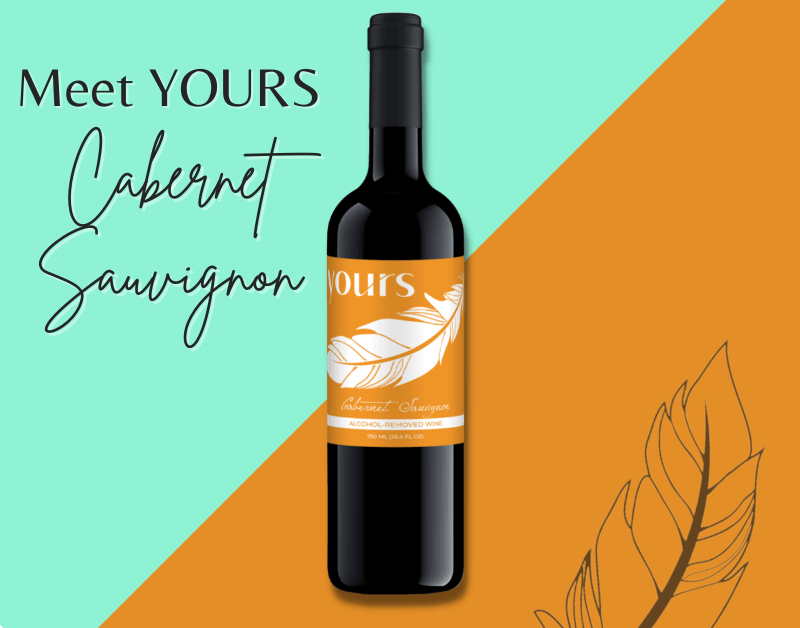 For the past year, our team has been toiling away in secret on something special. And today, we finally get to share the good news…
We've officially launched YOURS Non-Alcoholic Cabernet Sauvignon!
We know – we're as excited as you are. Cabernet Sauvignon is the best-selling wine varietal in the U.S., yet it is woefully underrepresented in the non-alcoholic wine space. Why? Because it's exceedingly difficult to make.
Those that love a good cab know just how nuanced it can be. While it leads with big, bold flavors, there is layer upon layer in a quality cabernet sauvignon. And these layers of flavor are what make crafting an alcohol-free version so challenging.
But after the success (and lessons learned) from crafting the YOURS Non-Alcoholic California Red Blend, we knew this was a challenge we had to face head on. And boy are we glad we did!
Working with the finest winemakers and non-alcoholic sommeliers in California, our team spent months testing different grapes to ensure we found the perfect base for our non-alcoholic cabernet. The grapes we chose contain the ideal proportion of phenols and tannins, which helps retain the rich cabernet flavors, even after we delicately remove the alcohol.
With our base wine selected, we tried countless combinations of various natural flavors and ingredients to help recreate that experience of enjoying a big, bold glass of California Cab. Our additions are subtle (we want the wine to do most of the talking, of course!), but the bring just the right levels of those flavors you know and love: vanilla, spice, chocolate, tobacco, green pepper, black currant, and black cherry.
Like all our wines, we also worked with our talented non-alcoholic winemakers to ensure there was no need for any unnecessary sugars. Not only does YOURS Non-Alcoholic Cabernet Sauvignon feature a low sugar content, but it's a mere 20 calories and 4g carbs per serving…significantly more waist-friendly than your standard glass of cabernet.
And sure, we're extremely proud of how this alcohol-free cabernet sauvignon tastes. But what makes us most excited is the experience it recreates. The look and feel of the bottle. The sound as you release the cork from its neck. The beautiful shade of plum as you pour and the lush aroma that floats from the glass. Everything about enjoying YOURS Non-Alcoholic Cabernet Sauvignon is exactly as you remember…just without the unnecessary toxins or consequences from the alcohol.
That said, the only thing that truly matters is how you feel about our new wine. Because everything we do is for you. We believe in a world where those choosing not to drink – for whatever reason – are as celebrated and well-served as those who do. It's why we spent two year developing our first wine – YOURS Non-Alcoholic California Red Blend – and another year developing our new YOURS Non-Alcoholic Cabernet Sauvignon. To change the lives of real people…like YOURS customer Ben G.:
As good as it gets
I use to be an avid red wine drinker and this has to be the best on the NA market. I was skeptical at first, but this product has me sold. 
Or Kelli B.: 
Excellent choice for red wine lovers!!
As a newly pregnant lady and red wine aficionado, this non alcoholic red wine was the best I've tried. It's not sour like most NA reds. It has a semi-dryness similar to your normal wine and is a delicious option for those who are not drinking alcohol.
Or Mary A.:
Fantastic—I love this wine
It's really wonderful, and I've tried a lot of NA red wines. This one is my favorite and truly is a joy to drink.
Hundreds of red wine lovers have reached out to us this year to let us know how much they've enjoyed our alcohol-free red blend. And we dedicate the new YOURS Non-Alcoholic Cabernet Sauvignon to them, and to all of you looking to enjoy an alcohol-free version of that red wine experience you know and love.
We can't to hear what you think. Cheers!