11 Best Pregnancy Mocktails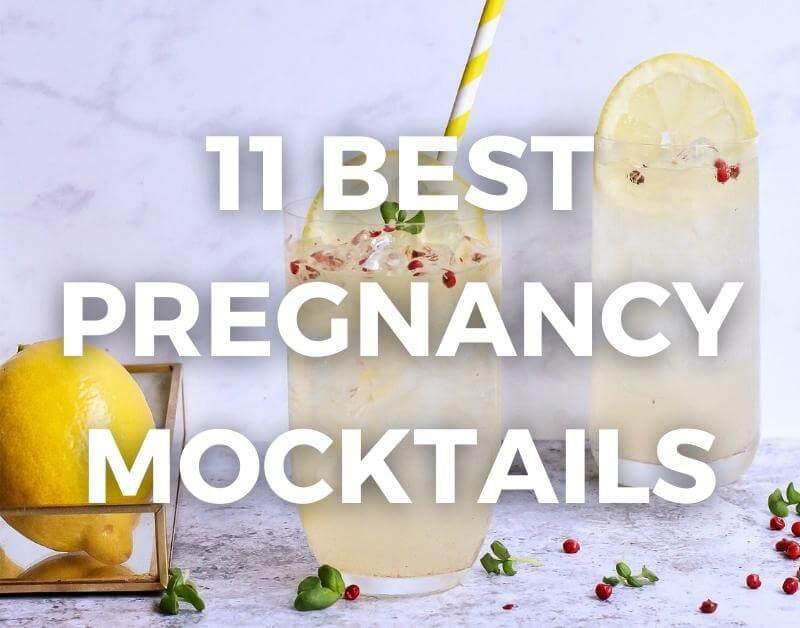 Pregnancy is never easy.
For 9 straight months, your body undergoes some incredible changes. And along with those changes there tends to be varying degrees of discomfort. The aches. The pains. The trouble sleeping. Your body goes through so much when it's bringing a child into this world.
Making matters even more challenging is the fact that many of your favorite foods and drinks are off limits while your little one is growing inside. And while all the sacrifices are completely worth it from the moment you first get to say hello to your new baby, there can be some day-to-day frustration with all that you have to give up and tolerate while pregnant.
That's why we're here to help – at least with the drinks.
Though you'll go 9 months without alcohol during your pregnancy, that doesn't mean you should be stuck sipping a sad soda water and lime. These days, there is an incredible selection of non-alcoholic mocktails you can drink while pregnant. Best of all, with the rise in delicious non-alcoholic spirits (and these amazing 100% alcohol-free cocktail bitters), these pregnancy mocktails taste as good as their alcoholic counterparts!
Oh, and don't forget that there's more than mocktails out there...be sure to check out all the incredible non-alcoholic wines as well! 
With that, let's get you sipping on something special. Read on for our list of the 11 Best Mocktails for Pregnancy.
One of the most popular cocktails in the world, our Non-Alcoholic Classic Virgin Daiquiri Recipe is the perfect blend of sweet, citrus, and warmth, thanks to the addition of Lyre's Non-Alcoholic White Cane Spirit.
For over a century, the French 75 has served as the iconic cocktail when it comes to special occasions. With its blend of Non-Alcoholic Sparkling Champagne, Alcohol-Free Gin, and freshly squeezed lemon juice, one sip of our Non-Alcoholic French 75 Recipe and you'll understand why this drink has stood the test of time.
There's nothing quite like the bite of a Moscow Mule. And even without the alcohol, our Non-Alcoholic Moscow Mule Recipe delivers, pairing fresh ginger beer with Seedlip Garden 108 Non-Alcoholic Spirit for a refreshing, minty bite that's every bit as good as the original.
With its warm blend of fresh lemon juice, honey, and spiced whiskey, the Hot Toddy is used around the world to treat all sorts of ailments. Our Non-Alcoholic Hot Toddy Recipe is the perfect pregnancy mocktail to help relieve tension and discomfort, with the added health benefit of being completely alcohol free!
Though not everyone is fortunate enough to take a "babymoon" to Hawaii, our Non-Alcoholic Damrak Virgin Hawaiian Orange Blossom Recipe can bring the spirit of Hawaii to you. A blend of fresh fruit juice and Damrak Virgin Alcohol-Free Gin, this festive pregnancy mocktail will have you and your baby feeling the luau spirit all night long.
Who wants to give up Margarita Night for 9 straight months?? With our Virgin Non-Alcoholic Margarita Mocktail Recipe, you can have a tasty, pregnancy-approved margarita packed with non-alcoholic tequila anytime the mood strikes.
Nothing says "summer" like an Aperol Spritz. And nothing says "summer while pregnant" like our Non-Alcoholic Aperol Spritz Recipe with Lyre's Italian Spritz. Made with one of the most delicious alcohol alternatives on the market (Lyre's Italian Spritz) this bright, festive, and refreshing, this pregnancy mocktail is the absolute best way for you to battle the summer heat and look good doing it! 
"Brunching while pregnant" shouldn't mean having to skip out on all the tasty drinks. With our Seedlip Garden 108 Non-Alcoholic Virgin Bloody Mary Recipe, you can enjoy this spicy brunch staple in pregnancy-approved form (just be sure to watch out for some of those drink toppings!)
Many pregnancy mocktails – especially those of a tropical nature – can be overly sweet. But our Lyre's Non-Alcoholic Jungle Bird Cocktail Recipe uses two different non-alcoholic spirits - Lyre's Italian Orange and Lyre's Dark Cane Spirit - to bring a slightly bitter, slightly spicy taste to this tropical mocktail, making it the perfect alternative to those sugar bombs you're used to.
Another alcohol-free take on a classic cocktail, our Non-Alcoholic Virgin Mojito Recipe mixes Lyre's White Cane Spirit Non-Alcoholic Rum, club soda, simple syrup, fresh lime juice, and fresh mint for a pregnancy mocktail that's absolutely bursting with bright, fresh flavors!
If you're missing your tequila but have had enough of the margaritas, mix it up with our Non-Alcoholic Virgin Paloma Cocktail Recipe. A blend of alcohol-free tequila alternative, grapefruit juice, lime juice, and sparkling water, this citrus-loaded pregnancy mocktail is the perhaps the most delicious way to get your daily dose of Vitamin C!
As you can see, just because you're abstaining from alcohol doesn't mean you can't sip on something special. In fact, there are no shortage of delicious pregnancy mocktails you can enjoy while you wait for your little one to greet the world. So start experimenting!
Oh, and if you're interested in some other amazing non-alcoholic drinks you can enjoy while pregnant, be sure to check out our list of the 
12 Best Non-Alcoholic Wines to Drink While Pregnant,
as well as our educational piece,
Can I Drink Non-Alcoholic Beer While Pregnant?