Best Non-Alcoholic Thanksgiving Drinks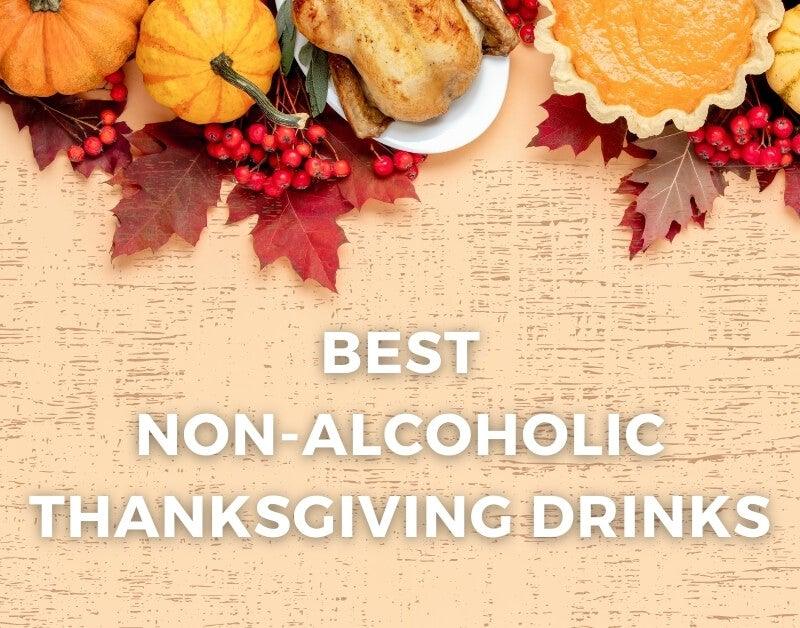 Thanksgiving is a, well, challenging holiday. While it can spark feelings of joy, excitement, and togetherness, it also sparks quite a bit of fear into the hearts of hosts everywhere. Because Thanksgiving is the only holiday that is truly centered around one single thing: the food.
If you're hosting a gathering this year (or if you just want to be a thoughtful guest that brings something delicious to the party), it's never too early to start thinking about the Thanksgiving drinks. Because for all the attention that the turkey and stuffing receive, we all know that a great holiday gathering starts by pouring something tasty into the glass of your guests.
But what about those guests that don't drink alcohol? Whether they're part of the 30% of adults that don't consume alcohol at all, or the 60% of drinkers looking to cut back on consumption, no Thanksgiving dinner is complete without at least a couple of non-alcoholic drinks.
Not sure where to start? Thankfully, we've got you covered with our list of delicious non-alcoholic Thanksgiving drinks. From Alcohol-Free Thanksgiving Punch, to non-alcoholic beer, wine, and cocktail options galore, you're sure to find at least a few things on this list to perfectly compliment this year's meal.
Now let's dive into some Non-Alcoholic Thanksgiving Drinks we can all be thankful for…
Non-Alcoholic Thanksgiving Punch
A tasty Non-Alcoholic Thanksgiving Punch is a great option for hosts looking to set their drinks game on auto-pilot. Simple mix up a quick batch before your guests arrive, put it on ice, and let them serve themselves at their leisure.
Here are a few delicious alcohol-free Thanksgiving punch ideas to get you started:
Alcohol-Free Champagne and Cranberry Juice Fizz Cocktail
With a non-alcoholic champagne base and bright bursts of ginger and cranberry, this alcohol-free punch is as festive as it is tasty.
Cranberry Pomegranate Non-Alcoholic Champagne Bellini's With Lime
While the Bellini tends to only be associated with brunch, this non-alcoholic Bellini recipe boasts some serious tartness from cranberry and lime, making it the perfect pairing for a rich Thanksgiving meal.
Non-Alcoholic Christmas Punch Recipe
Don't let the name of this one fool you…this non-alcoholic punch recipe is sure to be a hit at any Thanksgiving table, thanks to its double load of cranberries and rich spiciness of the non-alcoholic dark rum.
Non-Alcoholic Thanksgiving Wine
It's hard to find a Thanksgiving table that isn't dotted with fancy wine glasses filled to the brim. But just because you have non-drinking guests doesn't mean they have to miss out on this experience.
It's easier than ever to find non-alcoholic wine in stores, with options like Ariel Dealcoholized Wine and Fre Non-Alcoholic Wines readily available in most grocery and liquor stores across the country. In addition, there are plenty of other amazing non-alcoholic wine options that you can order online and have shipped right to your door, including:
St. Regis Non-Alcoholic Cabernet Sauvignon
One of the best non-alcoholic red wine options on the market, St. Regis Non-Alcoholic Cabernet Sauvignon boasts just right balance of subtle sweetness, acidity, and spice, carrying flavors of mint, plum, spice, oak, and chocolate right from the glass to your tastebuds.
Luminara Napa Valley Red Blend
It's rare to see the Napa Valley distinction on a bottle of non-alcoholic wine, which is why Luminara Napa Valley Alcohol-Free Red Blend is in a class all its own. Without a doubt this is one of the closest alcohol-removed wines we've seen get to replicating the experience of a traditional bottle.
Giesen 0% Alcohol-Removed Marlborough Sauvignon Blanc
Hailing from the famous Marlborough region of New Zealand, Giesen Alcohol-Free Marlborough Sauvignon Blanc features flavors of blackcurrant, herbs, and tropical fruit, and finishes with a nice, acidic bite. A surefire hit for your Thanksgiving table!
Thomson & Scott Noughty Alcohol-Free Sparkling Chardonnay
Looking for a nice bubbly to cheers with at the table? Look no further than Thomson & Scott Noughty Alcohol Free Sparkling Chardonnay – a light, airy sparkling non-alcoholic wine that is perfect from start to finish.
Non-Alcoholic Thanksgiving Beer
From tailgates to Thanksgiving feasts, every party needs a couple of good beers on hand. And with the rise in incredible non-alcoholic beers on the market, there is truly an option for everyone these days. Here are some of our favorites:
Athletic Brewing Company Non-Alcoholic Beer
Arguably the king on non-alcoholic craft beer, Athletic Brewing Company crafts an amazing lineup of year-round beers, plus plenty of great fall seasonals such as Oktoberfest and Autumn Brown.
Ceria Brewing Company Grainwave Belgian Style Brew
Crafted by the legendary brewer who kickstarted the craft beer revolution with Blue Moon, Ceria Brewing Company offers the absolute best Belgian style non-alcoholic beer, Ceria Grainwave.
Another great lineup of non-alcoholic beer options, Gruvi Non-Alcoholic Beer offers an alcohol-free twist on some of the classics, including a delicious IPA and a flavor-packed Pale Ale. Perfect for all the beer lovers at your Thanksgiving table!
Non-Alcoholic Thanksgiving Mocktails
While it can be stressful, there is definitely something rewarding about cooking up a full Thanksgiving meal for your friends and family. If you're a host looking to take your meal one step further, consider crafting one of these delicious alcohol-free Thanksgiving Mocktails to pair alongside this year's dinner.
While most consider the spritz to be the drink of summer, with a Non-Alcoholic Aperol Spritz recipe this good, we say it's worth enjoying year-round!
Kentucky 74 Non-Alcoholic Old Fashioned
There's nothing that pairs better with a brisk fall afternoon than a rich, smokey Old Fashioned. Thankfully, with Spiritless Kentucky 74 Non-Alcoholic Bourbon, it's easier than ever to craft this classic cocktail in an alcohol-free form.
Of course, some guests will always have their own preference when it comes to cocktails. Let them mix up a classic drink of choice by keeping a bottle of Monday Non-Alcoholic Gin at the ready.
Seedlip Garden 108 Alcohol-Free Bloody Mary
With a full day of cooking ahead, don't forget to stop and treat yourself! Kickstart your Thanksgiving morning with a spicy Non-Alcoholic Bloody Mary that's taken to the next level thanks to the help of Seedlip Garden 108 Non-Alcoholic Spirit.
Best Non-Alcoholic Thanksgiving Drinks
As you can see, there's never been a better time to be a non-drinker on Thanksgiving. With this list of the Best Non-Alcoholic Thanksgiving Drinks, you can pour confidently knowing your alcohol-free guests are enjoying just as many wonderful beverage options as those who choose to partake in the booze.
Are there any other Non-Alcoholic Thanksgiving Punch Recipes, Alcohol-Free Wines, NA Beers, or Mocktails you'd like to see added to the list? Be sure to leave us a comment below so that we can continue expanding this collection, and ensure no Thanksgiving guest is ever stuck sipping a sad soda and lime again!